MELIORA WEEKEND 2002
"Learning More before the Day Is Over"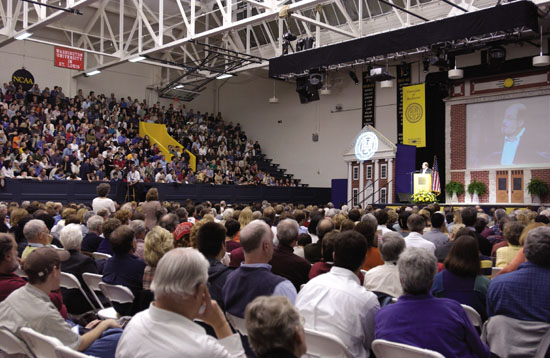 WRITE STUFF: Acclaimed author Salman Rushdie addressed a full Palestra as a guest speaker for the Department of English's Plutzik Memorial Series.
"I consider my life, primarily, to be a continuing education course, and I am looking forward to learning more before the day is over," media mogul Ted Turner told a full house gathered for his keynote talk at the Palestra during Meliora Weekend in October.
Exactly, the collective brain power of almost 9,000 Rochester alumni, parents, students, and special guests could have responded as they flooded campus for three days to celebrate the notion that the world remains an interesting place for those with a lifelong passion for learning.
Award Winners
Eastman Medal
Ted Turner, vice chairman of AOL Time Warner and founder of CNN, received the University's George Eastman Medal in recognition of his achievements as a business leader and community-minded philanthropist.
Meliora Citation for Career Achievement
Three alumni from the late 1960s offered their advice about career achievements and leadership as the College inaugurated a new award during a special session for young alumni.
John Levey '69, vice president for casting at Warner Bros. Television and four-time Emmy Award winner, John Major '67, chairman and CEO of Novatel Wireless and former executive vice president at both Motorola and Qualcomm, and University Trustee Cathy Minehan '68, president and CEO of the Federal Reserve Bank of Boston, each received a Meliora Citation for Career Achievement.
Anthony Legacy Award
Senator Hillary Rodham Clinton received the Susan B. Anthony Legacy Award in recognition of her work on political and social issues. The biennual award is presented by the Susan B. Anthony Center for Women's Leadership.
Turner, the founder of CNN and a noted international and political activist, was one of several high-profile experts and speakers on the weekend's full slate of sessions covering such topics as politics, culture, science, and diversity—all pegged to this year's theme of "leadership." The annual fall celebration also features Reunion, Family Weekend, Homecoming, and the Stonehurst Capital Invitational Regatta.
"Meliora Weekend continues to exceed our highest expectations," said Tom LeBlanc, the Robert L. and Mary L. Sproull Dean of the College Faculty. "The weekend has transformed our reunion program, reengaged alumni from every decade, attracted parents to campus in record numbers, and welcomed the community into the life of the Unversity. It has also given our students and faculty an opportunity to shine, as we celebrate the values of an educated life."
For alumni such as Liz Kay '00 (and '01 Take Five Scholar), former editor-in-chief of the Campus Times who now works as a reporter for the Baltimore Sun, the weekend provided a fresh perspective on a still-new-to-her role as an alumna.
"The talks have been amazing," Kay said. "It's impressive that the University was able to host speakers so relevant to the times, covering issues so critical to the nation and the world."
For longtime reunion-goers, the celebration set new standards, said Charles Banks '57, on campus for his 45th reunion.
"In terms of programming, in terms of turnout, and just getting everyone together, this year's reunion was just out of sight," he said.
And even those, such as Chris '87 and Laura Hollenbeck Bond '90, who were disappointed that the Yellowjackets lost the Homecoming game to Hobart 59—21, found many other reasons to cheer.
"Even though the Yellowjackets got crushed, we are having a great time hanging out with friends and family," Chris said. "It's always good to come back to the University. I am really impressed and proud of the lineup for this year's Meliora Weekend. It says a lot about the quality of this school."



Maintained by University Public Relations
Please send your comments and suggestions to:
Rochester Review.