Features
Physics for Everyone
Physicist Steve Manly, who was named New York Professor of the Year last fall, earns praise for his efforts to make an often abstract subject accessible to a broader range of students. By Jonathan Sherwood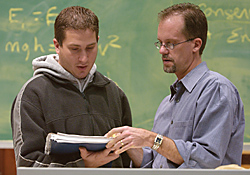 TOP TEACHER: Manly (right) discusses coursework after a class last fall (Photo: Elizabeth Torgerson-Lamark).
When students slip and slide on the inevitable ice of a Rochester winter, Steve Manly hopes they think of him.
"If they get little flashbacks to our discussions of friction while they are sprawled on the ground, I'm happy," says the associate professor of physics and astronomy. "Maybe that means they learned something new about the world around them in my course. It doesn't get much cooler than that for a teacher."
While Introductory Physics might not be the first thing to cross the minds of students discovering the pain that a frictionless winter surface can cause, undergraduates who take Manly's courses have many "cool" things to point out about their teacher.
Like his ability to bring the study of physics into the everyday world.
Or his commitment to making sure students have the problem-solving skills they need to achieve their goals.
"He's very interested in what you want to do, and he takes the time to find out what that is," says Abe Spence '04, a chemistry and biology major who has taken two courses with Manly. "He doesn't just push physics. He shows how physics is applicable not just to physics but to other areas of the physical sciences, like medicine."
Such dedication also caught the attention of the Carnegie Foundation for the Advancement of Teaching, which, last fall, named Manly the 2003 New York Professor of the Year.
"I'm really honored by this," says Manly. "Watching a student when she suddenly understands something she didn't before is worth all the effort it takes."
Chosen from about 400 nominees representing private and public universities in the state, Manly is the second Rochester professor in the last decade to be recognized for his teaching by the Carnegie Foundation. Alfred Clark Jr., professor of mechanical engineering, was the organization's New York winner in 1994.
Manly joined the faculty in 1998 after beginning his teaching career at Yale University. He earned his bachelor's degree from Pfeiffer College and his Ph.D. from Columbia.
Matter, Mass, and Mystery
Not only is Steve Manly being recognized as a stellar teacher, he's also earning attention for his work as a stellar physicist.
Last year, Manly reported that he and colleagues at the Relativistic Heavy Ion Collider in Brookhaven, New York, had re-created a temperature that has not existed since the universe was less than a microsecond old. The experiment was designed to explain how matter behaved in the Big Bang's first split-second.
But Manly's research turned up a surprise: Something's going on at the quantum level that defies explanation.
"It's the things you weren't expecting that are really trying to tell you something in science," he says. "The interactions in that hot, dense medium change depending on the angle we look at it. We don't know why. We've been handed some new pieces to the puzzle and we're just trying to figure out how this new picture fits together."
In the experiment, Manly smashed two atoms of gold together at velocities near the speed of light in an attempt to create what's called a "quark-gluon plasma"—a very brief state in which the temperature is tens of thousands of times higher than the cores of the hottest stars.
Particles created in the plasma stream out, but not without bumping into other particles in the soup. It's a bit like trying to race out of a crowded room—the more people in your way, the more difficult your escape.
The surprise was that a bedrock theory of physics, called boost invariance, stated that the particles would all "exit the room" in the same manner, but they didn't.
Manly and other researchers are now working to find out why. The answer may reveal the mechanism that gives matter its very mass, which has been one of physics' all-time great mysteries.
Manly hopes that if physicists can understand exactly why the quark-gluon plasma behaves as it does, we might gain an insight into some of the rudiments of the world we live in.
—Jonathan Sherwood
In 2002, he was named the Mercer Brugler Distinguished Teaching Professor, an appointment given by the College in recognition of teaching excellence.
"Steve has made an enormous impact on the teaching mission of the College in a very short time," says Thomas LeBlanc, Robert L. and Mary L. Sproull Dean of the Faculty. "From his teaching of introductory physics to pre-med and life sciences students, to his introduction of peer-led workshops into the physics curriculum, Steve has been continuously engaged in improving undergraduate teaching using innovative methods."
Says Nick Bigelow, Lee Dubridge Professor of Physics and director of undergraduate studies in the department: "His ability to place himself in the shoes of his students and to empathize with what it is to—again—be an undergraduate is outstanding."
As a new member of the department's faculty, Manly put that empathy to the test when he faced one of the most pedagogically challenging courses a physics professor can teach: Introductory Physics.
Medical, biology, and engineering students make up the bulk of each semester's class, but few are used to studying science in the rigid—and often abstract—approach followed by most physics courses. Few student evaluations gave the 150-student lecture classes high marks.
Manly decided that although the "sink-or-swim" mentality works reasonably well for upper-level physics majors and graduate students, it can be frustrating for those, like pre-med students, who take the course with other academic goals in mind.
In response, he developed a support infrastructure to help non-majors get a better grasp on the course material.
Much of that comes through workshops, a system of two-hour weekly meetings that Manly modeled after a program first brought to the University by chemistry professor Jack Kampmeier. Intended to be interactive sessions, the workshops are designed to give students a chance to work closely with their peers, guided by a trained student leader.
Students are expected to work through the workshop problems as a group, and the leaders are trained to help students be comfortable enough to ask questions and confront things they don't understand.
Spence, who was a workshop leader last fall, says the support system is an example of Manly's commitment to ensuring that students understand the material.
"He wants to see all his students in the top tier of the class," Spence says.
Simple props—yo-yos or basketballs, for example—help reinforce concepts in ways that lectures and standard problems cannot. The approach has worked so well that student evaluations are the highest they've ever been for an introductory physics course, with 80 percent crediting the workshops as a major strength.
Manly has taken the workshop idea a step further, creating the Informal Task Force on Workshops to introduce workshops to other departments in the hope that they'll excite students in those disciplines as well.
Outside the classroom, Manly has introduced term projects to his physics courses because pre-med and engineering students are comfortable with them and seem to become more engaged when they can apply what they've learned to real-world projects.
The physics of swimming, music, and ice skating, as well as the physics behind a cannon that shoots potatoes have been recent topics of term projects.
Manly is tinkering, too, with the role of homework in the introductory class. "Preflights," as he calls them, give students with Web access a crack at a topic that will be discussed in an upcoming class, giving better context to the subject of a lecture.
As for regular homework, Manly is testing a method of grading homework based on how much effort went into the work rather than on whether a student ended up with the correct answer. But, he admits, the jury is still out on whether such a method noticeably helps students.
But finding ways to help students learn better is never far from his thoughts.
"I have two goals in my teaching," says Manly. "One is to teach students some physics and increase their awareness of the world around them. The other, perhaps more important goal, is to teach them to think.
"If students leave my course with an enhanced ability to face an unknown problem confidently and think their way through it, I consider that a major victory. Problem-solving skills go way beyond physics.
"It just turns out that elementary physics is the perfect place to teach people how."
---
Jonathan Sherwood is senior science writer for the office of University Public Relations. For more about Manly, visit http://hertz.pas.rochester.edu/smanly.