Features
Newborn Hope
In the touch-and-go struggle for survival faced by babies who are born too early or too ill, Golisano Children's Hospital at Strong helps infants beat the odds. By Travis Anderson. Photography by Elizabeth Torgerson-Lamark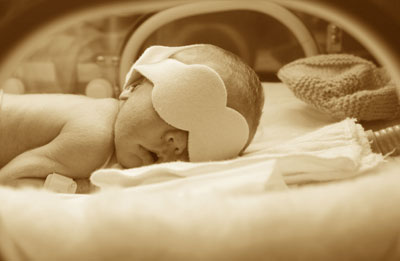 PREEMIE: Desirae Grasby, born six weeks prematurely, wears a soft mask as she undergoes phototherapy to treat jaundice. She is one of about 1,000 infants admitted each year to the Neonatal Intensive Care Unit at Golisano Children's Hospital at Strong.
When Erin Ordway was five months pregnant, she was shocked and excited to learn she was having twins. It was mid-December, and she and her husband, Joshua, embraced the news as if it were an unexpected Christmas gift.
Less than a month later, doctors reviewing an ultrasound delivered devastating news. One of the babies had died as a result of twin-to-twin transfusion, a rare prenatal disease that affects fewer than 6,000 babies in the United States each year.
Erin and Joshua didn't have long to mourn the twin they privately named Bryce. A week later, Erin, then 24, went into early labor. Eleven minutes after arriving at Arnot Ogden Medical Center in Elmira, she delivered a baby boy named Jace.
Born 16 weeks early, he weighed just 1 pound, 6 ounces, about as much as four cups of raisins. Babies that size, according to national statistics for premature infants, have a 50 to 60 percent chance of survival, and a 25 percent chance of being healthy adults.
"I didn't hear Jace cry, and they whisked him right away," Erin says. "I didn't know anything about pre-term labor. I didn't know what the consequences were."
Nor did she know that it would be months before she would hear her baby cry. Or that she would hear that beautiful sound not in Elmira, but at the University's Medical Center, where Jace and his months-long struggle for survival would be carefully attended to by the medical staff in the Neonatal Intensive Care Unit of Golisano Children's Hospital at Strong.
Jace would become one of a growing number of preemies in upstate New York admitted to Strong's state-of-the-art facility. Serving as a 20-county regional medical facility, the unit is a place where the most fragile babies face—and often beat—overwhelming odds every day.
'Something's Really Wrong'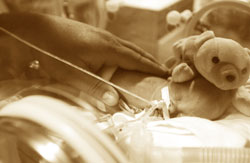 HANDS ON: Parents of premature infants are encouraged to interact with their children while they are in the NICU. Jillian Smith, who weighed 1 pound, 9 ounces when she was born, sleeps through the touch of her father, William.
Doctors in Elmira told the young couple their son's situation was touch and go; the first three days would be critical. During the next week, the baby made a strong comeback. But nearly 10 days after Jace was born, Erin's maternal instincts kicked into high gear.
"Jace had a diaper rash, he was very lethargic, and his belly was swelling," she says. Not only swelling, but slowly turning purple.
Erin remembers the three words she repeatedly used to describe the situation to her family: "Something's really wrong."
Indeed, something was wrong. Blood tests showed that Jace was suffering from a systemic fungal infection, a rare and dangerous condition caused by a disorder that was slowly eating a hole in the baby's intestine. Experts predict that the disorder, known as necrotizing enterocolitis, will overtake respiratory distress syndrome as the No. 1 cause of death in premature babies over the next decade.
For five days, Jace received a rigorous treatment of antibiotics, but the medications didn't make a dent. Thirteen days after Jace was born, he was facing life-and-death peril.
"They told us he needed surgery, and fast," Erin recalls the doctors saying. "They said he needed a very good surgeon."
The NICU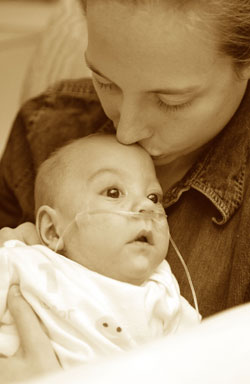 GROWING UP: "He really is a miracle baby," Erin Ordway says of Jace, who was born 16 weeks early.
More than 1,000 newborns are admitted to the NICU each year, a number that accounts for nearly 15 percent of inpatient admissions at Golisano Children's Hospital.
Nestled on the third floor—just minutes from Strong's birthing suites—the unit and its services are key components of clinical care at Strong Memorial Hospital.
The 52-bed unit—divided into eight sections known as "pods"—is a carefully controlled environment that, on first blush, parents often describe as the last place they want to be. But many soon come to think of their pod as a temporary home.
Filled with equipment that constantly monitors babies' blood pressure, breathing, and heart rate, the NICU feels as much like a bustling laboratory as a high-tech nursery. Bells and beepers sound if a problem is detected. The noises, parents say, are unnerving at first, but quickly fade into the background.
"My first time here, it was scary. It was very scary," says Jennifer Smith, whose newborn, Jillian, weighed 1 pound, 9 ounces when she was born at Strong last summer.
"The beepers would go off, and I wondered why no one was running to check on them," Smith says, explaining that most of the sounds don't indicate a major problem. "But it was also amazing to see a lot of babies in the pod, knowing that they were getting help to survive."
2004: Expanded Intensive Care
With a clinical staff of more than 150 people, the NICU is part of Golisano Children's Hospital at Strong. Located within Strong Memorial Hospital, the children's hospital is a dedicated pediatrics care facility that also includes the Pediatric Intensive Care Unit (PICU) and a soon-to-be-created Pediatric Cardiac Intensive Care Unit (PCICU), both of which are scheduled to move into new, expanded facilities in late 2004.
Unlike the NICU, where babies are hospitalized immediately after birth, the PICU is designed for children who need intensive care regardless of the medical treatment they needed at birth. Infants, children, teenagers all are admitted to the PICU if they need intensive care. Once NICU babies have been discharged home, they will be admitted to the PICU if intensive care is ever needed again.
The cardiac unit is needed because of the growing demand for services at the Children's Heart Center, and the increasing number of pediatric heart surgeries performed by surgeon George Alfieris, associate professor of surgery, and his team.
In 1998, 49 children underwent heart surgery at the children's hospital. Last year, that number nearly quadrupled to 199. Each of the children spends time in an intensive care room after surgery.
In another effort designed to help the families of children who need to stay at the hospital, Ronald McDonald House Charities of Rochester recently agreed to partner with Strong to build and staff a second Rochester-area Ronald McDonald House within the hospital. Only two other hospitals in the world have such an arrangement. The new house will be located above the new care units.
Plans for the children's hospital received a major boost in 2002 when B. Thomas Golisano, founder and CEO of the payroll-processing company Paychex Inc., announced a $14 million gift to the University. Golisano Children's Hospital at Strong was renamed in his honor.
When Jillian was born, she faced challenges directly related to her prematurity. As is typical with babies that are born so early, Jillian's organs and central nervous system, for instance, were underdeveloped. But every NICU infant—many of whom are full-term babies born with a variety of health issues—faces a unique set of challenges.
For these babies, the NICU is vital to survival.
Such intensive care units are in increasing demand throughout the country, because the number of premature babies born in the United States is on the rise. Statistics from the March of Dimes show that more than 11 percent of U.S. babies—nearly 9,000 each week—are born prematurely. These babies, considered premature because they are born more than three weeks early, represent an increase of more than 7 percent since 1991. An increase in multiple births, insufficient prenatal care, infection, stress, drug use, and smoking are all cited as the causes behind the trend.
William Maniscalco, chief of the division of neonatology at Golisano Children's Hospital, says saving babies is more common today than ever, thanks to advances in technology and techniques during the past two decades.
"The big difference is that today we're able to save smaller, more fragile infants, and many of them grow up to enjoy full, healthy lives," Maniscalco says. "Fifteen years ago, we might have a chance to save a baby who was born 12 weeks early. Now, we have that same chance with babies born as much as 16 weeks early."
That's exactly what Jace Ordway—born 16 weeks early—needed. Just give him a chance, his parents thought.
'10 to 20 Percent Chance'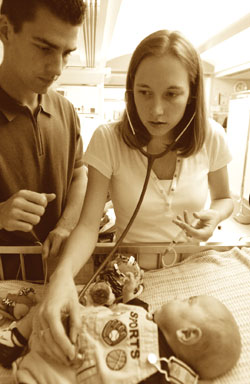 LEARNING CURVE: Joshua and Erin Ordway practice some of the procedures they will need to conduct on their own to track Jace's health at home.
After consulting by phone with the staff in Rochester, Jace's doctors agreed that the baby should be transported to Golisano Children's Hospital. Within 30 minutes, a team of pediatric specialists was headed to Elmira. Within two hours, they were back on the road to Rochester.
It was nearing midnight on a Friday when Erin and Joshua were ushered into the NICU. Given Jace's dire condition, many of the doctors and nurses were surprised he survived the trip.
Carl D'Angio, one of the attending neonatalogists working that night, says Jace's prospects weren't good.
"This baby was brought to us via transport from a good hospital, but he needed to come here because of our expertise in pediatric surgery and medicine," D'Angio says. "We thought the baby had a 10 to 20 percent chance of surviving."
Even if Jace made tremendous strides, Erin and Joshua were told to expect a long stay. As a rule of thumb, babies remain hospitalized until the original due date. In this case, that meant at least four months—if Jace survived that long.
Erin and Joshua recall sketchy details of that cold, winter night, of their seemingly endless drive to Rochester, and their first encounter with the NICU.
One moment stands out vividly for both: As they walked to the front desk to ask about their son, "there was a mother crying hysterically," Erin says. "Maybe her baby had died. It was very sad."
After washing their hands near the entrance of the NICU—a standard practice for people visiting babies—Erin and Joshua walked through sliding doors and were reunited with their son. During the days that followed, they relied on the staff of more than 150 neonatologists, nurses, respiratory therapists, and social workers, as well as the support of other families, to help them adapt to the mounting challenges.
The Surgeon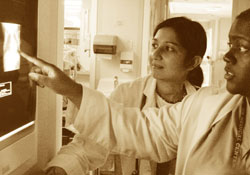 TEACHING: Preeti Patel (left), second-year pediatrics resident, and Taravell McKinnies, a fourth-year medical student, consult with Ronnie Guillet (not pictured), associate professor of pediatrics and a neonatologist at Golisano Children's Hospital, during rounds at the NICU.
Shortly after sunrise the next morning, Erin and Joshua met George Drugas, one of two board-certified, general pediatric surgeons at the children's hospital. Drugas, who honed his skills at Johns Hopkins University, didn't pull any punches when describing the baby's condition.
"Clearly, he was deteriorating," the surgeon remembers, reciting the lackluster survival statistics for babies who have necrotizing enterocolitis.
Drugas outlined three options for the anxious parents: The first was to drain the abdomen to see if the perforation in the intestine would seal on its own. Alternatively, the surgeon could perform a complete laparotomy, probing deep inside the baby's abdomen, cleaning out as much of the infection as possible, and removing dead tissue.
Drugas also presented a third option, which underscored the gravity of the situation. He could not predict what he would find, or if he would be able to repair the problem.
Surfactant: Bench to Bedside
One week before giving birth, Erin Ordway met with her obstetrician for a routine checkup. Knowing that the baby could be born prematurely, the physician gave Erin a steroid shot intended to encourage Jace to turn on his lung surfactant system earlier than normal.
In the 1980s, neonatologists at the Medical Center played a significant role in developing a synthetic form of surfactant that has saved the lives of thousands of premature infants born with an often-deadly breathing problem called respiratory distress syndrome.
Such research leads to better patient care, says William Maniscalco, neonatology division chief.
"Publishing papers in scientific journals provides a high point, as does playing a role in the development of breakthrough drugs such as surfactant," Maniscalco says. "But there's no higher point in this job than being right at the bedside and helping an infant."
"Your third option is to not do this surgery, but rather make the baby comfortable, recognizing that no intervention at all would be lethal," he remembers telling the anxious parents. "Keep him from experiencing any pain and let him pass away in your arms."
Erin and Joshua quickly chose the exploratory surgery. Joshua asked when the surgery would be performed. "In about 20 minutes, if you sign the consent form," Erin remembers Drugas saying. "And we did, and off Jace went."
Amid the controlled chaos, Erin silently reflected on the past six weeks.
"First, we had one baby. Then, we had two. Then, we had one again," she says, remembering Jace's birth. "And just a week before, he was very feisty, moving all the time. Now, he was motionless, with his feet apart, his belly swollen. It was awful."
Drugas met Jace again, this time in the operating room. Before he left the NICU, the surgeon told the baby's parents that they shouldn't get upset if he didn't return quickly with news. "He said, 'If I come back fast, that means I wasn't able to help him," Erin says. It was 9 a.m.
"At 11:20 a.m.—and I remember that time for some reason—we were waiting in the family lounge, and Dr. Drugas came in and asked for the family," Erin says. "Six people stood up immediately, but he only wanted the parents."
Drugas explained that he located the source of the infection, and removed 12 centimeters—about 15 percent—of intestine.
"It was the best possible scenario," Erin remembers the surgeon telling the family, but he offered no guarantees. "The next 36 hours will be crucial."
Jace slowly improved during the following days and weeks, but as he continued to recover and add weight to his tiny frame, he experienced several significant setbacks. For instance, the NICU staff detected renal failure, but did so early enough that Jace's kidney function could be restored.
"His prematurity led him to experience a sort of multiorgan system failure, and the NICU staff had to pay especially close attention to his kidneys, lungs, and eyes," Drugas says. Indeed, Jace suffered from eye problems related to his premature birth, and underwent two laser eye surgeries while in intensive care.
A 'Wonderful, Raspy' Cry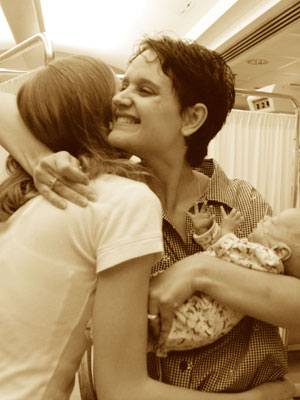 MEETING OF MOTHERS: Cary Burke, the mother of Edward (Teddy) Burke (right), says goodbye to Erin Ordway at a going-away party for Jace Ordway in August. The two got to know each other as "podmates" after Teddy joined Jace in the Neonatal Intensive Care Unit last April.
When Jace was 4 months old, he no longer needed breathing support from a ventilator, and when the machine was turned off, his mother was granted one of her longstanding wishes.
"He cried," Erin says. "It was a raspy cry, but it was wonderful. I don't complain when he cries. Still."
Having logged so many months in the NICU, Erin and Joshua embraced the staff as family. In June, when Jace turned 6 months old, they celebrated the milestone with party hats and cookies for everyone who cared for their baby.
By the time Jace was 7 months old, he weighed more than 10 pounds.
In August, when Jace was discharged from the hospital, Erin and Joshua took him to meet some friends they had met while staying at the Ronald McDonald House, a nearby home-away-from-home for out-of-town families. There, they bumped into Jillian Smith's parents, offering a glimpse of hope that, months down the line, they, too, might get to take their baby home.
Before Jace left the hospital, doctors told Erin and Joshua their son may be developmentally delayed, and that his fragile birth weight and medical complications could leave him prone to other challenges later in life. Erin and Joshua will watch Jace closely as he grows.
So far, though, he has beaten the odds.
"He really is a miracle baby," Erin says. "Our miracle baby."
---
Travis Anderson is assistant director of public relations at the Medical Center.