Features
Stage Might
During a handful of days each year, prospective students come from across the United States and from several foreign countries to audition for a place at the Eastman School. By Jayne Denker. Photography by Elizabeth Torgerson-Lamark.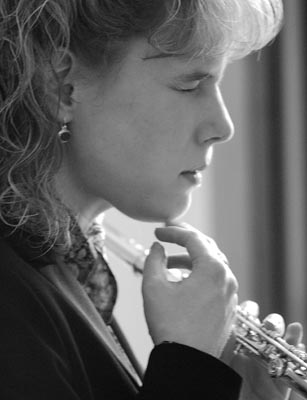 High school student Jennifer Ferrell, of Hudson, Iowa, prepares for her audition at the Eastman School last winter.
Kyle Bertulli has been looking for a quiet area in the upper foyer of Eastman Theatre where he can study the organ music he's about to play. The Milford, Massachusetts, teenager turns the pagesslowly, hearing the music in his head.
He's preparing to audition at the Eastman School of Music, one of four schools to which he's applied.
"I'm between being nervous and not," he says in a low voice.
Standing nearby, Mike Bertulli, Kyle's father, says he's a bit on edge, too.
"It's been pretty tough, getting him to different auditions—getting around the work schedule, taking vacation days," he says.
It's early on a Friday morning in February, and the Eastman School is filled with high school seniors like Bertulli flanked by their parents. It's an audition day, one of about a half dozen days when prospective students come from all over the world to play before evaluating professors to earn a spot in the next freshman class at Eastman.
In Cominsky Promenade, where students check in and pick up their schedules for the day, some stretch out on low cushions, their instrument cases between their feet. Others study sheet music, consult folders of information about Eastman, swing their arms back and forth to loosen up.
Mothers knit. Fathers pace, cell phones often in hand.
For most high schoolers, gaining admission to college means filling out applications, collecting transcripts and recommendations, writing essays, and meeting with admissions staff members. That can be stressful enough, but at Eastman—as at most top music conservatories—applicants also must perform in front of faculty members to prove the caliber of their musicianship.
The 10- to 20-minute sessions can determine the next four years of the students' academic lives and, quite possibly, influence their professional careers as well.
Violist Randy Dejusis, from Newington, Connecticut, has found ways to cope with the pressure.
Auditions haven't always been part of the application process for the Eastman School. Admissions requirements were a little more relaxed in the past, says Eastman historian and piano lecturer Vincent Lenti '60, '63 (Mas). [
More
]
"I recently read The Inner Guide to Music," he says. "It tells you what happens physically to your mind and your body when you get nervous, and it tells you how to overcome that. And I took some potassium supplements, because potassium loosens your muscles. I found it works pretty well so far."
Adrian Daly, admissions director for the Eastman School, says faculty and staff are well aware of the stress that can accompany such high-stakes auditions. But he says the school tries hard to make sure the process is a positive experience for students and their families.
"We want the applicants to be as confident as possible to optimize their performance," Daly says. "Auditioning is very stressful, and that doesn't help them play well. We also want them to get a feel for the school, not just do a quick audition and leave. The entire Eastman community—faculty, staff, and students—is part of the audition day. We want prospective students to get a feel for that sense of community."
James VanDemark, professor of double bass, says most students are familiar with such performance situations.
"These students are used to being onstage," he says. "They're ready. Not too many come apart—they're young professionals with the confidence of youth."
In 2004, about 1,800 such confident students auditioned over the course of six Fridays and six Saturdays in late January, February, and early March for about 135 undergraduate spots in the Class of 2008 and for about 150 graduate spots. Audition by audio or videotape or in front of admissions staff members at regional auditions in other cities are distant second and third options to make an impression. About 130 attended regional auditions, and 459 submitted tapes. [more]
Soohyum Pey, of Rockfield,
Maryland, practices for
her session.

Students gather in the
"Stress-Free Zone" of
Cominsky Promenade.

Marilyn Edewaard of Oakton, Virginia, sneaks a peek while her daughter, Christine, auditions.

Ron and Mark Runkles, of Mechanicsville, Maryland, find a quiet spot.
Most travel to Rochester. On one Friday, the International Students Committee's signup sheet boasts visitors from Bolivia, Tahiti, Macedonia, Korea, and Malaysia. And one wag added "Indiana!"
Jennifer Ferrell and her mother, Carol, drove to Rochester from Hudson, Iowa. After Carol leads Jennifer, who is blind, into a cacophonous practice room in the tight quarters of the Annex, she helps Jennifer set up near the windows, then retreats to the hallway while her daughter warms up. All around her, violinists, cellists, bassists, and an oboist play scales and practice their audition pieces.
"It's a long, long week," Carol says. "Jennifer has had four auditions this week—this is the last one—and then she has one more, in North Carolina. We have a week till that one, so we'll take a breather."
The toughest part, she says, aside from getting enough sleep during their grueling traveling schedule, is "the anxiety for the kids." She says she helps Jennifer cope by "telling her not to practice so much. It's in her. I tell her, 'You know the music; now you have to make music.' I think she's doing okay. As a parent, you're nervous for them as well, but you can't let it show."
Jennifer has her own thoughts on the process. "I don't get too nervous. The toughest part is hearing your competition. You just have to stay as relaxed as possible, knowing you've done your best."
A steady stream of students enter and leave the practice room, and after awhile Jennifer packs up, too.
As she guides Jennifer down the hall, Carol says, "We lost a cane along the way. But if that's all we lost, that's a good thing."
Soon, a classical guitarist wanders in, finds a seat, unpacks his guitar, and just as quickly packs it up again. He pulls a crumpled piece of paper from his pocket, looks up the locations of other, possibly quieter, practice rooms, and hurries away.
The noise doesn't seem to bother Soohyum Pey, who's warming up by playing scales on her violin.
Her mother, Insook Kim, sits patiently outside the practice room. She says the Eastman audition is Pey's second out of five, and a longer trip from their Rockfield, Maryland, home than her first audition at the Peabody Institute in Baltimore.
"So far, so good, but who knows?" Kim says. "I go with her to all the auditions and help her unwind because auditioning is so stressful. You talk to her and make fun of each other. That's it. I can't make her [succeed] or fix it. That's all I can do."
Helping students cope with the stress is a task that Eastman staff and current students take on. For audition days, the usually stately, marble-laden and hardwood-trimmed Cominsky Promenade is renamed the "Stress-Free Zone," with hand-lettered signs that read "Smile!" and "Relax—and have fun!" Beside a TV monitor showing Disney and Harry Potter movies, fruit, candy, cereal bars, juice, and water are for sale.
The food, signs, and videos are courtesy of the Eastman Orientation Committee—freshmen in red and white shirts emblazoned with "I

ESM," who are available to assist auditionees and their parents.
"You can see everyone's nerves on display," says Jason Holmes '07, president of the committee. "They might be smiling crazily just to hide their nerves, or they'll come in and look around and walk up to an EOC person and still just stand there and look instead of asking a question."
But many, like Leah Emineth, a student at the Interlochen Academy in Michigan who hopes to major in violin performance, seem unaffected by the stress. Dressed formally in a long, black skirt, as if she were already part of a professional orchestra, the Great Falls, Montana, native says, "I wasn't nervous at all. It was very short compared to what I thought it would be, but that was okay."
One of the professors she auditioned for, Distinguished Professor of Violin Zvi Zeitlin, says the members of his department have a good sense of what they are looking for in students.
"We expect someone who is pretty well set up as a violinist, who is prepared for a professional future," he says. "We're very interested in who the student's teacher is. That gives you a good idea of what kind of training they've had. If a prospective student has talent but no instruction, who is not up to scratch—no pun intended—they will not fit in here."
Emineth's background may have fit the pedigree expectations; in the relatively small community of highly regarded violin instructors, the Eastman professors and her teachers are acquainted.
"The professors knew my teachers from home, in Montana, and at the Interlochen Academy," she says. "And my teacher at Interlochen has spoken very highly of Oleh Krysa, the violin teacher here."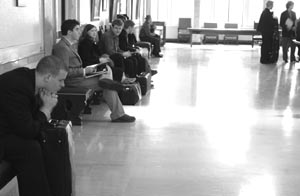 Auditioning students meet with faculty twice—once to perform and once for a personal interview. Within the school, departments differ in how they evaluate prospective students. Some ask that students audition in front of a small group of faculty, while others meet with students one-on-one in their studios..
Auditions for different instruments as well as voice vary by length, performance requirements, and even the number of professors who evaluate the students. Many sessions are one-on-one auditions with a single faculty member.
What seems consistent across departments is how quickly students can be assessed.
"I've been doing this for 44 years," says John Beck, professor of percussion. "I can pretty much get a feeling for students when they walk through the door, within two or three minutes."
VanDemark agrees. "It's rare when an applicant can't be assessed within 90 seconds of their playing."
Beck says he also pays attention to students' mannerisms, looking for those who behave professionally even at 17 or 18 years old during the half-hour percussion audition.
"Those who display professionalism impress me first," he says. "They come in, unpack, know which selections they're going to play, and don't fumble around. If they're well organized, they'll be successful in the professional world."
That doesn't mean he's put off if they're nervous.
"They're all going to be nervous," he says. "If they make mistakes, that doesn't bother me. I want to hear a quality sound as opposed to 'just being noisy.'"
"There are mistakes, and there are mistakes," Zeitlin says. "A memory slip can be accidental. Or it could be the sign of a bad background."
VanDemark has a similar set of criteria.
"Clearly, there's got to be demonstrated talent and skill," he says. "But I also look for potential and desire. My assessment is not always 100 percent accurate, but after 28 years at Eastman, I have a fairly good intuition about their desire, which they need to be good performers and even music educators, if that's what they choose to do."
By late afternoon, Cominsky is quieter. A stale smell has settled in; with the strengthening late-winter sun streaming through the windows at the end of the hall, the space is overheated and stuffy. Harry Potter and the Chamber of Secrets blasts from the VCR, capturing the attention of about a dozen auditionees.
Although most students and their parents have left, a few auditions are still taking place. While some have their auditions and interviews early in the morning, others end up waiting nearly the entire day—prospective students are required to be available from 9 a.m. to 6 p.m.
One student sits cross-legged on the floor in a hallway off the promenade, blowing on her fingers, as she waits to be called into a studio. A voice auditionee sits motionless on a bench outside Kilbourn Hall, her eyes closed in concentration. A mother stands on tiptoe and cranes her neck to peer into her daughter's audition room, straining to see as much as she can in the sliver of window that's not covered with paper.
Dejusis looks visibly relieved, sweat stains notwithstanding, while packing up after his viola audition.
"This is my second-to-last audition," he says. "I auditioned at Hartford and Peabody; all I have left is Manhattan. As I keep going, I find I get better and better—more confident in my playing."
For Eastman, that included some Bach, Schubert, and Hofmeister, he says, as well as a composition of his own.
"The worst part is when you're done, they just say 'thank you'—usually in a performance you get some applause, but in an audition it's just 'thank you' and stone faces," he says. "Then you find out how you did a month later, which is tough. But it went very well. I had a few messups, but overall I'm pretty impressed with how I played today."
Dejusis was even more pleased with the interview portion of the day. "The interview was very helpful. It showed they cared about who you are. They didn't really do that at other schools."
Across Gibbs Street, a jam session has started in a small park on the corner, despite the freezing temperatures and the lengthening shadows between downtown buildings. Eastman students and auditionees alike stop to enjoy the music.
"The overall day here has been relaxing," says Dejusis. "Eastman was actually one of my last choices, but now that I'm here I like it a lot, and I think I could be pretty comfortable here."
Auditions: An Evolving Process
Auditions haven't always been part of the application process for the Eastman School. Admissions requirements were a little more relaxed in the past, says Eastman historian and piano lecturer Vincent Lenti '60, '63 (Mas).
In the first half of the 20th century, students often were admitted without any audition at all, mainly because getting to Eastman from various locations across the country, not to mention traveling from other countries, was more difficult, as was submitting a recording. It was only in the 1950s that an audition was required of all applicants; before then, the admissions staff had to trust students' recommendations and transcripts.
Lenti himself was admitted without an audition. "I decided to visit the school in 1955, when I had just completed my junior year in high school," he says. "Quite by accident we bumped into the admissions director, Ed Easley, who said, 'Why don't you play something for me?' He took me to a classroom where I fumbled my way through a couple of pieces. Later that fall, he sent me a letter saying that the admissions committee had decided no formal audition was necessary. I had been admitted to the Eastman School of Music. Those kinds of things don't happen anymore."
In 1946, three young women from Florida—Mary Shenk Dodd '50, '53 (MM), Mildred Claeson Dillon '51 and Ann Mason Hutto '51, '53 (Mas)—all wanted to apply to Eastman. They informed the admissions director that they were a package deal: All of them would attend Eastman, or none of them would, according to Hutto. They were allowed to submit tapes, and they were all admitted.
John Beck '55, '62 (MM), now an Eastman faculty member, says, "In 1951, when I auditioned, it was a different world. Today, auditions are much different and more competitive. If I had auditioned today with the same material I auditioned with then, I would not have been accepted. There were five percussionists at Eastman then. Now there are 20. I believe I was the only percussionist who auditioned in 1951. In 2004, there are 54 auditioning, and I will accept only four."
By the 1980s, things had become much more competitive. Joan Sapiro Beal '84 recalls that in 1980, she traveled to Rochester from Connecticut with three friends, all of whom were auditioning. She and one friend were accepted; the other two were not.
While auditioning was hard on Beal, it was even harder on her father, Erwin Sapiro '54, '55 (MM).
"My dad used to get really nervous when I auditioned," Beal says. "When I was auditioning at the Peabody Conservatory, he got nauseated. He couldn't find the men's room and he didn't want to vomit on the floor, but he did find a large potted palm in the lobby. Fortunately, his stomach calmed down and he didn't have to use it. That's why he stayed home when I auditioned at Eastman and let me go with my friends instead."
—Jayne Denker
A Few Eastman Numbers
2002–03 Statistics
| | | | |
| --- | --- | --- | --- |
| | Applied | Accepted | Enrolled |
| Undergraduate | 896 | 289 | 148 |
| Graduate | | | |
| MM/MA | 554 | 172 | 93 |
| DMA | 173 | 56 | 45 |
| PhD | 56 | 19 | 8 |
2004–05 Applicants
| | |
| --- | --- |
| Undergraduate | 967 |
| Graduate | |
| MM/MA | 595 |
| DMA | 168 |
| PhD | 76 |
2004 Auditions
| | |
| --- | --- |
| Applicants auditioning regionally or by tape | 589 |
| Applicants auditioning at Eastman | 1,208 |
| Total number of interviews, auditions, appointments at Eastman | 3,585 |
| Number of weekends (Friday/Saturday auditions) | 6 |
---
Jayne Denker is associate editor of Rochester Review.