Administration
Richard Feldman Named Interim Dean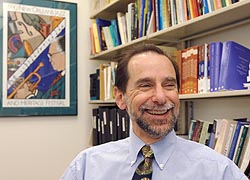 DEAN: As interim dean of the College, Feldman oversees issues involving student life.
A professor of philosophy who has been on the Rochester faculty for more than 30 years has been named interim dean of the College. Richard Feldman, a distinguished epistemologist, will oversee residential life, student life, and other student and academic activities while a search for a successor to longtime Dean of the College William Scott Green is under way.
Since joining the faculty in 1975, Feldman has served as chair of the philosophy department, as a faculty advisor to the All-Campus Judicial Council, and as a member of the College Curriculum and College Writing committees. He also is a freshman advisor.
"I'm delighted to welcome Richard Feldman to the team," says Peter Lennie, the Robert L. and Mary L. Sproull Dean of the Faculty of Arts, Sciences, and Engineering. "His breadth and depth of experience as an administrator, faculty advisor, and teacher will be especially valuable as we continue to strengthen and enrich our undergraduate programs."
Green became senior vice provost and dean of undergraduate education at the University of Miami this summer.