In Brief
Plosser Leads Philadelphia Federal Reserve Bank
Charles Plosser, a professor of economics and a former dean of the Simon School, is helping guide the nation's monetary policy in his new post as president of the Federal Reserve Bank of Philadelphia. Plosser, who joined the Simon faculty in 1978 and served as dean from 1993 to 2003, began his federal appointment in August.
Rochester Wins $2.5 Million Graduate Grant
Four University departments will receive a total of $2.7 million from the U.S. Department of Education over the next three years to support graduate research and teaching in fields designated as areas of national need. At Rochester, the departments of chemistry, nursing, optics, and physics were identified as high-need disciplines.
Bausch & Lomb, University Renew Partnership
Bausch & Lomb and the University have agreed to an $11 million pact to work together to evaluate treatments for eye disease and to undertake basic research focused on glaucoma, diabetic retinopathy, and other leading causes of blindness. Under two new five-year agreements, Bausch & Lomb will provide new research funding for University projects on eye health.
Medical Center Extends Smoking Ban
The Medical Center is establishing a smoke-free campus this fall. Beginning Thursday, November 16, in conjunction with the American Cancer Society's Great American Smokeout, individuals will be asked to leave the grounds if they need to smoke. The new policy expands the Medical Center's previous smoking ban to include a wider perimeter outside buildings, including Strong Memorial Hospital.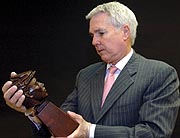 ANNIVERSARY: Holcomb and one of the St. Gaudens sculptures
Gallery Adds St. Gaudens Sculptures
Two bronze sculptures by Augustus Saint-Gaudens that were studies for the American master's Shaw Memorial in Boston are part of the collection of the Memorial Art Gallery. Depicting African-American soldiers from the 54th Massachusetts Volunteer Infantry, an all-black Civil War regiment commanded by Col. Robert Gould Shaw and made famous by the 1989 movie Glory, the sculptures were acquired to celebrate Grant Holcomb's 20th anniversary as director. The bronzes are a gift of Richard Brush and the Maurice and Maxine Forman Fund.