Commencement
Graduates: Beware 'Tyranny of Or'
COMMENCEMENT CAMARADERIE: Members of the Class of 2006 share their excitement with friends, relatives, and other family members among the estimated 5,000 guests who attended the spring ceremony. Altogether, the University awarded 2,314 degrees this spring.
Graduates can—and should—find balance in their lives between the seemingly competing demands of career, family, personal, and community obligations, President Joel Seligman said in his first Commencement address.
"Beware the 'tyranny of the or,' " he told members of the Class of 2006. "In a well-rounded life, there is room for a satisfying career and wonderful personal relationships. There is room for family, friends, community, and for many of you, your faith as well.
"You do not have to trade off," he said. "Each of you should seek to achieve the right balance. It will be different for each of you. But the key to a happy life is to find the harmony that works best for you."
Presiding over his first Commencement season since taking the University's helm in 2005, Seligman said the current generation "faces challenges and has opportunities every bit as significant as any that has lived before."
He urged graduates to remain optimistic despite global challenges in health, energy sustainability, and sectarian violence. Progress in science, business, and technology over the past century offers opportunities for the Class of 2006 to use their talents and education to advance the achievements of the 21st century.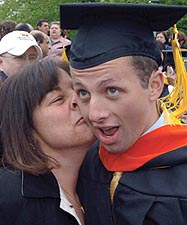 GOOD LUCK: Aaron Kaplan '06, an optics and engineering major, receives a kiss from his mother, Jackie Kaplan.
"I have never met individuals better prepared for this new century than the Class of 2006," he said.
Graduates of the College of Arts, Sciences, and Engineering received a total of 1,094 bachelor's and master's degrees. Separate ceremonies were held for the Eastman School, the Warner School, School of Nursing, School of Medicine and Dentistry, and the Simon School.
The University conferred a total of 2,314 bachelor's, master's, and doctoral degrees in all divisions for the 2005–06 year.
Read the president's full Commencement address.
See a video of the College ceremony.
SPRING HONOREES

Several faculty, alumni, and special guests were recognized during Commencement ceremonies this spring.

Honorary Degrees
Richard F. Fenno Jr., Distinguished University Professor Emeritus
Steven G. Gabbe, dean of the School of Medicine at Vanderbilt University
Bruno Gehrig, chairman of the Board of Directors, Swiss Life Holding
Jane E. Henney, senior vice president and provost for health affairs at the University of Cincinnati College of Medicine
William A. Johnson Jr., Rochester mayor from 1993 to 2005

Teaching Awards
Joseph Dinnocenzo, professor of chemistry, the Edward Peck Curtis Award for Excellence in Undergraduate Teaching
Matthew BaileyShea, assistant professor of music, the G. Graydon '58 and Jane W. Curtis Award for Excellence in Teaching by a Nontenured Member of the Faculty
Alan Stockman, the Marie C. and Joseph C. Wilson Professor of Economics, the University Award for Lifetime Achievement in Graduate Education
Ashok Das, professor of physics and astronomy, the William H. Riker University Award for Excellence in Graduate Teaching

Distinguished Scholar Medal
Amit Goyal '91 (PhD), Battelle Distinguished Inventor at Oak Ridge National Laboratory
Jerry R. Green '67, '70 (PhD), the John H. Leverett Professor and the David L. Wells Professor of Political Economy at Harvard University

Charles Force Hutchison and Marjorie Smith Hutchison Medal
James S. Gleason '72S (MBA), chairman of the board of the gear produciton technology company Gleason Corporation
Martin E. Messinger '49, managing partner of the investment firm Neuberger and Berman