In Review
Discovery
NIH Picks Rochester for Innovative Grant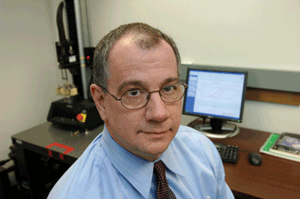 TRANSLATOR: Rechtine, a spinal surgeon in the Department of Orthopaedics, spent two years trying to get a drug trial off the ground. Helping scientists translate research into practice is the focus of a new $40 million NIH grant to the University, the largest NIH award ever received by Rochester.
Spinal surgeon Glenn Rechtine knows about hurdles to clinical research.
Rechtine, a professor in the Department of Orthopaedics, wanted to conduct a study of a new drug that could bring enhanced, longer-lasting pain relief to people who undergo spinal surgery. He had the support of the manufacturer, including free access to the drug and a $50,000 grant to keep records and track the results.
"Patients would benefit from this," he says. "The Medical Center would benefit. It could have been straightforward."
But it took Rechtine about two years to launch the trial as he encountered a series of bureaucratic and resource obstacles typical of what researchers around the country often face. Studies of experimental drugs and new medical devices and techniques have become more complex and cumbersome to initiate as regulations, costs, and information demands increase.
The result has been significant holdups in the completion of studies that could affect the care of patients.
To counter this trend, the National Institutes of Health wants to re-engineer research, utilizing efficient ways to conduct studies, navigate regulatory systems and reduce delays for researchers. The NIH will provide millions of dollars to fuel the initiative, and this fall selected the School of Medicine and Dentistry as one of the first 12 institutions to receive a Clinical and Translational Research Award and become part of a national consortium that will shape the emerging field of translational science.
The school will receive $40 million over five years, the largest grant ever from the NIH to the University.
Translating Discoveries
One of the key points in the NIH's new initiative is making sure that scientific breakthroughs are translated into clinical therapies and treatments that will help patients. Rochester has a distinguished history in translational research, beginning with founding dean George Hoyt Whipple, whose research on anemia and the physiology of the liver helped lead to the use of raw liver as a treatment for pernicious anemia. Whipple shared the 1934 Nobel Prize for medicine for his work.
Here are some other highlights from Rochester's translational history.
Lung Surfactant: Medical Center researchers led by Robert Notter were the first to administer lung surfactant to premature infants, improving the survival rates of babies born more than 12 weeks premature.
Haemophilus Influenza b (Hib) Vaccine: Three Rochester pediatric researchers—the late David Smith '58M (MD), Porter Anderson, and Richard Insel—developed the technology behind the Haemophilus influenza b (Hib) vaccine, virtually eradicating a leading cause of meningitis in preschoolers.
Cervical Cancer Vaccine: Last June, the F.D.A. approved the first vaccine to combat a specific form of cancer. The vaccine draws on 20 years of work by Rochester virologists Richard Reichman, William Bonnez, and Robert Rose '94M (PhD).
LASIK Surgery: Customized LASIK surgery grew out of laboratory work in the early 1990s by a team led by David Williams, a professor of brain and cognitive sciences, that discovered how to use a laser beam to take extraordinary images of the inner human eye. Scott MacRae, a professor of ophthalmology, applied the technology in his pioneering development of customized LASIK surgery.
With the grant, the school will establish a Clinical and Translational Research Institute designed to make the research machine run more efficiently by identifying barriers and providing solutions.
That could mean a new way to fund highly experimental research, fresh techniques to conduct epidemiological research, novel technology to analyze complex medical results, and even innovative ways to make sure clinical trial volunteers are protected.
"The NIH award places the University and the School of Medicine and Dentistry in the vanguard of the emerging field of translational science," says President Joel Seligman. "The NIH reviewers called the school's plan innovative, detailed, and well formulated. They said it will have a deep impact on the overall quality of research and expand collaborations through upstate New York. This investment will pay enormous dividends to the University and to the Rochester community and beyond."
The NIH defines clinical research as studies and trials that involve human subjects. Translational research includes the process of applying discoveries made in the laboratory, testing them in animals, and developing trials and studies for humans, and research that enhances the adoption of the best treatment practices in the medical community.
"We can best advance clinical and translational science by giving it an academic home where we can encourage collaboration among experts from many different fields, where we can coordinate the resources needed by researchers, and where we can find new ways to conduct this research," says David Guzick, dean of the School of Medicine and Dentistry and principal investigator for the NIH project.
The goals of the new institute include increased funds for pilot projects; enhanced services and new technology for data management, computer simulation, biostatistics, research ethics, and community involvement; additional faculty training and new master's and doctoral degree programs in clinical and translational science; and formation of a network of hospitals and biomedical research institutions in upstate New York whose members will collaborate on projects and share resources.
"The award and the institute will make Rochester a better competitor for future research projects and for new clinical trials sponsored by government and industry," Guzick notes. "We will have the structure to conduct more trials and studies. We will be training and attracting more researchers who will bring in more grants. There will be a multiplier effect that impacts basic research, clinical practice, and community outreach. We will accomplish more and we will be known for more."
Under the leadership of Thomas Pearson, chair of community and preventive medicine, the school also will organize a consortium known as the Upstate New York Translational Research Network that will include SUNY Buffalo, SUNY Upstate Medical University in Syracuse, SUNY Binghamton, Cornell University's Division of Nutritional Sciences, Ordway Research Institute, Albany Medical College, Albany College of Pharmacy, Bassett Healthcare System in Cooperstown, and Guthrie Healthcare System in Sayre, Pennsylvania.
"The network will promote collaboration among scientists from member institutions and across disciplines—the kind of interaction that does not occur frequently enough, yet is conducive to successful translational research," Pearson says.
Bradford Berk, chief executive officer of the Medical Center, emphasizes a different kind of regional impact.
"The NIH award and our institute also have great importance for the people of the Rochester area and upstate New York," Berk says. "They will have early access to many more clinical trials and actual clinical applications—the cutting-edge treatments—will more readily be incorporated in patient care."
Rechtine's research experience illustrates what is at stake. During his two-year effort to get his study under way, he spent a significant amount of time dealing with the legal requirements designed to protect the institution in case the study ran into difficulty. After he secured the needed approvals, he then had to search for a coordinator to oversee the nuts and bolts of the trial.
"If, as a nation, we are serious about clinical or translational research, we need to make it easier for busy clinicians to participate," Rechtine says. "It's difficult for clinicians who see patients to find the extra time to deal with these things. Doctors trying to do a study in addition to seeing patients would welcome additional resources to tackle the job."
—Michael Wentzel
---
Michael Wentzel is editor of Rochester Medicine.