Miss Alcott's 'Pen Pal'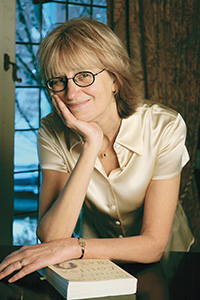 BOOK BOND: In her new book, Bakke '77N, a one-time member of the Weather Underground who made her career as a pediatric oncology nurse, imagines talking to fellow social activist and author Alcott (opposite) as a way to discuss making changes in society.

The decision to leave the notorious Weather Underground was a quick one. In early 1973, while protesting the Vietnam War at a demonstration in Berkeley, California, Kit Bakke '77N found herself surrounded by police, their guns drawn.

As a member of the radical political activist group, Bakke certainly had seen guns pointed in her direction over the past couple of years. But things were different now. She was pregnant. Bakke made her way home, where she spent the night trying to figure out how she was going to make a living and provide for her child.

That night of soul-searching would eventually lead Bakke to the University, a career in nursing and now, as a middle-class, middle-aged wife, and mother of two grown daughters, to book signings across the country for her new bio-memoir Miss Alcott's E-mail, Yours for Reforms of All Kinds (David R. Godine, 2006). The book is a collection of feigned correspondence between Bakke and 19th-century author Louisa May Alcott, both of whom shared a moral responsibility to battle injustice.

"Life is about making choices, about living by your principles and by your ideas," says Bakke, a meticulous researcher whose book also examines transcendentalism, the abolitionist movement, and women's rights. "And that's what attracted me so much to Louisa. She didn't just live her life—she made it, she constructed it from her ideas. I believe in, admittedly smaller ways, that's what I did as well."

Bakke worked for Students for a Democratic Society before signing on with the Weather Underground in 1969. During her stint with the revolutionary splinter group—which hoped that a more secretive, militant strategy would yield more results than public, peaceful demonstrations had—the FBI amassed a 400-page file in her name. Bakke keeps a yellowed copy of the file in her study.

"None of us thought we personally had any future," she says. "We didn't see our lives as being worth anything, so we weren't risking anything that mattered. We were so focused on stopping what we saw as this incredible moral evil, this monster that was stalking the planet in our names. We wanted to throw ourselves into the cogs and make it stop."

Bakke did not see trading her education in making Molotov cocktails for one that landed her on a college campus as defection. As a nurse, she thought, she could go to Vietnam and help those who had been victimized by the United States.

While taking science courses in California, Bakke learned about Rochester's innovative nursing program from a woman in her organic chemistry class. By the time the 28-year-old enrolled at the school—where she was older than most of her classmates—her daughter, Maya, was 2. By that time Bakke spoke little of her turbulent past.

"It didn't come up in conversation all that much," she says. "I'm very easily absorbed in what's going on around me right this second. I don't borrow trouble from the future and I don't stew over the past."

Bakke never got to Vietnam. Wanting her daughter to grow up near relatives, she drove to her hometown near Seattle the week before graduation—she had earned her class's Clare Dennison Prize for Outstanding Proficiency in General Nursing Care—and began a hospital job working with cancer-stricken children on the night of her commencement. When Maya was 6, Bakke met her future husband. They were married in 1982 and their daughter, Tess, was born the following year.

Bakke, now 60, got the idea for her debut book in 2001 while on a dinner cruise with other tourists in Paris, one month after the Twin Towers were attacked. As the boat's loudspeaker played "America the Beautiful," the tourists began singing through their tears—including Bakke, who was surprised by her reaction. She had never thought of herself as a patriotic American. Believing that her emotions had "rational roots," she decided to learn more about the country's history and the "strong, thoughtful, principled values" that people centuries ago seemed eager to wear on their sleeves. It wasn't until late 2002 that Alcott popped into her mind as a perfect example.

Bakke found that they had more in common than she could have predicted. Both had lived in a commune and had chosen nursing as a profession. (Bakke would spend most of her time as a nurse working with oncology and hospice patients, two areas inspired by a mid-1970s trip with a Rochester faculty member to a pioneering hospice in London; Bakke no longer practices but maintains her license.)

"Some people have suggested serious spiritual channeling," says Bakke, who refers to Alcott in conversation as if she were a close friend. "I reject that notion, but I must admit it's pretty weird."

Miss Alcott's E-mail pays tribute to the ideas, energy, and humor that defined Alcott—whose neighbors growing up included Nathaniel Hawthorne, Ralph Waldo Emerson, and Henry David Thoreau. The tagline, "Yours for reforms of all kinds," was how Alcott signed some of her letters to her woman's suffrage pen pals.

Supposedly reaching a reflective Alcott in the last six months of her life, Bakke asks questions about society, including this one posed to Alcott in the middle of the book: "Now that we're older, how do we remain helpful and useful to the cause of liberty, justice, and peace?"

For her part, Bakke works with established charitable organizations that strive to alleviate homelessness, substance abuse, and other problems at the local level. She's at work on a second book, which she describes as a contemporary novel about a middle-aged woman who loses her grip on her perfectly satisfactory life, has some adventures, and makes some mistakes.

Despite the errors in her own past, Bakke says she doesn't have any regrets.

"Of course we made mistakes, but everybody makes mistakes," she says. "I believe in putting yourself out there for the things you care about. If you don't do that, you're going to live a diminished life."

—Robin L. Flanigan

Robin L. Flanigan is a Rochester-based freelance writer. For more about Bakke, Alcott, and Miss Alcott's E-mail, visit www.kitbakke.com.