College
Students, Scholars Are Focus of Gift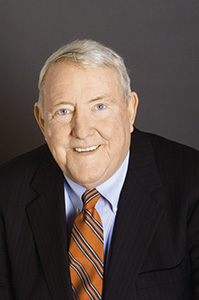 SCHOLARSHIP: A $3 million gift from E. Gerald Corrigan will establish a professorship named for him and his wife, Cathy Minehan '68.
E. Gerald Corrigan, a former chief executive officer of the Federal Reserve Bank of New York and a current managing director at Goldman Sachs, is making a $3 million gift to the University for scholarships and for a new endowed professorship in political science.
Corrigan and his wife, Cathy E. Minehan '68, chief executive and president of the Federal Reserve Bank of Boston, are building on an existing scholarship fund that assists students as well as establishing the Corrigan-Minehan Professorship in Political Science in the College of Arts, Sciences, and Engineering. The professorship will support a scholar who exemplifies the research and teaching excellence of the late political scientist and Rochester scholar William F. Riker.
Part of the new Corrigan gift will broaden the existing Corrigan-Minehan Scholarship Fund. Students with significant financial need, underrepresented minorities, athletes in good academic standing, and those pursuing research in the social sciences directed by a faculty member can benefit.
Corrigan, an economist who earned his master's and doctoral degrees from Fordham University, is a participating managing director at Goldman Sachs, where among other responsibilities, he cochairs the firm's global Risk Management Committee. Prior to joining Goldman in 1994, he served the Federal Reserve for 25 years.
Minehan, who holds an M.B.A. from New York University, is well known for her work in national and international payment systems. She has served as a trustee of the University since 1995 and is chair of the executive committee of the Board of Trustees.