Students
Record Numbers Sign Up to Study Abroad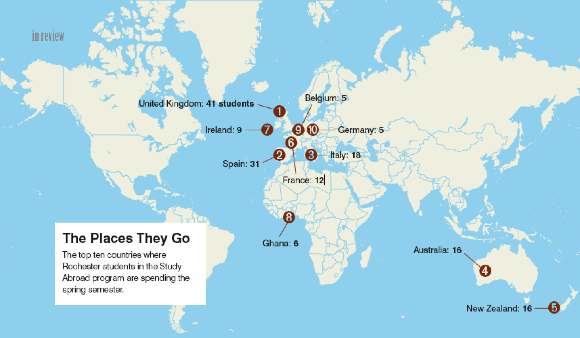 Studying abroad is an opportunity to take what you are learning in the classroom and hearing in the news and apply those lessons to real-world situations.
That's what Raphael Glazer '08 hopes to do while studying Middle Eastern politics at Hebrew University in Jerusalem this spring.
"There is a big focus on the Arab-Israeli conflict," he says. "I thought it was a great opportunity to delve deeper into these issues."
Glazer, a political science major, is one of a growing number of Rochester undergraduates taking advantage of those international opportunities.
Placements for study abroad hit a 10-year high this fall, according to Jacqueline Levine, assistant dean and director for study abroad.
More than 130 students are going out of the country this spring. They are joining another eight students already abroad on full-year programs.
While the majority choose to study in Western Europe, some are taking the route less traveled. Laura Reynolds '08 has set up a hospital internship in Bangkok, Thailand, where she plans to study public health issues plaguing the lower classes in Thailand.
She notes she was at first concerned that going abroad would conflict with her premed studies.
"I really wanted to study health care in other countries," Reynolds says.
Levine says concerns about scheduling and conflicts are common but says that study abroad programming has responded to the changing needs and interests of all undergraduates to supplement their studies at the University.
"There's a recognition that while many students lack the foreign language skills to enroll in universities overseas, they have the intellectual curiosity to explore other cultures," she says.
Reynolds said her parents were a little nervous about her plans but supported her throughout the process.
She remembers a conversation with her mother, who early on asked, "Now Laura, do you think you'll be around blood?" And Reynolds replied, "I hope so!"
"You have to be there, right in the middle of things, to understand what they are going through, to create positive change," she says.
Mollie Foust '08, a history and anthropology major, is on an eight-credit independent study program in Kenya, where she plans to research the effects of Westernization on Kenyan classrooms.
"I didn't want to just be doing what I do here in another country," she says. "I want to be fully immersed in their culture."
—Enid Arbelo