Bringing Their 'A' Game
Student-athletes earn accolades in the classroom as well as on the playing fields. By Enid Arbelo. Photography by Richard Baker.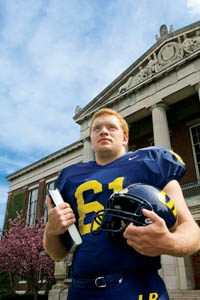 For Nicholas Zappia '07, his last Yellowjacket football season seemed like the perfect end to his four-year College career.
The team finished the regular season at 7-and-3 and earned its first postseason berth in 19 years. Zappia, a starter on the offensive line—at both guard and tackle—played key roles as the Yellowjackets racked up 3,966 yards in total offense, breaking the record of 3,726 yards set in 1988.
Meanwhile Zappia, who graduated in May with dual degrees in economics and statistics, was tapped for several honor societies and was named one of the top five senior economics majors for 2006–07.
"I really try to find a balance," Zappia says. "If you bury yourself in books, you are going to get out of here in four years and wish you'd done it differently."
When it comes to balancing a life in books and a life on the playing field, Zappia—like many Rochester students—seems to have found the right combination. In recognition of his academic and athletic achievements, Zappia was named a first team Academic All-American for 2006–07, a national honor that goes to a handful of top student-athletes each year.
Zappia, who is a two-time first team Academic All-American, joins a long tradition at Rochester. Since 1980, when the national program to recognize student-athletes was first formalized, a total of 67 students have been named Academic All-Americans, and two—Tanya Klebe '97 and Nathan Micklos '05—have been named Academic All-Americans of the Year.
To George VanderZwaag, director of athletics and recreation, that record says a lot about Rochester.
"This story starts with who we are and how we approach our work," he says. "We have to identify students who have very serious academic goals and very serious athletic goals if we are going to be successful.
"To me that is what an Academic All-American is; it recognizes the perfect marriage."
Recognizing the marriage between athletics and academics has been part of Rochester's life since the institution's founding 157 years ago. While first president Martin Brewer Anderson famously fought to keep athletics out of University life, he ultimately relented and allowed students to organize athletic clubs and teams. When the River Campus opened in 1930, athletic facilities—including a football field and a gymnasium that could host intercollegiate competitions—were priorities.
In the second half of the 20th century, many institutions moved to what is now known as the National Collegiate Athletic Association's Division I, a highly competitive intercollegiate division that, among other things, allows universities to offer athletic scholarships. Rochester, like the University of Chicago and others, has chosen to remain in the more academically focused NCAA Division III. Members of the division are prohibited from awarding athletic scholarships to students.
At Rochester, the Department of Athletics and Recreation is part of the College, a structure that allows for close collaboration between academics and athletics.
That integration sets Rochester apart, says Richard Feldman, dean of the College.
"There is a great deal of collaboration, understanding, and engagement between the academic deans and the director of athletics," he says. "And I think that's unusual. It's part of what helps us succeed as an institution."
Selected by the College Sports Information Directors of America (CoSIDA) and sponsored by ESPN The Magazine, Academic All-Americans are recognized in 12 programs: football, women's volleyball, men's and women's soccer, men's and women's basketball, baseball, softball, men's and women's track and field/cross country, and men's and women's at-large.
Within each program, a first team, second team, and third team are selected in both university (Division I and I-AA) and college (Division II, III and NAIA) categories.
To be nominated, student-athletes must be starters or important reserves with at least a 3.2 cumulative grade point average and be at least sophomores at their schools.
Susan Johnson '07, who received her degree in mechanical engineering this spring, was named to the second team in volleyball.
"I was really honored," says Johnson, who has been playing volleyball since junior high school. She fell in love with the game after her coach suggested she try out for the team because of her height.
"The award really shows you as an all-around person," she says. "It's nice to be recognized for the hard work you put on and off the field. Playing a sport while trying to do your school work is definitely a challenge."
VanderZwaag says he's impressed each year by the number of Rochester students who are up for that challenge. Students generally choose the University because they are attracted to its academic rigor.
Research opportunities, small class sizes, competitive fellowship and grant programs, and graduate opportunities complement a hardworking athletics program, he says.
Brian Tuohy '07, a first team Academic All-American in soccer, says that was the case for him. He attributes his success to the atmosphere at the University.
"The best thing about Rochester is the curriculum," Tuohy says. "I was able to take a bunch of classes that I enjoyed. That's part of the reason why I've been successful."
Many students also attribute their success to the hard work by the staff in the athletics department. They demand high standards, keep a positive attitude, and always take pride in the institution. Ultimately, they work to contribute to the educational mission of the College.
"The athletic department is amazing," Johnson says. "They are a tightly knit group. It's nice to have that extra support system."
Jason Goeller '07 and Andy Rape '08, who were both named to the second team in football, say the transition to college life was eased with the friends they made on the football field.
They also say the support they received in following their passions off the field were important, too. Goeller took time off the football team to pursue a career through NROTC, including a tour last summer on a submarine off the Alaskan coast.
"It takes good time management skills and a little coffee here and there," Goeller jokes.
Rape, who plans to attend law school or enter the Peace Corps, was a volunteer at Camp Good Days and Special Times, a Rochester-area not-for-profit organization that runs camps and other programs for children with cancer and their families.
"I was able to play football, but still do the things I wanted to do," Rape says.
And that's the most important score, says VanderZwaag.
"We can win a lot of games and people will remember that. But if our students aren't successful in all that they are trying to do, we are falling short of our goals."
---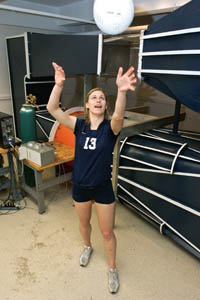 Susan Johnson '07
Mechanical Engineering
Salamanca, New York
A second team Academic All-American, the outside hitter for the women's volleyball team leaves the Yellowjackets as the University's leader in kills and digs. Johnson, who also coaches a girls' high school club team, is a member of the National Society of Collegiate Scholars, and is a member of the St. Sebastian Community Service Society. She was named New York State Co-Offensive Player of the Year by the New York State Women's Collegiate Athletic Association and was named first team All-New York State for four straight years.
---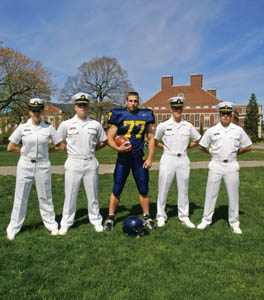 Jason Goeller '07
Mechanical Engineering
Pittsburgh
A second team football Academic All-American, Goeller helped lead the defense as an outside linebacker as well as a defensive end and tackle. As a member of NROTC, he began his commission on active duty with the United States Navy in Charleston, South Carolina, in May. Goeller was also named first team All-Liberty League as a linebacker and is a member of the Delta Kappa Epsilon Fraternity.
---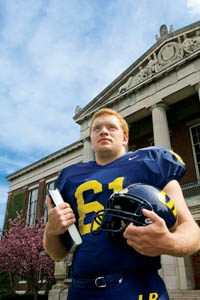 Nicholas Zappia '07
Economics and Statistics
Canandaigua, New York
A two-time first team football Academic All-American, Zappia has been a starter on the offensive line—at both guard and tackle. He's a member of the National Society of Collegiate Scholars and was named three times to the All-Academic Liberty League. A Kodak Young Leadership Scholar, a Simon Scholar, a member of the economics honor society, and a member of the University's Senior Honor Society, he was awarded the John Dows Mairs Prize from the Department of Economics. The prize is awarded to the top five senior economics majors.
---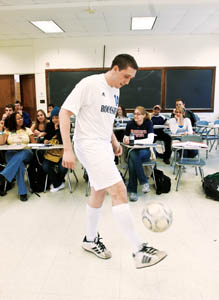 a
Brian Tuohy '07
Psychology and Religion
Sayreville, New Jersey
The soccer forward was named first team Academic All-American. Tuohy was a Humanity in Action Fellow and an Urban Fellow. Elected to Phi Beta Kappa his junior year, he is a member of Keidaeans, the University's senior honor society, and is the president of the Rochester chapter of the Golden Key International Honor Society. Tuohy, who has been a teaching assistant in the both his major departments, is also a member of psychology and religion honor societies.
Enid Arbelo is student life writer in the Office of Communications.