Clinical Care
A Critical Need for Space
Medical Center project to ease overcrowding, enhance children's care, and enable regional growth.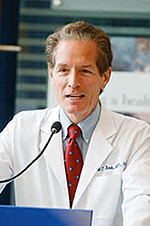 PRISM: Medical Center CEO Bradford Berk outlines plans for the largest clinical expansion in the history of Strong Memorial Hospital.
Faced with a need for more patient care space, the Medical Center announced this fall that it's applying to the New York State Department of Health for the largest clinical expansion in Strong Memorial Hospital's history.
The Medical Center is requesting permission to boost its licensed bed capacity by 123 beds, from 739 to 862 beds, adding a six-story tower adjacent to Strong Memorial Hospital.
The 330,000-square-foot addition would house 56 beds for Golisano Children's Hospital, an additional 56 adult beds for Strong Memorial Hospital, two floors for imaging sciences, including a dedicated area for pediatric patients, plus an expanded pharmacy and other support space.
Once the tower is complete, the 48,000- square-foot space currently occupied by the Golisano Children's Hospital would be converted to beds for up to 67 adults.
The proposed expansion, dubbed the PRISM project for Pediatric Replacement and Imaging Sciences Modernization, is a cornerstone of the Medical Center's proposed 5-year strategic plan.
Preliminary estimates are that the two-phase project will cost about $250 million. The expansion would be financed by a combination of philanthropy, borrowing, and reinvestment of hospital equity.
"Increasing demands for beds due to our concentration of high intensity services such as complex surgical care, transplant and trauma, as well as an aging population, routinely cause us to exceed our current bed capacity," said Bradford Berk '81M (MD/PhD), CEO of the Medical Center. "For the last several years we have struggled to make room by renovating small numbers of beds. It has not allowed us to provide ready access to the kind of high-quality, private, and respectful care that our patients expect and deserve.
"Nearly everyone knows someone who has been admitted here who's had to endure long stays in our Emergency Department waiting for an inpatient bed. That's simply not acceptable for our community or region."
President Joel Seligman said there is a compelling need for the additional space.
"Additional capacity allows us to provide more appropriate health care and take advantage of Rochester's opportunity to build its new economy on the pillars of higher education, health care, and biotechnology," he said.
Preliminary estimates by the Rochester-based Center for Governmental Research show that the proposed expansion would create roughly 530 construction jobs per year. Staffing estimates for the new tower include another 300 permanent jobs for nurses, social workers, imaging staff, and other support workers.
If approved by the state health department, construction would begin in summer 2009, with completion of the new building in 2012, and renovation of the space in the hospital in 2014.
Over the last 10 years, Strong Memorial Hospital has seen a steady increase in demand, along with a rise in the number of patients from outside Monroe County.
Nearly one-third of patients travel to Rochester from outside the area as smaller, outlying hospitals have come to rely on Strong, particularly for patients needing complex, intensive care.
Strong Memorial Hospital is the region's sole provider of a variety of advanced services such as solid organ transplant, severe trauma and burn care, cardiac subspecialty care, and other specialties. In addition, it cares for more indigent patients than any other hospital in the region.
Pediatrics, in particular, has seen real growth, largely in children with complicated health issues who once sought care outside the region. For example, cardiac surgery has grown from 103 surgeries in 2000 to more than 300 expected in 2007—an increase of 190 percent. The new project aims to create a contiguous, family-centered space for very ill children within the hospital, including dedicated imaging space for children only one floor below the new inpatient unit.
"This project brings our facilities to the level of the nation's top children's hospitals, enabling us to attract and retain top pediatric subspecialists who are in short supply," said Nina Schor, chair of pediatrics and pediatrician-in-chief at the Golisano Children's Hospital. "That creates hope for all the families in our region."