Practicing the Art of Observation
An innovative collaboration between the Memorial Art Gallery and the School of Medicine and Dentistry challenges physicians, nurses, and hospital chaplains to see their work in new ways.
By Kathleen McGarvey
"What do you see?"
Susan Dodge-Peters Daiss, director of education at the Memorial Art Gallery, poses that elemental question to a group of clinicians and medical residents working at the University-affiliated Highland Hospital.
Gathered in one of Highland's auditoriums, the white-coated physicians focus their attention not on a challenging medical case, but on a painting.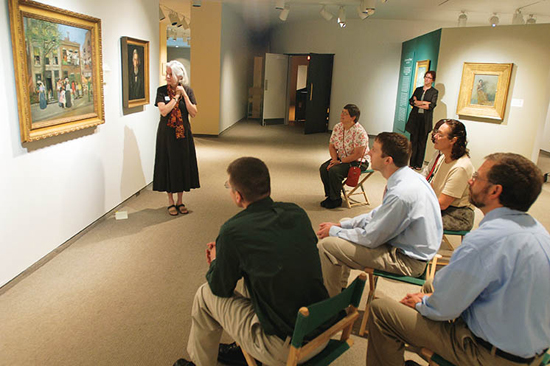 "A hunting scene," one resident answers.
"Birds."
"Nesting birds."
Daiss's face sparks with interest. "Ah. Why nesting birds?"
To the resident who said it, the reason is clear. "Because there are nests," he replies. But nothing is so apparent that it can be taken for granted in this exercise, and Daiss asks the man to come up, point out to the group what he sees as nests, and explain why.
Satisfied, Daiss moves on. "What else do you see?"
The residents reply self-consciously at first, disconcerted by her insistence that they only report, not interpret, their observations.
"It's very difficult to state the obvious," Daiss says. "Our culture encourages interpretation and immediate answers."
After more than half an hour of scrutinizing the painting, the residents have compiled a long list of observations, both plain and subtle. Now they begin to draw conclusions. Soon Daiss gives them some background information on the painting so they can see how it influences their interpretation. This process mirrors the medical procedure of "differential diagnosis"—weighing the evidence of different factors to arrive at an explanation of a patient's illness.
She tells them the painting's date—1857—and the country it depicts: Brazil. They refine and augment their reading of the painting. Finally she tells them the full story.
They are right, she says, that the pink birds are flamingoes, and that the painting depicts a hunt. But what has appeared to the residents a record of horror at a scene of carnage—birds in panicked flight above the smoke of gunfire, wounded birds arcing their necks as they plummet, dying, to earth—was painted in quite a different spirit.
The artist, Daiss explains, is George Catlin, a Philadelphia-born artist best known for his paintings of Native Americans. He was also a friend of famed firearm-maker Samuel Colt, and Colt commissioned Catlin to produce several canvases celebrating the power of the Colt revolving cylinder rifle. The gunman in the scene is Catlin himself. Clearly, there is more to observation than meets the eye.
In museums and galleries, most people gravitate first toward the wall label that hangs beside a work; then, having been instructed in what they are about to see, they glance at the art for between just 3 and 27 seconds, on average. Viewers have their interpretation before they even look at the piece.
But seeing, really seeing, art is the goal of Art and Observation, an innovative collaboration between the School of Medicine and Dentistry and the Memorial Art Gallery. One of a handful of such programs in the country, Art and Observation aims to help medical workers—physicians, nurses, hospital chaplains—provide better care to patients.
By learning to look at art, participants hone the observational skills they need in the clinical setting. Most Art and Observation sessions take place in the Memorial Art Gallery, and while an art gallery is remote from a hospital, what happens at the gallery nonetheless cuts to the heart of what it means to be a doctor, says physician and Art and Observation instructor Hannah Solky.
"If we're going to use art, for me as a physician, the question is, what is the goal? And I think it's to help students understand the human condition, different kinds of people, and different life stages," she says. "I think if medical students examine themselves, it helps them understand other human beings."
Seeing the Profession with Fresh Eyes
When Andrew Aligne, assistant professor of general pediatrics, and Laura Jean Shipley, clinical associate professor of general pediatrics, take pediatrics residents to an Art and Observation session, they hope the experience will allow residents to see their profession with fresh eyes.
"We're trying to teach them to take a step back and question the culture of medicine," Aligne says.
Aligne is director of the CARE pediatric residency track, part of the Pediatric Links with the Community (PLC) program that he codirects with Shipley and Jeffrey Kaczorowski, associate professor of pediatrics. Residents in pediatrics and family medicine, as well as pediatric nurse practitioner students, participate in two-week, community-based rotations based on PLC. They work with local organizations to learn about community factors that affect children's health. The CARE program facilitates additional partnerships between organizations and second- and third-year medical residents who devise projects tackling poverty, violence, chronic disease, and other threats to children.
This fall, the residents spent the first day of the CARE track at the Memorial Art Gallery, looking at art that evoked medical issues.
"Art and Observation is such a departure from medical training," Shipley says. "Residents are being encouraged to take time to reflect and process. And they're working as a group. We ask what they see differently as a result of others' observations."
"That's not part of the culture of medical practice," Aligne says. "You work alone and have limited time. You're not usually going around with a group of peers."
At one point, Shipley recalls, Susan Dodge-Peters Daiss, who led the session, asked all the participants to move to a new spot from which to look at the painting Skating on the Genesee, a Rochester scene by American painter Emily L. (Elizabeth) Smith.
"All of a sudden, you stand in a different place, and you see new things," says Shipley. "It helps make people more aware of their own perspective."
Aligne and Shipley put that new awareness to immediate use at the next CARE session, taking residents to Rochester's 19th Ward for a tour from neighborhood youth.
"The kids led them down the sidewalks, showed them schools, stores, streets, and houses," says Shipley. "The residents heard the kids' accounts of what was exciting about the neighborhood, their safety concerns, and their pride."
To see art, and to be empathetic, one has to "imagine the world of someone else in their own terms," Daiss says. Thanks to their Art and Observation session, Shipley says, the residents were better able to look through the children's eyes and to carry out their own evaluative process with some critical distance.
"It makes them more likely to ask 'Why am I feeling this way?'" she notes, "and 'What other information could I have?' What in their past are they bringing that might influence the conclusions they're reaching?
"I think the Art and Observation experience is a remarkable thing because it sets the foundation for discussions I doubt you could have any other way."
Viewing the art also provides the perspectival benefits of history. The PLC and CARE programs address preventative care—not just treating children's symptoms but getting at the root causes that make them sick in the first place. When the residents looked at Skating on the Genesee, from 1862, they glimpsed a very different Rochester—one in which scores of city dwellers took to the ice for skating on a cold winter day.
"We're still in Rochester, the Genesee River still freezes, but people aren't out skating on it like they used to, and people aren't walking to the river to watch people skate," Aligne says. "What has changed? How does that relate to the problem of obesity?
"The process of going to the gallery and spending time looking is a very useful building block," he adds.
Art and Observation "is a model. Rochester can have a lot of pride in it," Shipley says.
"It really strengthens what we're able to do to improve community health," says Aligne.
—Kathleen McGarvey
Art and Observation had its beginnings in 2001, when Stephanie Brown Clark—an assistant professor in the Medical Humanities Division of the School of Medicine and Dentistry and course director of the Medical Humanities Seminars—read an article in JAMA: The Journal of the American Medical Association about a program at Yale University in which medical students visited Yale's Center for British Art, sharpening their clinical observation skills by looking at pieces there. The results caught Brown Clark's attention. Students who had been through the program and tested against a control group before and after the museum visit demonstrated a 10 percent improvement in their ability to observe more details in a more organized way.
With a medical degree from McMaster University and a doctorate in 18th- and 19th-century literature and history of medical literature from the University of Leiden in the Netherlands, Brown Clark was already well versed in the ways that art and medicine intersect. She was convinced that a program inspired by Yale's could work well at Rochester, and she contacted Daiss to see what they might develop. It was an apt partnership, because in her own way Daiss has a foot in the worlds of art and medicine as well. Trained as an art historian, she is the daughter of Rochester medical graduates Philip Rogers Dodge '48M (MD) and Martha Hoyt Dodge '47N and was an intern in the chaplaincy training program at Strong Memorial Hospital.
There are similarities, Brown Clark and Daiss discovered, in the ways that museum educators teach their learners to look at art and figure out possible meanings, and the ways that medical educators teach their trainees to look at a patient and generate different possible diagnoses to explain the signs and symptoms. It seemed to them both that there were skills beyond observation that could be developed at the gallery. Together with Memorial Art Gallery curator Nancy Norwood, medical student Rachel Kowal '04M (MD), and Jules Cohen '53, '57M (MD), a professor of cardiology, Daiss and Brown Clark developed the first version of the program in the spring of 2003.
Originally created as a medical humanities seminar for 13 first-year medical students, the program has for the last three years brought the entire first-year class to the Memorial Art Gallery during orientation. Many physicians-in-training in various residency programs, from family medicine, internal medicine, psychiatry, obstetrics and gynecology, and pediatrics, as well as undergraduates, graduate students, and faculty in nursing, also take part in the program. It has proven a useful tool, Brown Clark explains, in teaching such hard-to-convey lessons as cultural sensitivity.
"I don't think we imagined it would be as popular as it has been," she says.
Part of that success, she and others note, can be attributed to the fact that students and faculty at Rochester tend to have a special affinity for medicine with strong humanistic roots. That connection is rooted in the University's tradition of biopsychosocial medicine—an approach to medical education that integrates the biological aspects of disease with the unique psychological, social, and cultural circumstances of each patient. Its pioneers were Medical Center faculty George Engel and John Romano. "We draw people who understand this facet," says David Lambert, associate dean for undergraduate medical education at the School of Medicine and Dentistry.
When program cocreator Cohen trained at Rochester under Engel, he learned from him to watch for signals in a patient's appearance, behavior, posture, and surroundings that could signal underlying conditions. For example, he explains, patients with diseased lungs will lean forward on their arms to alleviate the strain on their chest—and a physician skilled in the "art of observation" will be attuned to those clues.
"I'm talking about what used to be referred to as 'bedside skills,'" Cohen says.
When medical students and residents learn to look, they are building a time-honored medical skill—one that may also prove invaluable in the present health care economy, he suggests.
"I think it's especially important now because the favorite question is, what do the tests show? You can get a lot of information without them, and if we're going to save the health care system money, we need to be able to do that.
"A test is very focused and only picks up on certain things. . . . Tests are valuable, but they provide limited information. And observation, carefully done, provides much richer information. It may not be as easy to quantify, but it's much richer," Cohen says.
Practice in the art of observation can help not only in making diagnoses, but also in relating to patients: appreciating their personal circumstances, empathizing with them, and providing comfort.
"A lot of what we do involves being present with people, and being attuned to how they're feeling and what's happening," says Ben Lattimer. As a chaplaincy resident he strives to be what he calls a "non-anxious presence" and equates the time spent quietly considering the paintings with the time he spends getting to know patients—and looking beneath the surface, too.
"A lot comes at you in a hospital," he says. "There's fear, grief, anger, loneliness. There's so much happening in this place, and in people's lives. The art of observation plays strongly into that because people are very good at saying 'I'm fine.'" Accepting that answer is much like only glancing at a painting, Lattimer says. Taking time to observe and listen to a patient yields so much more.
"When I walk into a room, I look around. Are there cards? Flowers? Is this person alone in Rochester? Do they have family visiting?" Mary Alice Westerlund, chaplaincy resident, explains.
But observation isn't only about looking outward; it involves looking inward as well. "I go into a patient's room and I have feelings and fears," Lattimer says. "Rather than suppressing it, I make use of it, with the patients and the paintings. And it takes me to a place with the patient. I feel uncomfortable; I feel afraid—and so do they."
Building such empathy and self-awareness is part of what Art and Observation is all about, says Solky.
"How people [in medicine] relate to art is probably not different [from how others do], how they understand human suffering or sweetness," she says. "But I think when you work with medical students, you know they'll be taking care of other people, looking at them, listening to them. They meet patients often at crises, and to the extent that they're understanding of human beings and able to reflect on their own experiences and other people's, they'll provide better care for patients and their families."
"Medicine is about interacting in a very intimate way with people's humanity," says Salvatore Priore, a second-year medical student who recently completed one of Solky's Art and Observation courses, Human Development in Art. "People are sick and vulnerable. Exploring that, and exploring our own humanity, is an important part of being a compassionate physician."
The program recently received a grant from the National Institutes of Health for sessions bringing people over 65 together with medical students who will one day treat them. Daiss and Brown Clark also hope to expand to offer sessions for medical teams—residents, medical students, nurses, and chaplains working together—and to begin offering sessions for practicing physicians.
The Art and Observation program has a practical focus. "I'm not trying to make better people," Brown Clark says. "I'm trying to make better doctors." And the program's goals are clear: a keener ability to observe; an improved capacity to articulate what one sees; an opportunity to practice clinical reasoning outside the familiar clinical setting; an enhanced appreciation of the insights and limits of one's own observations.
And yet alongside those benefits often comes something else, more personal and ineffable.
Hospitals, says Daiss, are microcosms of human drama. "People are waiting for test results, being born, dying. It's all here." That is part of what attracts many people to medicine, she says.
When they come into the gallery, she adds, their interaction with the art not only sharpens their medical skills but also reaffirms that fundamental inspiration.
"It reminds them, perhaps, of the whole person who started out to be a doctor," she says.
Kathleen McGarvey is associate editor of Rochester Review.