Living to 100
Leading the world's largest study of centenarians, Thomas Perls '86M (MD) is changing notions about what it means to be 'old.'
By Corydon Ireland
Thomas Perls '86M (MD) was a teenager in Littleton, Colo., when he volunteered to be an orderly in a nursing home. What he saw changed his life.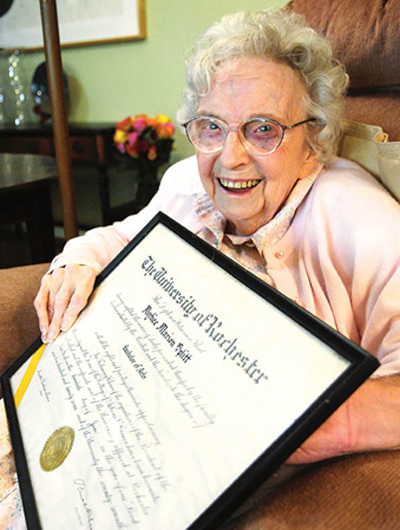 "People were lined up in wheelchairs on either side of wide hallways, completely drugged on anti-psychotics," he recalls. "Even at 16, I could tell that care for older people in this country was just terrible."
Now a preeminent geriatrics researcher, Perls directs the New England Centenarian Study, the largest in-depth study of people who are 100 years old or older. Founded by Perls in 1994 at Boston University, research by the study's 12-member research team routinely contradicts a central myth of aging—that the older you get, the sicker you get.
Perls prefers a favorite retort: "The older you get, the healthier you've been."
His years of long-term, longitudinal studies on the exceptionally old have uncovered genetic, environmental, and lifestyle factors that suggest a longer, healthier life is at least possible for most of us. (See page 28, "What About Me?")
American men could be living on average into their late 80s and women into their early 90s, says Perls, who has data on about 1,000 centenarians worldwide. Centenarians represent one in every 8,000 people in industrialized countries.
"People with extreme longevity have things in common we should be able to find," he says.
In his youth, the fit-looking father of three was inspired to study aging by more than two summers in a nursing home. There was also a notable absence: Perls grew up without grandparents. All four had died before he could know them.
"You'll often hear this from other geriatricians—that personal experience made them commit to geriatrics," he says. At the nursing home, Perls was shocked at the sad facts of elder care, but he also discovered that he loved being around older people. "I really connected with them."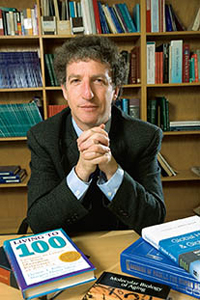 Born in Northern California, Perls grew up in Colorado, where he spent one of his college summers in Denver at the University of Colorado Health Sciences Center with geriatrician Frank McGlone, an experience that included making house calls. (McGlone, now 92, is still on the clinical faculty—and a regular on the squash court, playing doubles at the Denver Athletic Club twice a week.)
Perls also built up his premedical school résumé with summer stints in laboratories around the country, including the Salk Institute for Biological Studies in La Jolla, Calif., and Memorial Sloan Kettering in Manhattan. By then, the School of Medicine and Dentistry was already on his radar screen.
Medical training programs in geriatrics were "fairly rare—far and few between," says Perls of the 1980s. "The University of Rochester was the place to be."
Studying medicine in Rochester offered something no other school had: T. Franklin Williams, who at 86 is still a mentor to researchers in aging nationwide.
A Century of Rochester Life
While the population of people older than 100 may be growing along with the population of older Americans, reaching the century mark is still a milestone.
Here's a look at a couple of Rochester's centenarians:
Class of 1929
Evelyn Beyer
Evelyn Beyer '29 made her life's work as a teacher, specializing in the education of young children. But one of her most cherished memories of the classroom took place on the River Campus. After finishing a course on Shakespeare, taught by famed English professor John Slater, Beyer found a note on her final exam.
"Your paper was an oasis of pleasure in a desert of banalities," Slater had written.
"It meant more to me than my Phi Beta Kappa," says Beyer, who now lives in Fryeburg, Maine, where she celebrated her 100th birthday last March.
After graduating in 1929, Beyer earned a master's degree from New York University and embarked on her career, teaching preschool and elementary children before teaching at the college level. She is the author of Teaching Young Children, a textbook published in the late 1960s and reissued in the 1970s.
As a Rochester student, she says, her goals were "to have a good education and become a teacher," both of which she achieved "with great satisfaction."
As for living to be 100, Beyer says she finds it hard to believe.
"It was never a goal of mine, but there must have been a reason," she says. "I'm still wondering what it is. 'How come, Lord?'
"I'm rich in friendships, if not in gold," Beyer says. "I feel blessed to still have my mind, and the enjoyment it gives me to read, if not to write. And the satisfaction of having written and published one book about young children."
Class of 1927
Myrtice Splitt Mault
Myrtice Splitt Mault '27 celebrated a couple milestones in 2007—she celebrated her 103rd birthday in October; and she marked 80 years since she graduated from Rochester.
"I think it's rather amazing that anybody's alive 80 years (after graduating)," says Mault, who lives in Lodi, Calif. "So many things have happened in the world. You cannot keep track of it."
Mault jokes that she "wasn't the brightest woman that was ever born," but she had the backing of "the Chestnut Club," a church-based group of women who had graduated from college when she enrolled on the Prince Street Campus in 1923. Women had been enrolling at the University for just over 20 years at the time, and she remembers that most of the men on campus and many people in the community were still having trouble with the idea.
"I think going to college probably meant something in 1923," she says. "Some people thought we were crazy—going to college when you were a woman. And maybe we were. But I really thought it made life more worthwhile for me. And not just for me, but for a lot of people who would now be about my age.
"Now the world has changed so much."
A native of Rochester, Mault graduated with a major in English and a minor in French. She worked for Kodak right after graduation, and she later worked for a patent attorney in New York City until her retirement.
While she played some tennis after graduation, Mault says she did little to pay attention to her health, much less her longevity.
What's her secret to a long life? She's pretty matter-of-fact about it. "I think living so long is pure chance," she says with a laugh.
"I'm supporting others, rather than taking on any new initiatives myself," he says from his office at Monroe County Hospital in Rochester. The professor of medicine emeritus still advises medical residents and fellows, and only in 2006 gave up direct patient care.
Williams arrived at Rochester in an era when the study of aging was scant or nonexistent in medical schools.
"It hadn't struck home yet," says Williams. For one, there were fewer older people as a percentage of the population, he says. The members of the baby boom generation were still babies or very young; and medicine was beset by what Williams called "the great challenges": infectious disease, children's heath, and the chronic issues that assaulted Americans in their middle years—heart disease, cancer, stroke, and diabetes.
Williams went on to establish a world-class medical training program in geriatrics. Over time, he and his team created a diaspora of geriatricians—Perls among them—who have enriched the field in the last four decades. He notes a few examples:
Knight Steel joined Williams at Monroe County Hospital in 1972 as his deputy, and was in Rochester for five years. He went on to cofound the American Federation for Aging Research and today holds an endowed chair in geriatrics at the University of Medicine and Dentistry of New Jersey–New Jersey Medical School.
William Thomas '89M (Res), a Harvard-educated physician who worked with Williams as a resident, founded the Eden Alternative in 1991, a not-for-profit training organization working for culture change in nursing homes.
And Mary Tinetti '84M (Flw), a onetime fellow at Rochester, now directs the Yale Program on Aging, and is the nation's top authority on falls.
So when he arrived at Rochester as a medical student, Perls joined a lineage of some prescient and magical company in the world of research on aging.
"These guys were visionaries and pioneers in geriatrics in the United States," he says of Williams and others. "There were only a handful of pioneers in the field."
Perls lost no time. As a first-year medical student he went to the county hospital every Saturday morning to watch Williams do teaching rounds at the bedsides of elderly patients. "He took grand offense at a number of myths" about aging, says Perls, including that getting older simply meant decline and ineptitude.
Rochester: Pioneers in the Study of Aging
When T. Franklin Williams arrived in 1968 to serve as medical director of Monroe Community Hospital, there were few programs devoted to geriatrics, little research concerned with aging issues, and a lack of information about caring for the elderly.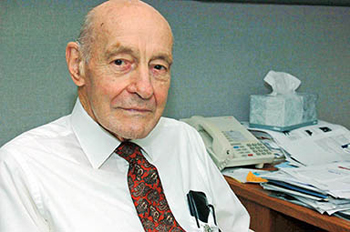 "We needed to know more about aging and we learned on the scene, as it were," says Williams, a nephrologist who is now professor of medicine emeritus in the School of Medicine and Dentistry.
Williams, who served as the second director of the National Institute on Aging, was one of the first to recognize the importance of non-medical factors that impinged on elderly patient care.
"We learned that people in their later years often have several health problems," he says, "and that social and psychiatric factors are often involved. It's not just medical."
With those findings, the hospital set up a multidisciplinary geriatric assessment clinic in which a team of professionals, including social workers and psychiatrists as well as doctors and nurses, treated patients. The group developed a model known as the Comprehensive Geriatric Assessment, one of the first of its kind in the country, which looked at a host of factors affecting elderly patients. The model is now used by facilities nationwide, including the Veterans' Administration.
Four decades later, Rochester's program in geriatrics is considered a pioneer in the field. Ranked among the most prominent in the country, the Division of Geriatrics and Aging has a team of 50 or so senior and junior faculty, instructors, associates, and fellows. In addition, there are seven interdisciplinary faculty associated with the division with specialties in fields such as education, chiropractic, and dentistry.
Headed by Paul Katz, a professor of medicine, the division is recognized nationally for is its research into the patterns of medical practice in nursing homes and how different organizational models affect patient care.
Katz directs the Finger Lakes Geriatric Education Center, a consortium of area colleges, including Rochester. As one of only 50 such centers in the country, the center's primary role is to educate health care providers about geriatrics.
"My soap box is workforce issues," says Katz, referring to the health care professionals and others who care for the elderly. "Here we have a demographic shift never seen in the history of mankind," he notes. "More people are over 65 than ever before. What effect will this have? Who's going to take care of them? This is as important as the question of aging better."
Katz stresses that geriatrics takes a different view of patients from traditional medical training.
"The typical medical model trains doctors and nurses to think in terms of diseases," he says. "Geriatrics tries to take into account the whole person. We look at the family history, socioeconomics, what their wishes are."
Part of that picture is a better understanding of the role people can play in maintaining their own health as they age, says William Hall, director of the Center for Healthy Aging at the Medical Center.
"The biggest revolution is the realization that people have to take personal responsibility for aging," says Hall, a professor of medicine. "Healthy aging is work."
"One of the things we're looking at are cognitive disorders other than dementia, more subtle things like forgetting names or birthdays, things like that," says Hall, who is the first geriatric specialist to be elected to AARP's board of directors. "We're working with folks to become more involved with activities that stimulate the brain; maybe play music or learn a language, play Sudoku."
Rochester also has received funding to develop techniques for the early detection of diseases like Alzheimer's. Called the Rochester Aging Study, the project will be headed by Hall as a collaboration between the Medical Center, Unity Health, and ViaHealth Systems.
Not surprisingly, the Center for Healthy Aging emphasizes physical exercise, but despite studies showing the benefits of mental and physical exercise, it's an uphill battle.
"I can get anyone to exercise for a week," Hall says. "Getting them to do it longer is tougher."
The key, he's found, is getting people to do things in groups because the benefits go beyond physical exercise.
"Every aging study and studies looking at risk of frailty show that preservation of human relationships is tremendously important," Hall says. "The term we use is 'confiding relationship.' We do better in older life if we have someone we can talk to."
Such research is giving people ways, as Hall puts it, to "add life to years, rather than years to life."
—Joseph Sorrentino
Sorrentino is a Rochester-based freelance writer.
As was the case at all medical schools in those days, the official Rochester medical curriculum paid scant attention to geriatrics. Today, geriatrics is one of six "themes" integrated into all four years of course work at the School of Medicine and Dentistry.
In his fourth year, Perls spent six weeks studying geriatrics at City Hospital in Edinburgh, Scotland, where medical and social care for the elderly "was so much more advanced" than in America.
"The United States has very much caught up in terms of training," says Perls. "But systems of care in Commonwealth countries are still better." There's more home care for the elderly, he says, also citing more preventative care programs and more efficient rehabilitative services.
During his three-year residency in internal medicine at Harbor–UCLA Medical Center, Perls became a "de facto geriatrician" at the clinic he ran. It was also at UCLA that he met and married his wife, Leslie Smoot, now a busy pediatric cardiologist at Children's Hospital Boston.
After UCLA, Perls eventually landed in Boston with a fellowship in geriatrics at Harvard Medical School's Division on Aging. He spent part of the time at the Hebrew Rehabilitation Center for the Aged, where in 1992, Perls met his first centenarians.
But there was a problem: Celia Bloom and Ed Fisher were hardly ever in their rooms. Bloom occupied herself at the piano, playing Chopin and Mozart for the other residents. Fisher, a lifelong tailor, kept busy by mending garments for his friends—and courting his 85-year-old girlfriend.
"That was a huge surprise to me," says Perls of his active and elusive patients. "I thought [anyone over 100] would be bedridden, with every disease under the sun—and with Alzheimer's." He examined other centenarians at the center, and discovered that fully 25 percent of them displayed no cognitive decline.
It was an epochal moment for the young physician.
Two years later—after earning a master's degree in public health at Harvard and some exploratory work at Brown University—Perls founded his centenarian study. The next year he joined the Harvard faculty and began to track the health status of the very old in eight Boston-area towns.
"It was just me at first, but it quickly became 'we' when I was able to get funding," says Perls, who moved the study to Boston University in 2002. "Now it's a pretty busy shop."
There's a staff of eight research assistants, one associate, a program manager ("To take care of the trees while I watch the forest," he says), and a biostatistician who is a leader in Bayesian analysis. That statistical approach builds network models to account for the many variables that interact and contribute to the expression of outcomes of interest. The study now has physical, cognitive, and—increasingly—genetic information on more than 1,000 centenarians in five countries.
In the early 1990s, geriatrics was still relatively unexplored research territory. Since then, Perls and his study team have dug up some gold. One 1997 paper in Nature revealed that women who had babies in their 40s were four times more likely to live to be 100. (That brought a flurry of media attention, including a spot for Perls on The Today Show.)
What About Me?
You're asking: How can I live to be 100 and stay healthy?
Perls has heard all the stories, including the one about the guy who lived to be 100 by drinking three martinis a day. But forget anecdotes. Go to his life-expectancy calculator at www.livingto100.com.
The calculator is a 40-question test based on health, habits, and family history.
More recently, Perls and his team have been concentrating on the genetics of longevity. One paper analyzed DNA from 137 sets of very old siblings, and found they shared a large piece of DNA on chromosome 4. That led to the discovery of a gene related to cardiovascular disease risk. Research by the Boston University team also indicates that the children of centenarians have rates of heart disease, stroke, and other conditions 60 percent lower than those born at the same time.
An August 2007 team paper looks at the pedigrees of 50 supercentenarians (those older than 110; about one in every 7 million people in the world). "It reaffirms," says Perls, "that supercentenarians share an increased rate of exceptional longevity with their parents and siblings." Fifteen years after meeting his first centenarian, Perls is an authority on those who are exceptionally old.
"Clearly, he has made an international name for himself in this work," says geriatrician Robert McCann, a Rochester professor of medicine and chief of medicine at Highland Hospital.
From his large database, Perls has culled information on a series of biomarkers related to aging, including DNA samples—"valuable clinical perspective on a small but growing number of older people," says McCann.
The numbers may be small, but the information that centenarians bestow on medical research is valuable. Extreme longevity provides insight into "how cells live and how cells die," says McCann. "In medicine, we learn a lot of things from the unusual people—people at one extreme or another."
As time goes on, studying aging will be easier, since more people will live longer. Americans over 80 are the country's fastest growing demographic segment. In 15 or 20 years, the number of those in the 80-plus column will double. "That's huge," says McCann. "Our old thoughts about old people being frail and not useful are being challenged. And nothing challenges that idea more than a healthy 100-year-old."
The centenarian study at Boston University intends to isolate those factors that the long-lived have in common—"what allows them to live such long lives in such good health," says Perls. Until a few decades ago, he says, data about longevity tended to be anecdotal—the stuff of newspaper stories about older people blowing out a lot of birthday candles.
Now the science is being explored with Perls and his team in the forefront.
"The older these individuals get," he says, "the more potent they become" as sources of data. Among other things, Perls has found that 20 percent of centenarians are cognitively intact, and 90 percent were still functionally independent at age 92.
Perls divides his centenarians into three groups. The survivors (43 percent) are those who had major illnesses before the age of 80. The delayers (42 percent) are those who got ill after 80, yet go on to live decades longer. The rare escapers (15 percent) reach age 100 with no disease at all.
The Boston University aging project gets a significant part of its funding from the National Institutes of Health. But does research on aging get enough money?
"Absolutely not," says Perls, who in 2002 went beyond conventional sources of research funding. Using venture capital, he and partners started Centagenetix, a for-profit entity that merged with Elixir Pharmaceuticals in 2003.
The pot of federal money for medical research in general has shrunk in the last few years with fewer than 10 percent of grant applications receiving funding. But on the geriatrics front, says Perls, "we hope that as more of our important findings come out, there will be more money."
Cory Ireland writes for the Harvard University Gazette.