A Sense for Connections
Jody Asbury, dean of students in the College, steps down after a 30-year career of building ties between the University and its communities. By Robin L. Flanigan
Growing up in the small city of Watertown in the Thousand Islands, Jody Asbury developed a healthy respect for community. The College's dean of students saw how neighbors pitched in to help each other, and watched her father, a lawyer, serve on community boards and help set up foundations. Farmers who couldn't afford to pay for his services often brought him chickens.
Asbury, who is retiring this winter after three decades of full-time service in various posts at the University, leaves behind a legacy of building close-knit relationships both on and off campus.
"I've been very interested in how communities, as they become more diverse, grow and keep their sense of connection," she says. "And as college campuses become more diverse, they need to find ways to bring those different groups together."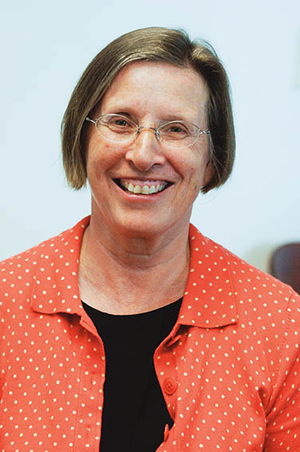 Described by colleagues and students as "enormously energetic" and "persistently optimistic," Asbury spent much of her career forming partnerships between the University and organizations throughout Rochester.
She helped found the Rochester Center for Community Leadership, an extension of the dean's office that promotes community engagement as an essential part of the curriculum. Through internships and other programs, students are given skills to develop civic minds and carry out the center's motto: "Learn what you love, give where you live."
The center builds on the University's reputation as having the oldest community service day among colleges in the country—a Wilson Day tradition for freshmen that Asbury instituted 19 years ago when she was director of orientation. (In the early '80s, when she was the University's sexual harassment officer, Asbury developed the country's first college date-rape education program and victim-sensitive judicial system.)
Under her guidance, public transportation routes were rewritten, allowing students to get to desirable destinations such as Park Avenue and cutting travel time between the River Campus and the Eastman School from 40 minutes to 14 minutes. Discount programs were started, offering reduced prices at 150 area businesses and on tickets to cultural and community events. A concierge service in Wilson Commons began—and saw a 400-percent increase in use over the past four years.
"We've basically been increasing the opportunities for students to be involved off campus," explains Asbury, "and as we do that, we make it a more exciting life for students on campus." Colleagues paint Asbury as a well-respected authority figure who never took herself too seriously.
"Everybody knew Jody was in charge, but I don't think anybody ever felt that way when they worked with her," says Matthew Burns, who was an associate dean of students in charge of discipline and has been named acting dean. "She was good at giving the staff an appropriate amount of autonomy. I never felt her eyes watching, but if I was in a pickle with a really tough case, she was always there to support me.
"Or snatch me away from danger," he adds, laughing.
Burns tries to channel Asbury in his current position—an exercise he began a week into his new job, when he had to deal with a student's family crisis.
"Here it was right in my face," he recalls, "and I started half my thoughts with, 'Well, what would Jody do?' The messages she had to deliver were not always positive ones, but parents and students both always walked away from interactions with her with the sense that she cared. If there's one thing I can pick to emulate, it's that."
Dean of the College Richard Feldman regarded Asbury as "an extremely close advisor," particularly during some organizational staff changes. At her suggestion, he began searching for one person to direct both the Interfaith Chapel and the M. K. Gandhi Institute for Nonviolence. "It was her idea to make them two, part-time positions and link them up," Feldman says. "I think it will prove to be a very productive alliance."
Students offer their appreciation both for Asbury's professional guidance and maternal nurturing.
Alvin Lomibao '09 remembers running into Asbury on a Monday afternoon, shortly after taking a biomedical engineering exam. "I was up all night studying and I was cranky and hadn't eaten. She started to take out her wallet and said, 'Let me give you some money to buy yourself a sandwich.' I ended up not taking the money, but she was always looking to lend a hand—and it was always appreciated."
As president of the Students' Association, Lomibao met biweekly with Asbury, whose advice often helped turn ideas into action. For example, she helped generate a list of potential donors to bring free editions of USA Today and other newspapers to campus every weekday.
Jason Buitrago '07 credits Asbury with unintentionally leading him to a career in higher education. Now a financial aid counselor at the University, he credits her with bridging "the significant gap" between students and the administration and providing a much-needed ear when his mother was sick a few years back.
"She was there at 8 a.m. if you needed her, and she would be there at 2 a.m. if you needed her," he says. "She showed that you could be human, you could be personal, and still be a dean. That compassion really proved to me that the University of Rochester was more than an institution. It was a place of support."
Asbury, whose own support has come from her husband and two daughters, says she received a lot in return. She found it stimulating to watch students explore so many new passions. Tangibly speaking, students rewarded her efforts by donating athletic equipment and sending gifts from trips overseas—a lacrosse stick and a mask from Africa are just some of the mementos she displayed in her office.
Of her time at the University, Asbury says, "I was very lucky. I had a very rich career and was able to grow and try a lot of different things."
Next up on her agenda is trying some other different things, such as "playing a little music," traveling without the restriction of school schedules, and cruising with her husband on the 38-foot boat they bought a few years ago. Asbury grew up racing small boats—she even made it to the North American Junior Sailing Championships, where she was the only female participant—and looks forward to a more relaxing pace on familiar waters up north. Asbury isn't leaving the campus behind. She will teach an undergraduate course on leadership and continue to serve the Rochester Center for Community Leadership.
Meanwhile, her commitment to the University lives on.
"I was in a meeting the other day and we were trying to think of how we were going to approach this particular issue, and it came to me," says Jason Smith '03, student services coordinator in the dean's office. "I said, 'We give students the responsibility and freedom to make decisions, and so this is the way we should go.' That was definitely Jody speaking through me."
"I miss her, I can tell you that," adds Burns. "In so many ways we complemented each other. And now that she's gone, I kind of feel like half the team is missing."
Robin L. Flanigan is a Rochester-based freelance writer.