The Future of Engineering
With the appointment of a new dean and coming off a decade of growth, the School of Engineering & Applied Sciences is poised for the future.
By Robin L. Flanigan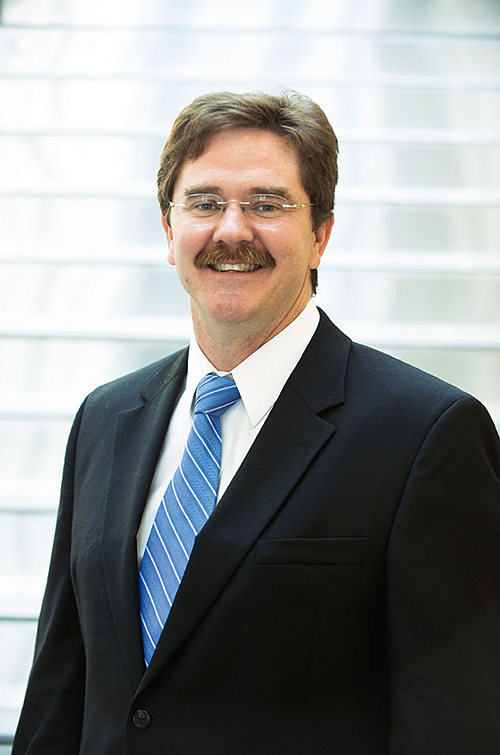 In the 10 years that Kevin Parker served as dean of the School of Engineering & Applied Sciences, he helped grow its endowment from $10 million to more than $60 million, bumped the number of majors from four to five, and boosted its national ranking from a no-show on the U.S. News & World Report list of the top 50 schools to number 30.
As the school celebrates its golden anniversary as a formal division of the University this fall, the significant changes of the past 10 years are credited with setting the school apart from an elite university pack—and setting it up for growth and success.
"This was really a turnaround decade," says Parker, a professor of electrical and computer engineering, radiology, and bioengineering. "It was about restrengthening and renewing and refitting. The fundamentals, the essential building blocks are all in great shape at this point and the School of Engineering is now a superbly performing part of the University. It's a very exciting time."
And time for more change.
On September 1, Robert Clark, a former dean of Duke University's Pratt School of Engineering and an expert in the science of acoustics and bionanomanufacturing, succeeded Parker, who returned to the laboratory to continue his research in medical imaging, image processing, and linear and nonlinear acoustics.
Clark is the seventh dean of a school that over the past 50 years has evolved from offering fairly traditional engineering fare to cutting-edge programs in photonics, nanotechnology, biomedical engineering, and other fields that play an increasingly important role in an increasingly global society.
Robert Clark Named Dean
The School of Engineering & Applied Sciences heads into its milestone year under the leadership of a new dean: Robert Clark, a former dean of Duke University's Pratt School of Engineering, assumed his duties in September—50 years to the month after the first Rochester undergraduates officially enrolled in the school.
He succeeds Kevin Parker, the William F. May Professor of Engineering, who has served as dean since 1998.
Clark, an expert in the science of acoustics and bionanomanufacturing, is widely recognized as an academic leader who oversaw strategic planning efforts and implemented curricular innovations at Duke. He says Rochester has considerable strengths as it builds on past achievements and prepares for new opportunities.
"As we face greater competition for resources and as United States industry struggles to stay globally competitive, we have an obligation to both prepare the next generation of leaders in engineering and also to enlighten broader populations of students about the important societal role of science and technology," Clark says. "The School of Engineering & Applied Sciences, with its high quality faculty and students and its growing connections to other areas of the University, is very well positioned to be a leader in those efforts. I am honored and excited to be able to help guide the school in that important work."
President Joel Seligman says Clark is an ideal leader for engineering.
"The School of Engineering, which has grown considerably in prominence and achievement under Kevin Parker's leadership, will play a vital role in our strategic growth over the next decade," he says. "He's a distinguished researcher, a dedicated teacher, and a committed and wise academic leader."
A fellow of both the Acoustical Society of America and the American Society of Mechanical Engineers, Clark joined Duke's Department of Mechanical Engineering and Materials Science in 1992. During his tenure there, he served for six years as senior associate dean, where he oversaw the hiring for the implementation of the Pratt School's strategic plan, helped to double the number of women on the faculty, and to triple research expenditures. As dean, he initiated curricular innovations for nonengineering students and presided over fundraising.
The place of engineering within that society—and within the University—has changed enormously since 1958, when the then College of Engineering was founded. Bringing together the College of Arts and Science's longstanding chemical and mechanical engineering departments with a new Department of Electrical Engineering, the establishment of engineering as an autonomous academic program was a highlight of a historic restructuring of the University. That year also saw the creation of a College of Education—now the Warner Graduate School of Education—and a School of Business Administration—now the Simon Graduate School of Business.
Now a unit of the College of Arts, Sciences & Engineering, the School of Engineering & Applied Sciences has grown to include five departments: biomedical engineering, chemical engineering, electrical and computer engineering, mechanical engineering, and the Institute of Optics. (Founded in 1929, the institute became part of engineering in 1961.)
Peter Lennie, the Robert L. and Mary L. Sproull Dean of the Faculty of Arts, Sciences, and Engineering, says engineering represents a key component of the College's strategic plan. The plan calls for establishing signature programs that build ties between the College's strengths in engineering and the sciences with its strengths in the humanities and the arts, as well as across the University in medicine, music, and business.
"Under Kevin's leadership, engineering has firmly established itself as one of the University's preeminent academic programs," says Lennie. "Its strengths in research that crosses traditional disciplinary boundaries and its tradition of entrepreneurship make engineering a vital linchpin as we envision the College's future over the next decade."
"We're delighted that Rob has joined our team to help lead our strategic efforts."
While University administrators in the mid-1950s noted that the number of new engineering majors was on a downward slide nationwide—and in Rochester—when the then College of Engineering was founded, they saw the trend as temporary. By the early 1960s both undergraduate and graduate enrollment had grown, and expanding research interests and budgets soon led to close associations with local and national industry leaders.
The community's longtime entrepreneurial spirit and talented workforce continues today, with high-tech relationships that help shape the field of engineering on national and international levels. The University's work in photovoltaics, fuel cells, and laser-induced fusion, for example, also make it a distinctive player in energy research.
The innovations that trace their roots to the school and its alumni are field-altering. A few examples:
Laser-based vision correction systems, a field that owes much of its existence to Charles Munnerlyn '69 (PhD), who founded VISX Inc., a company based on his technological breakthroughs in laser-based refractive surgery.
Robert Boyd, the M. Parker Givens Professor of Optics, has led several experiments on the properties of light, including groundbreaking work in 2006 that demonstrated a process that pushes light into reverse.
A Rochester team of biomedical engineers has developed a nanomembrane—a filter more than 4,000 times thinner than a strand of human hair—that could profoundly impact neuroscience, cell biology, and medical research.
In medical imaging, Parker has led work that has transformed ultrasound and other imaging technology to improve the ways that physicians can diagnose patients and researchers can analyze diseases.
Over the past 20 years, graduates have founded more than 30 companies in the Rochester area, pumping more than $85 million into the region's economy.
At the same time, engineering has worked diligently to turn its breakthroughs into commercial success through licensing or sale agreements, which funnel money back into teaching and research. During the 2005 fiscal year alone, companies worldwide paid the University more than $30 million for commercial rights, securing its place as the ninth-highest revenue recipient among all higher education institutions in the nation. Much of that revenue can be attributed to burgeoning interest in the unparalleled work being done by scientists in engineering and biotechnology.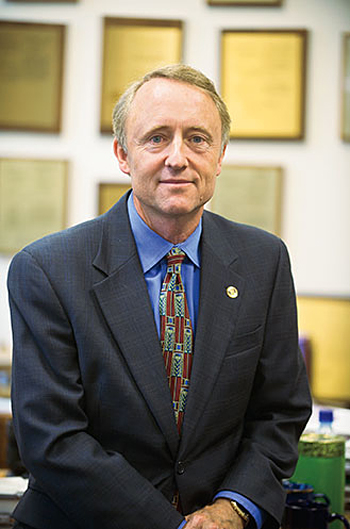 The revolutionary "Blue Noise Mask," a technology that improves the speed and appearance of digital images, is one of the University's most important inventions and was one of its largest moneymakers for years after it was unveiled to industry leaders in 1991. Parker invented the technology with Theophano Mitsa '91 (PhD), now an assistant professor in the electrical and computer engineering department at the University of Massachusetts at Dartmouth.
The pair's work began as a basic medical imaging research project, with Parker and Mitsa trying to improve the printouts of ultrasound images. They were hoping to find a way to reduce the occurrence of small visual artifacts—called "noise"—that often appeared in ultrasound images and that could severely hinder diagnosis and treatment of medical conditions. The two scientists developed a technology that not only eliminates those artifacts in ultrasounds but in other images as well. "Blue Noise" is the term used in halftoning technology that describes a visually attractive pattern of black-and-white pixels.
At the time that Parker and Mitsa announced their technology, the process worked 45 times faster than the leading competition. Since then, the technology has been licensed worldwide by more than a dozen companies, including Hewlett-Packard, the world's largest computer printer manufacturer.
Parker, who has received one of the highest prizes in the field of medical ultrasound for his research, helped launch his own company, VirtualScopics Inc., in 2000. The Pittsford, N.Y., company creates software that converts ordinary medical scans into three-dimensional color images, allowing unprecedented tracking of diseases. Nearly every one of the top 15 pharmaceutical companies has contracted with VirtualScopics to conduct trials for them.
As dean, Parker, who also served as director of the Rochester Center for Biomedical Ultrasound, led engineering after the recessionary period of the early '90s into a decade-long string of accomplishments that not only have captured industry attention but have resonated with students as well. In annual surveys taken by students at top-ranked engineering schools across the country, those attending Rochester consistently report the highest satisfaction rates on a variety of measures.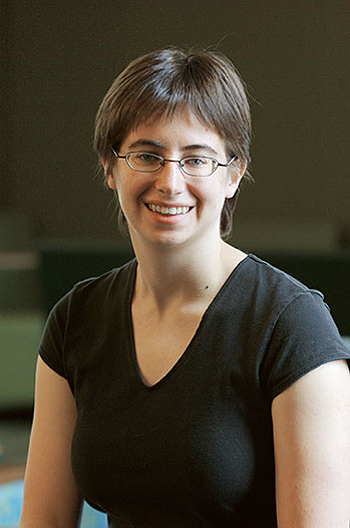 "He's just a real leader within the engineering profession," Mark Bocko, professor and chair of the Department of Electrical and Computer Engineering, says of Parker. "He helped us past a very tight financial situation into an era now where we're really contributing a lot to the overall strength of the University. He was in there pitching the whole time."
Parker helped expand research expenditures and increase the number of faculty. But his most visible achievement perhaps was establishing the Department of Biomedical Engineering in 2000 and overseeing the dedication of the 100,000-square-foot Robert B. Goergen Hall for Biomedical Engineering and Optics. In addition to becoming the new home for the nation's first academic program in optics, Goergen Hall houses one of the College's fastest-growing departments.
Interest in biomedical engineering is soaring. Since the Class of 1999, the first class that could declare a major in the department, enrollment has grown from three students to 70.
Biomedical engineering is not new for the University, which in 1964 became one of the first recipients of National Institutes of Health grants to study fields that have become central to the industry.
But it has flourished under Parker's watch. Richard Waugh, professor and chair of the Department of Biomedical Engineering, who helped establish the department's foundation with former dean Duncan Moore, describes Parker as a "low-key and self-effacing" colleague who "works very quietly and very supportively" to make things happen.
He credits Parker with "sealing the deal" to get the last Whitaker Foundation grant that funded biomedical engineering faculty and helped fund some building costs. Parker directed some of the "Blue Noise Mask" revenues to establish two endowed professorships in the department—positions no other university with a biomedical engineering department could claim at the time, according to the foundation.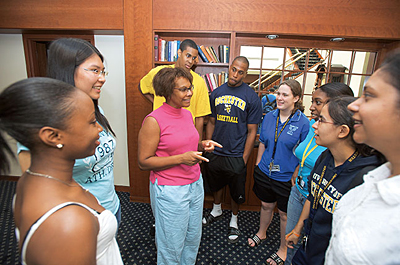 Goergen Hall is a commanding example of the University's commitment to interdisciplinary education in engineering, encouraging collaboration between departments in the rapidly growing field of bio-optics. Other crossdepartmental initiatives are strengthened both by geography—the school is across Elmwood Avenue from the School of Medicine & Dentistry—and a growing faculty. The Department of Electrical and Computer Engineering, for instance, has seen a 30 percent increase in faculty in recent years, with more than half of its members hired within the last decade.
"That improves the activity level a lot," Bocko says. "It's really changed the whole emphasis of what we do."
The department has changed dramatically since Bocko joined the faculty in 1985. A graduate student in physics before that, he and nearly half of his colleagues at the time concentrated on the then niche field of superconductivity. These days the department features such research areas as signal processing, image processing, chip design, and nanotechnology, as well as research connections with the Eastman School and the University's Center for Future Health, among other sites on and off campus.
Students appreciate those connections.
"We had a very good broad base of information that allowed us to communicate with a lot of different people with different backgrounds," says Rachel Hawe '08, a biomedical engineering major who worked in the Medical Center's Department of Neurobiology and Anatomy throughout college. Now a graduate student at Northwestern University, she's combining work in physical therapy with her biomedical engineering coursework and interacting with students from various departments. "It gave me a greater appreciation of other fields."
Members of the earliest classes recall an intensive curriculum focused solely on math and science.
Ed Hajim '58, chairman of the University's Board of Trustees and chairman and CEO of MLH Capital in New York City, reminisces about his years as a student when "the curriculum was pretty much set the day you entered, with very few choices."
"Engineers coming out today have to be much more prepared," he says. "They have to have a sense of business. They have to have organizational, administrative, and people skills."
Hajim, a chemical engineering major at Rochester, adds that one of the reasons the University selected Clark—"the first choice by far after a large number of candidates" in a national search—is because he understands the need for engineers to have as broadly a diversified education as possible. Clark has called increased interaction between engineering and the Simon School "a natural evolution," and he anticipates more synergy with the Eastman School and other University programs.
As the world becomes more dependent on technology, Clark and others in higher education are pushing to make science and engineering the new "liberal arts" of the 21st century. Clark says the need is imminent, particularly as the United States struggles to stay globally competitive and policymakers struggle with challenging issues such as stem cell medicine, global warming, and the increasing demands for energy and sustainability.
According to the new dean, science and engineering educators have a "social responsibility" to share their expertise so that students in other disciplines are also prepared to address such future challenges. That cannot happen, he adds, "without fundamental changes to the focus of our educational system."
One of those changes may be to add dedicated courses in engineering for nonengineering students, something Clark initiated at Duke. Technology is pervasive, yet without the knowledge of how it works, explains Clark, "it looks more and more like magic" to those outside the field.
"I really believe that science and engineering are going to be critical to policy decisions as we move forward," he says. "As with anything that separates two cultures, it's understanding that helps them communicate better. And it's our responsibility to give nonengineering students the background they need to understand the way engineers think."
Though it's still too early to unveil a formal timetable, Clark would like to double the number of engineering undergraduates. And with statistics showing that female scientists are increasingly drawn to fields that have a societal impact, such as biomedical engineering, he expects a significant boost in the number of women enrolled.
Meanwhile, the David T. Kearns Center for Leadership and Diversity in Science and Engineering, established in 2003, continues to support underrepresented minorities in undergraduate engineering and science programs in hopes of greatly increasing the number of minorities who eventually earn graduate degrees.
Lisa Norwood '86, '95W (MS), assistant dean of engineering, remembers passing by the dean's office during her senior year. "There used to be composite pictures of every graduation class in the hallway. I'd walk by the portraits and think, 'Where are the people who look like me?' They were all male, all white."
Norwood, who is African American, helped create the Women in Science and Engineering Program in 1992 to help increase interest among females. And she has seen some enrollment shifts over the past 15 years: Of the 200 students in this year's freshman engineering Class of 2012, there are 63 women; among the 170 students in the sophomore Class of 2011, there are 54 women.
She goes on to cite national figures showing that while women earn about 20 percent of engineering degrees, an underwhelming 9 percent actually work in the industry.
"So there's a huge leaking pipeline out there," says Norwood.
Even those with an impressive resume find themselves fighting stereotypes.
Mitsa, the "Blue Noise Mask" coinventor, says that despite her credentials, being a woman in the engineering world "is tough and you have to work very hard to prove yourself often and to everyone you work with. There is a popular—and yet totally false—idea that women are not that good in technical subjects. And sometimes people think that the main reason you got the job is because you are a woman. . . . I will always be grateful to the University for showing me what I can really do."
In the past seven years, despite very few openings, most of the new hires in the School of Engineering & Applied Sciences have been women or minorities. Clark, who helped double the number of women on the faculty during his six years as senior associate dean at Duke, points to the importance of underrepresented mentors in boosting undergraduate enrollment.
Amy Bishop '08 is working with her first female mentor outside of the classroom since starting her undergraduate studies in optics at the University. Now a civilian systems analyst for the U.S. Navy, she is one of three women in a branch of about 20 people. She met her boss last November at a career fair sponsored by the national Society of Women Engineers.
Bishop was a member of the University chapter for four years and on the executive committee for three years. "We organized functions about work-life balance and preparing what to expect, knowing we were going to be a minority," she says. "But at the U of R, I never felt like a minority. It was a very inclusive environment."
Despite ever-tougher competition among institutions of higher education for outside funds, an increase in students will necessitate an increase in faculty and space—and Clark expects to secure the money for both. He succeeded in doing just that at Duke, where he also served as director of the Center for Biologically Inspired Materials and Material Systems. In that role he grew modest seed funding into a multimillion dollar program involving more than two dozen faculty members.
Such strategic growth is key to success on campus and for the nation's economy, he says.
"It's been the innovation of the U.S. population and immigrants that has really allowed us to keep ourselves in play globally in many ways," Clark says. "We've got to continue to foster that, to recruit talent from abroad, and to give students the skill sets to capitalize on their creativity and maintain our leadership."
Teaching those students has always been—and continues to be—about attention to principles rather than the latest gadgetry.
"While a company might want us to train someone to walk out of here and be able to do a particular job on day one, our view is a bit different," says Alfred Clark Jr., a professor of mechanical engineering, mathematics, and biomedical engineering, and a past winner of the Carnegie Foundation for the Advancement of Teaching's New York Professor of the Year Award. "We want people to be grounded so that they can adapt as technology changes.
"As far as predicting where it's going to go, that's notoriously difficult."
For his part, Parker plans to keep contributing to the school's momentum, starting with a return to medical imaging research funded by a new National Institutes of Health grant. Other projects are under way in medical imaging and acoustics and in the imaging of the biomechanical properties of tissues.
"I'm looking forward to adding to that collection," he says, looking behind his desk at a wall lined with rows of framed patents. He has earned more than a dozen while at the University.
Other long-timers echo their confidence in what lies ahead for engineering.
"The big watchword of the day is growth," concludes Waugh. "The hard work that everybody's done over the last 10 years has put us in an exciting position. We're very optimistic about the future."
Robin L. Flanigan is a Rochester-based freelance writer.