Features
A Place to Call Home
Living 'on campus' takes on new meaning as the first Rochester students set up house on the west side of the Genesee.
By Scott Hauser
Photography by Richard Baker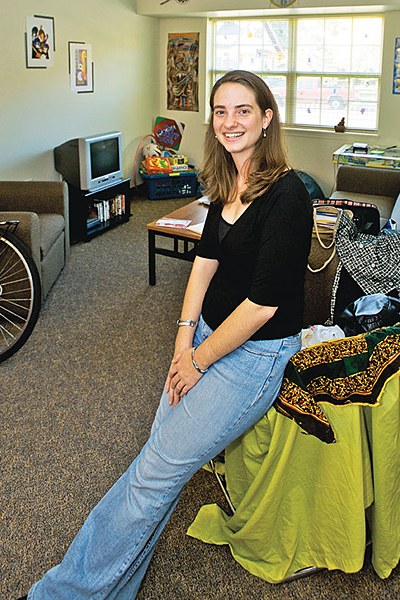 Sitting in her brand-new suite-style apartment, Brittany Bowman '09 likes to think of herself as living on campus.
Never mind that the biochemistry major from Jamestown, N.Y., lives in a building separated from the Residence Quadrangle by the Genesee River.
Or that she and her suitemates have at hand the kind of amenities you expect to find in an off-campus apartment, such luxuries as a full kitchen—"Having a dishwasher is amazing!"—and four bathrooms, one for each student in the suite.
Bowman, like all Riverview residents, also has a University dining plan, and she can rely on other support services offered through the College's Office of Residential Life.
"I wanted to get the feeling of living on campus and off campus," says Bowman, the president of the hall council for Riverview. "Be more of an adult, if you will."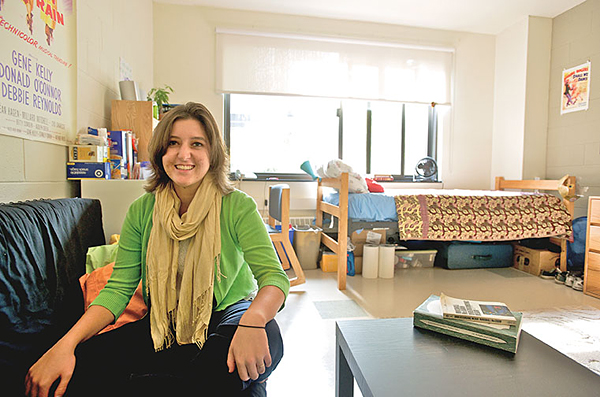 Finding ways to give students more independence while also keeping them connected to the River Campus and its resources is the goal of the College's newest housing option, the Riverview Apartments. Home this fall to the first 400 Rochester students to move into the five-unit complex on the west side of the river, Riverview opened to a waiting list of seniors who wanted to get a taste of living with one foot in the postbaccalaureate world.
Built by Buffalo developers John Yurtchuk and David Huck and leased by the University, Riverview is the latest effort by the College to emphasize the benefits of a residential campus while also exploring ways to accommodate a growing student body in coming years. College plans call for undergraduate enrollment to grow by as much as 25 percent over the next 10 years.
Richard Feldman, dean of the College, says one important goal as those plans are put into place will be to maintain the cohesive residential feel of Rochester, where about 85 percent of College undergraduates live on campus.
Sophomore Spirit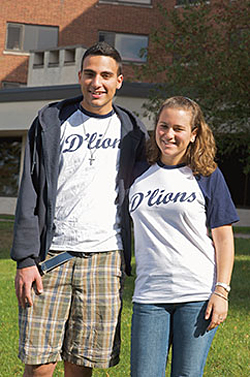 All freshmen in the College are required to live in one of the wings of Susan B. Anthony, or in Gilbert, Hoeing, or Tiernan halls. And there to help them adjust to life on campus is a group of students not too far removed from the freshman experience themselves—the D'Lions.
A spirit organization founded 50 years ago, the student group is made up of sophomores who have volunteered to act as a campus welcome wagon. Each freshman floor is assigned two D'Lions, to whom first-year students can look to for advice about Rochester and the surrounding community.
"We really like the idea of helping freshmen and getting them involved in campus life," says Jonathan Grima '11, the president of D'Lions. A native of New York City, Grima, who plans to major in chemistry with a goal of becoming a pediatrician, lives in the Gates wing of Sue B., where he works with Serene Habayeb '11, a D'Lion from New York City.
"Our goal is to help freshmen assimilate into college life successfully," he says. "We really want them to feel as if they are at home."
—Scott Hauser
Having students live, study, and work together provides powerful educational benefits that are hard to replicate in other settings, Feldman says.
Much like the curriculum, in which students are responsible for choosing their course of study, living on campus gives students the opportunity to get involved in organizations, participate in athletics, take part in projects, and make other cocurricular commitments much more easily than if they spent less time with other students, he says.
"One of the strengths of living on a residential campus like Rochester is that the members of the community learn to work together, they find an appreciation for sharing ideas and interests, and they engage one another in ways that try to make the community better," says Feldman. "All of these activities play an important part in their education."
Striking a balance between living and studying on campus has been part of Rochester's history since first president Martin Brewer Anderson famously refused to agree to allow a dormitory to be built at the University. The first University-owned housing for students opened in 1913 after President Rush Rhees argued that having students live on campus would help round out their educational experience.
Today, the Office of Residential Life oversees more than 20 residence halls for undergraduates as well as additional housing for graduate students at the University.
Among other choices, undergraduates can opt to live in special-interest housing—floors and buildings that are geared toward those students who share an interest in a particular field of study or social activity. There also are 16 fraternities and sororities on floors within residence halls or in houses on the Fraternity Quad.
Students say they appreciate those options but also note that the compactness of the River Campus appeals to many of the College's 4,000 or so undergraduates.
Dana Hilfinger '10, an English and mathematics major from Ann Arbor, Mich., says the commitment of students to live on campus means they get to know one another.
Hilfinger, an RA in Lovejoy and a sports editor at the Campus Times, says she wanted to live on the Residence Quadrangle because she liked its proximity to campus features like the library, the Goergen Athletic Center, and Wilson Commons.
"A big part of Rochester in general is that it's such a tight-knit community, and having everyone close contributes to that," Hilfinger says. "Being on the quad, I feel a lot more connected."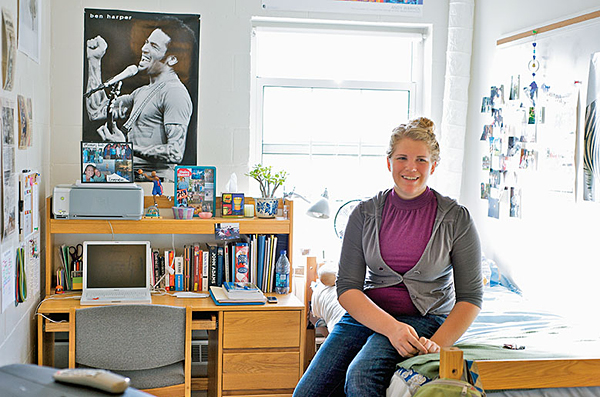 Whitney Holmes '09, an English and American sign language major from Sebastopol, Calif., agrees. Holmes, an RA in the Gates wing of Susan B. Anthony Halls, is a member of the cappella group Vocal Point and is one of the student admissions volunteers known as Meridians.
As a freshman moving from California, she appreciated being on campus because it helped her build connections with people and programs.
"It's important to get people connected to campus and to get them involved and feeling as if this is home," she says. "People really enjoy being connected to what's going on and being with their friends."
Laurel Contomanolis, the director of residential life, says the College helps foster those connections by—as at most universities—requiring freshmen to live on campus. Unlike many other institutions, Rochester also requires sophomores to live within the residential life system.
Home at Eastman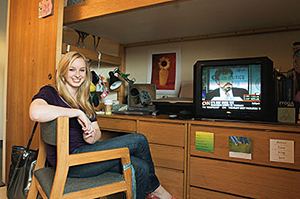 Eastman Commons Living Center is "our own little community," says Elise Hughey '09E of the Eastman School's residential hall located a block north of Eastman Theatre.
A native of Moorhead, Minn., Hughey has lived in the building on Gibbs Street each of the four years she's been at Eastman, changing rooms each year. From her current room overlooking the Rochester city skyline, the cello performance major and member of the Eastman Philharmonia says living at Eastman is a special experience.
"You get to meet people you wouldn't normally meet," she says, referring to the variety of backgrounds and range of interests that Eastman students bring to their studies.
—Jennifer Wedow
And while juniors and seniors are free to move off campus, about 75 percent of juniors and about 60 percent of seniors choose to stay, she says. Residential life tries to gear programming so that it complements the academic work of the College while also helping students transition to life after graduation.
"Riverview is a much more mature living experience for upperclassmen," Contomanolis says.
Because the new building also is the first initiative by Rochester to establish a student presence on the west side of the Genesee, Contomanolis says students living there also are expected to take part not just in the University community but to engage with the neighborhood communities of Rochester's 19th Ward and the neighborhoods near the intersection of Plymouth Avenue and Exchange Boulevard.
"We thought that if we're going to jump the river, we need to be part of the neighborhood," Contomanolis says. "So there was an expectation that students will be engaged in the community."
Each building has been assigned a community assistant, a student position similar to a resident assistant, whose job is to work with students in each building and to work with members of nearby neighborhoods.
Freshman Fellows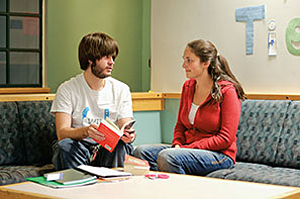 Dani Wisch '11 says she appreciates the efforts of upperclassmen to help first-year students make the transition to college. That's why she signed up to be a freshman fellow, a College initiative aimed at giving new students a little extra academic attention as they begin life in the residence halls.
Each freshman hall is assigned a fellow to help new students navigate the academic experience at Rochester in a peer-to-peer relationship.
"I wanted to be part of the freshman experience," says Wisch, an English major from Litchfield, Conn., who lives on a freshman floor in Tiernan. "There are a lot of ways for upperclassmen to be involved, and I wanted to be part of the experience in some way."
—Scott Hauser
Asher Perzigian '09, who designed his own major in socioeconomic anthropology major through the Office of Interdepartmental Studies, is a community assistant from Pewaukee, Wis. He says the chance to help build a bridge between students and the surrounding community appealed to him.
Perzigian, the general manager for the a cappella group the Midnight Ramblers and a Meridian, says activities such as an ice cream social with community members, dinners in neighborhood homes, and volunteer efforts to help area residents with chores like leaf raking and snow shoveling are bringing students and community members together.
"We are part of the community, whether we like it or not, and the more we recognize that and the more we encourage students to be part of the community, the better off we are all going to be," he says.
Mollie Foust, a Kauffman Entrepreneurial Year (KEY) Scholar from Chicago and a Riverview community assistant, says students in the complex seem committed to maintaining a community sensibility—both as students and as members of a larger community.
"Riverview has a real community feel," she says. "People wanted to be here so they're much more engaged with the neighborhood, with each other, and with the community as a whole."
A former RA on a freshman floor in Gilbert Hall, Foust is using her KEY year to work on a project that explores the influence of afterschool athletic programs on the academic success of elementary schoolers. She has found a willingness among Rochester students to volunteer for projects like hers, a commitment and a sense of engagement that energizes places like Riverview.
"We have all these skills as students and as a University that are unmatched in many of the communities around us," Foust says. "It's our responsibility to take those skills and use them where we can.
"Riverview gives a new oomph to that kind of engagement. We're not an isolated bubble that's surrounded by a river, a cemetery, and a hospital," she says. "Students are part of a larger community and people are starting to see that."
The interest in being part of the Riverview community among seniors has shifted at least one aspect of campus culture. Since opening in the late 1960s, the Hill Court halls on the far northeast edge of the River Campus have been seen as prime real estate for seniors.
As seniors have migrated to Riverview, Hill Court—nicknamed "Phase" for the phases in which the complex's construction was planned—has opened for juniors and even a few sophomores. That's fine with students like Libby Cavagnaro '11, a biology and health & society major from Bradford, Pa., who lives in Kendrick House with five suitemates.
"This used to be the best before Riverview," she says. "This was where all the seniors lived."
A lot of her friends are in Hill Court, too. "This is so convenient," she says.
Across the river, Bowman, who was a community assistant in Hill Court before moving into Riverview this fall, says she, too, liked living in Phase, but says she's looking forward to having new options as a senior.
"I wouldn't give up my last two years of Phase," she says. "Those were wonderful two years."
And, she points out, the walk from Riverview to the heart of campus is as short as the walk from Hill Court.
"I can see the campus," she says as she stands in her common room in just the right spot so that she can point out the tower of Rush Rhees. "Well, maybe when the leaves drop."
Scott Hauser is editor of Rochester Review.