Alumni Gazette
Opinion Makers
Federal judges Robert Sack '60 and Lewis Kaplan '66 help decide some of the nation's most visible court cases.
By David McKay Wilson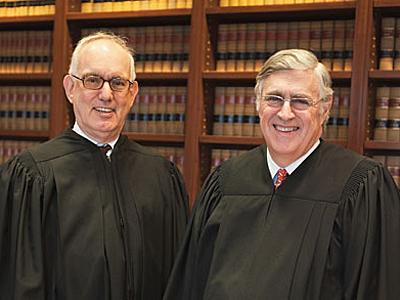 Robert Sack '60 and Lewis Kaplan '66 are used to getting a lot of attention for their opinions.
The two Manhattan-based federal judges—Sack, who sits on the U.S. Court of Appeals for the Second Circuit in Manhattan; Kaplan, a judge in the federal system's Southern District of New York—have put their imprint on some of the nation's highest profile court cases.
And while their roles in the court system differ—as an appellate judge, Sack helps decide whether trial court rulings should stand; as a trial judge, Kaplan presides over the presentation of evidence and arguments from plaintiffs and defendants—both say they enjoy the intellectual challenges presented by complex litigation and untangling thorny legal issues.
"I don't have a client other than the people of the United States," says Kaplan, who was the 2007 commencement speaker for the Department of Political Science. "I don't have to espouse anybody's cause, so I'm independent to do the right thing. There is no greater luxury."
Verdict of Their Peers
In addition to their appointments as federal judges and their Rochester degrees, Lewis Kaplan '66 and Robert Sack '60 can add another milestone that they share. This spring, Kaplan was selected to receive the Learned Hand Medal for excellence in federal jurisprudence from the Federal Bar Council. The organization represents attorneys and judges who practice in the federal district court system's second circuit, a jurisdiction that includes New York, Connecticut, and Vermont.
In 2008, the medal was presented to Sack. The two join a roster of past recipients that includes Supreme Court Justices William Brennan Jr., Warren Berger, Lewis Powell Jr., Thurgood Marshall, Harry Blackmun, Antonin Scalia, Sandra Day O'Connor, and Ruth Bader Ginsburg, among other prominent jurists.
Says Sack: "As a judge, you become a generalist again. Instead of being committed to a narrow area, you are constantly learning law that's new to you. In that way, the work is very, very invigorating. I almost had to start all over again to learn a new trade, based on an old discipline."
From their separate courtrooms in the federal courthouse at 500 Pearl Street in lower Manhattan, the two Rochester graduates are helping answer some of the fundamental—and topical—questions about how the legal system works.
Such questions as, Can U.S. officials apprehend foreign nationals and turn them over to other countries, a concept known as "extraordinary rendition" and purportedly used by the administration of President George Bush to combat terror?
In a 46-page dissent from a three-member appeals court panel last year, Sack argued that U.S. government officials had "outsourced" torture when they detained a Canadian man at JFK International Airport and later sent him to Syria. In December, the full 12-member appeals court reheard arguments in the case of Maher Arar, an "en banc" re-hearing of an already decided case that's rare in the federal system. It's all the more unusual because neither the defendant nor the U.S. government requested the second hearing.
Meanwhile, Kaplan presided at the trial of former KPMG employees accused of conspiracy to defraud the United States and of tax evasion by selling illegal tax shelters that cost the U.S. Treasury at least $2 billion. In April, he sentenced three defendants to prison sentences ranging from 78 months to 121 months.
His earlier rulings in the case have forced federal prosecutors to reexamine their tactics in such cases.
Their appointments as judges are the culmination of legal careers that each built before being tapped for their lifetime posts by President Bill Clinton.
Kaplan, who practiced commercial litigation at Paul, Weiss, Rifkind, Wharton & Garrison, was confirmed by the Senate in 1994. In 1998, Sack, one of the nation's foremost experts on First Amendment law, was practicing with Gibson, Dunn & Crutcher when he was named to the appellate court.
Sack, who grew up in Brooklyn, traveled north to Rochester for college, open to where a liberal arts education would lead him. Kaplan enrolled at Rochester from Staten Island to study the sciences. He was pre-med, in part to fulfill his father's dream that his son become a doctor. Kaplan majored in chemistry for three years, but in his last year, pulled together enough courses to earn a degree in political science.
He applied to medical and law schools. He won acceptance at both. "Ultimately, it came down to this: Was it my father's career or mine?" says Kaplan, who attended Harvard Law School. "Law was what I wanted to do, and that's what I did."
After graduation from Rochester, Sack went on to Columbia School of Law, where he earned his degree and where he now teaches First Amendment law.
Now friends, the paths of the future judges didn't intersect on the River Campus. They met while both were in private practice in New York. Kaplan was raising money for the University and called on Sack to contribute.
"The first happy thing I recall when Lewis became a judge was that he couldn't hit me up for money anymore," quips Sack.
As a prominent First Amendment lawyer, Sack is the author of Sack on Defamation: Libel, Slander and Related Problems, his 1979 book that is celebrating its 30th anniversary in print this year.
Sack, who clerked for a federal judge after graduating from law school, began his legal career at Patterson, Belknap & Webb. In 1974, he took a leave to serve as senior associate special counsel to the House Judiciary Committee, which was preparing the case to impeach then President Richard Nixon. Working alongside Sack was a young lawyer just out of Yale Law School named Hillary Rodham. Also on the team was attorney Bernard Nussbaum, who later became counsel to President Clinton.
Nussbaum called in 1996 to ask if Sack would be interested in a federal appointment.
"Bernie called me out of the blue asking me if I was interested," he says. "I asked my wife, she said yes, and the rest is hysteria."
As an appeals judge, Sack usually sits on a panel of three judges, hearing about 250 cases a year. He writes full opinions on about 25—roughly one every two weeks.
His dissent in the case of Maher Arar— who says that U.S. government officials are responsible for sending him to Syria, where he claims he was tortured—attracted nationwide attention last June. Sack was on the losing side of a 2–1 decision that rejected Arar's lawsuit, but he was troubled by the treatment of the Canadian, who was apprehended at JFK airport on his way home from a vacation in Tunisia when authorities saw his name on a Canadian terrorist watch-list.
A Canadian commission in 2006 found that Arar's name was mistakenly on the list. Canada issued an apology, and paid him $9.75 million.
"The defendants did not themselves torture Arar, they outsourced it," wrote Sack. "But I do not think that whether the defendants violated Arar's Fifth Amendment rights turns on whom they selected to do the torturing: themselves, a Syrian Intelligence officer, a warlord in Somalia, a drug cartel in Colombia, a military contractor in Baghdad or Boston, a Mafia family in New Jersey, or a Crip set in South Los Angeles."
Like Sack, Kaplan clerked for a year with a federal judge before landing a job at a top Manhattan firm.
His scientific background serves him well on the bench, where he has presided over major cases involving patents and the pharmaceutical industry. He currently serves on the Southern District's technology committee, studying new methods to manage the vast amounts of data involved in federal cases.
One of Kaplan's highest profile proceedings, the KPMG case began in 2006, when the firm admitted criminal wrongdoing and paid $456 million in penalties. That same year, 16 former KPMG employees were indicted in the scheme.
Kaplan dismissed charges against 13 of the former employees, ruling that the government improperly pressured KPMG not to pay the legal fees of its employees, denying their right to counsel.
"This is intolerable in a society that holds itself out to the world as a paragon of justice," Kaplan wrote.
The trial took two months, a challenge Kaplan says he was ready for.
"You have to pace yourself in a trial that long," he says. "It takes a lot of energy. I keep alert by taking notes. I'm a compulsive note-taker and it keeps my head in the game."
David McKay Wilson is a New York–based freelance writer.