In Review
World Premiere
Enter Stage Right: Playwrights
An innovative theater program gives students a role in writing a new theatrical work.
By Kathleen McGarvey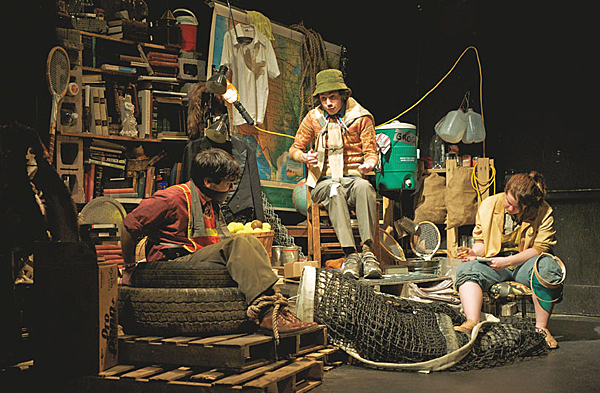 The curtain rises on a small group of students onstage, rehearsing with their well-worn copies of that traditional favorite script for campus performers . . .
Wait, scratch that. Bring the curtain back down. Let's try this again.
The curtain rises on a group of 13 students, seated around a table. With them sits a playwright, who distributes a sheaf of papers to each of the performers.
Playwright: These are fresh pages. I wrote them after our session yesterday. So let's see where we are now.
That is one scenario imagined, and realized, by the New Voice Initiative, the International Theatre Program's quadrennial undertaking to rewrite the usual student drama experience by giving students a behind-the-scenes look at the process of playwriting—and an opportunity to be part of the process themselves.
"It's an incredible program, and certainly a rare one," says Phillip Witte '10, a creative writing major from Dansville, N.Y.
The program—an innovative approach to developing new theatrical drama, created by the theater program's artistic director Nigel Maister—aims to produce a new play every four years. This year's project, funded by Leslie Braun '71, brought playwright Andy Bragen to campus to develop with student actors the play that eventually became The Hairy Dutchman. The production had its world premiere on campus in April.
Bragen, a graduate of Brown University's MFA program in literary arts whose plays and drama translations have been performed in New York City and elsewhere, spent seven weeks in Rochester during fall 2008. He taught an English course, Playwriting, and was the playwright-in-residence around whom the course New Play Workshop was centered. Bragen wrote the play during the day and rehearsed with students and the director in the evening.
Bragen had taught at Rochester in a previous semester, teaching the playwriting course. "I thought he was a wonderful writer, and underappreciated," says Maister.
"I feel we have an obligation to develop work from early-career artists, people who could benefit from a full-production of their work, with the support I can offer them," he adds. "Ideally, it's someone at the juncture of a major career."
As Bragen and Maister first began to plan the project, Bragen had just an idea for a play about tennis courts. After holding auditions it was clear that the work would feature a cast of 13 characters, seven women and six men—all students enrolled in the New Play Workshop.
"I'm a big lover of tennis, and I play tennis on the public courts," says Bragen, who has written a series of plays about the neighborhood where he grew up and now lives, Manhattan's East Village. "I'd been thinking about how to set a play on tennis courts, and something emerging from them. I had no idea how to do it, and that made it interesting."
When he arrived on the Rochester campus in October, he had "between 100 and 140 messy pages, a script that hadn't come together yet," Bragen says. And he didn't know what the play's final form would be.
Taking the 'Initiative'
Because the New Voice Initiative happens every four years, all students interested in theater have an opportunity to participate during their time on campus. The program will begin again in 2012–13, with another new playwright.
Maister notes that the initiative would not be possible without the support of donors and friends.
"It's a great opportunity for a visionary alumnus to bring a new work into the world, to give students an unparalleled insight into the artistic process, and to help American theater," he says.
"I discovered the play as we went through it each evening," he says. The play that finally resulted dramatizes the relationships of 13 eclectic characters who meet on public tennis courts built over a New York City landfill, land that was once part of the original Dutch settlement of New Amsterdam and governed by its last director-general, Pieter Stuyvesant.
"This play, funny and touching by turns, is about much more than tennis," says Maister, who directed the production. "It's a theatrical tour de force that enables us to see the world through the history and strategy of the game itself while evoking the perennial question, 'what is home?'"
Student actors were involved in the play's creation from the beginning.
"We'd read through the script and talk about what we thought worked and what didn't," says Emily Balzano '12, from Summit, N.J. "By the next day Andy would have written more."
"The students, when we got into rehearsals, had an influence on the choices I made," Bragen says.
As the child of actors, Balzano has grown up with the theater. When they heard of the project, she says, her parents told her, " 'You'll look at each other and say, We created this from the ground up.' And to me that was thrilling.
"It was like Christmas when we got new pages."
Development of new work is an important part of the arts, Maister says. Research and development are accepted dimensions of science, "and I don't see why we in the theater can't do the same kind of research and development," he adds.
"It's nice to see revivals of plays, but creativity needs to be encouraged. It's expensive and not very lucrative," says donor Braun, who is also a supporter of a regional theater in her community of Palo Alto, Calif., that specializes in developing new works. "I think young artists, they live from play to play, project to project, and they need to have benefactors."
The program offers playwrights not just a commission, but—unusual for the arts world—also a promise that the resulting play will be produced. Bragen and Braun were both on hand for the play's premiere.
"The fullness of this process, from beginning to end, and knowing it would be going up in late April, was terribly exciting," says Bragen. "In the best sense, it's risky."
Through the initiative, students "get to learn creatively, and creativity is a very fluid process," says Maister. "One thinks Shakespeare just sat down and wrote his plays—but he was probably struggling with actors."
"Students get insight into what it takes to make theater what it is," says Bragen. "I brought in terrible scenes some evenings, and the students saw them get better. Sometimes the struggle is what it's all about."