President's Page
Get Well, Brad
By Joel Seligman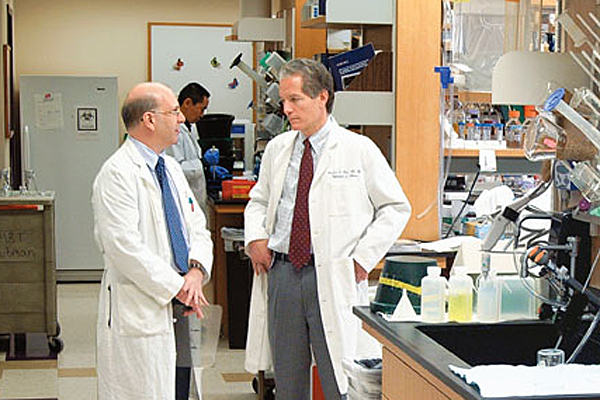 Bradford Berk is a fighter. Anyone who has worked with him in his roles as a physician, medical researcher, or as CEO of our Medical Center, knows that Brad does not give up on achieving the goals he has set for himself or for those around him.
For the next few months, Brad and his family—his wife, Mary, and their children and grandchildren—will rely on Brad's extraordinary strengths as a fierce competitor as he recovers from a severe back injury that he suffered in a bicycling accident this spring. While members of Brad's care team at Strong Memorial Hospital have given us reason for hope, they have cautioned that the full extent of his recovery won't be known for some time. I thank them wholeheartedly for the excellent care they are providing.
Brad is a graduate of both our MD and PhD programs, and he is one of the most highly regarded cardiologists of his generation. During his three years as CEO, Brad has led a comprehensive planning process that culminated in a strategic plan for the Medical Center that encompasses all four mission areas. During his tenure, the Medical Center has opened the Aab Cardiovascular Research Institute and the new James P. Wilmot Cancer Center. We have broken ground on a new Clinical and Translational Research Building and will soon cut the ribbon on a new Ambulatory Surgery Center. More recently, Brad has steered the Medical Center through difficult fiscal challenges, reducing nearly $40 million in annual expenses with fewer than 100 layoffs and no loss of momentum.
Brad was my first choice to lead the Medical Center three years ago and he is still my first choice to lead our Medical Center into the future. But for now, Brad's first priority is his recovery.
After consulting with the outstanding senior leadership team in the Medical Center, several department chairs, and both University and Medical Center board leaders, I selected Mark Taubman, chair of the Department of Medicine, to serve as acting CEO of the Medical Center. Given the complexity of leading a $1.4 billion Medical Center during an economic emergency and a time when fundamentally important federal health care legislation will be considered, we need a full-time leader.
Brad recruited Mark to the University in 2003 to serve as chief of cardiology from Mount Sinai School of Medicine where he served as director of cardiovascular research. After Brad was appointed CEO in 2006, Mark was promoted to chair and Charles E. Dewey Professor of Medicine, following a national search. The Department of Medicine is the largest single department at the Medical Center with nearly 1,000 faculty and staff who work in 10 units devoted to patient care, research, and education, with a budget of $154 million.
During his tenure as chair, Mark has recruited several prominent new clinical and research faculty, as well as new heads of the divisions of cardiology, endocrinology, general medicine, and infectious disease. As director of cardiology and now chair of medicine, Mark has expanded patient care services and strengthened quality and efficiency. He has also forged strong clinical ties with many other hospitals in the region.
Together, Mark and Brad have established the Medical Center as a national leader in cardiac research through the creation of the Aab Cardiovascular Research Institute, one of the largest research facilities in the nation dedicated to heart disease.
Mark is the right leader at this time. He's an accomplished scientist, educator, and clinician who is universally respected by faculty and administrative leaders. He's eminently qualified, has a proven ability to make tough decisions, and he's ready for the task.
In introducing Mark to faculty and staff in June, I was moved when he responded that, when the time comes, he intends to hand back to Brad a Medical Center that's even stronger than it is today. In that, he has my unequivocal support.