Features
How Green Is My Hallway?
A student-led initiative helps freshmen guide their classmates toward more sustainable living.
By Kathleen McGarvey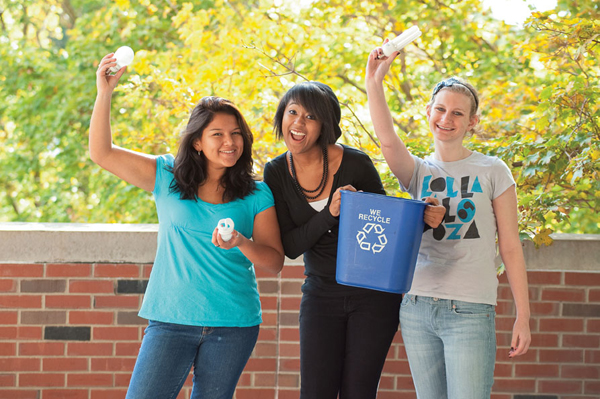 "We want sustainability to be fun and approachable—something we could incorporate into dorm life easily," says Rayna Oliker '10. In an effort to do that, Oliker and fellow students in the spring 2008 course Solving UR's Environmental Footprint proposed putting "EcoReps" on each freshman floor of the residence halls. This fall, a pilot program—supervised by Oliker, Laura Lipinski '11, and Kathryn (Joey) Hartmann-Dow '12—is up and running, and 24 first-year Rochester students are showing their hallmates steps they can take to be a little easier on the planet. We introduce a few members of the inaugural class of EcoReps.
Alejandra Perez
Los Angeles: Hoeing Hall
Alejandra Perez says that becoming an EcoRep has been an important part of settling into her new college life.
"I was looking for a way to find out about sustainability, meet new people, and do something good while I was at it," she says.
"It's about trying to be conscious of how you're having an impact on the world. You might not see the impact in your lifetime, but your children and your children's children will."
There are probably some advantages to living in a residence hall when learning to live sustainably, Perez says. "I think if you live in a community where you have people your age, and you're having fun doing it, I believe you can make lasting habits that will help the environment."
The focus of EcoReps is practical, Perez says. "It's about building habits and maintaining them."
"You don't have to change the entire way you live. The little things make a difference," she adds.
Coming from a major city like Los Angeles, Perez knows well how the effects of individual choices add up. "Everything in L.A. is exponentially more—cars, trash, everything. People think it's OK for them to do something, but they don't realize there are a lot of other people saying the same thing."
"Being an EcoRep has been a chance for me to reinvent myself as a more prudent person, environmentally. And it's a chance to help other people start off fresh."
Sabria Phoenix
Manteca, Calif.: Gilbert Hall
If one person was responsible for making Sabria Phoenix think about how to live sustainably, it was probably Al Gore.
"I saw An Inconvenient Truth," she says, referring to Gore's award-winning 2006 documentary on climate change, "and ever since then I've been inspired to help out and 'go green.' It kind of scared me."
Phoenix isn't one for idle fretting. Instead, she swung into action, single-handedly launching a wide-scale paper-recycling program in her high school.
When information on being an EcoRep arrived in her registration materials, it was an obvious next step, she says. And it brings some definite advantages, such as a group of students who are involved in the same effort.
"As an EcoRep, if you want to try to do something, you have a whole lot of support. It's a big group of people, and you can bounce ideas off each other."
Like the other EcoReps, Phoenix says she tries to influence her hallmates through the power of a positive example. And she
isn't just guiding her fellow students; she's reforming her own habits, too. "I'm trying to take shorter showers myself, and to be more cautious of water use," for example, she says.
Already, Phoenix can see the impact of her efforts. A couple weeks into the school year, she says, "I went to where the recycling bins are on my hall. They were full.
"Success!"
Ariel Chez
Highland Park, Ill.: Tiernan Hall
Ariel Chez may be a freshman in college, but she's already an experienced activist.
In high school, she and a friend raised $30,000 for the charity Invisible Children to build a school in Uganda for children affected by that country's civil war.
She decided to keep on in the same vein once she got to Rochester.
"I really care about the environment, and so I wanted to get involved," she says.
Chez thinks the EcoReps are more approachable than other figures would be. "It's easier to ask when it's peers who are answering your questions. People are more likely to follow up," she says.
One of the EcoRep organizers "told us, 'I can't give up everything, and I don't think anyone can.' And I think that's true," says Chez. "So you try to make the choices you can."
She says she's seen people in her hall making such efforts, turning off the lounge lights when they leave, and turning off the lounge TV.
"It's hard to be the kid who's like, 'I think we should do this,'" she says. But having a cohort of fellow EcoReps means she never feels alone. "We're all freshmen, and we don't really know the school yet. But it's all of us working and trying to figure things out together.
"It's a really community-oriented experience, which is nice."
Stephanie Swartz
Wakefield, R.I.: Gilbert Hall
Stephanie Swartz initially didn't apply to be an EcoRep, suspecting that an interest in physics and a place as a flute player in the College's wind symphony would consume much of her time.
But she reversed her decision before she came to campus. Now she says that working as an EcoRep isn't competing with education for her time; instead, it's augmenting it.
"It's a learning process for me. If I'm learning, I can help other people do it, too," she says.
Swartz communicates sustainability news to her hallmates via a special eco-board on her floor, which she populates with information printed on reused materials, like salvaged cardboard.
"Instead of trying to guilt people into changing their habits, we talk about hope and the future," she says. "We focus on what's good to do, rather than what's bad."
Swartz was surprised when she arrived at Rochester to discover how many sustainability measures were already in place. As a result, she says, her job as an EcoRep isn't so much about inventing mechanisms to improve sustainability as it is making students aware of programs and support that already exist.
For example, she says, she has been publicizing campus water refill stations that make it easier for students to refill water bottles, and the City Cycles program that allows students to rent—at no charge—a bicycle and helmet for the day.
"People are definitely willing to learn," she says.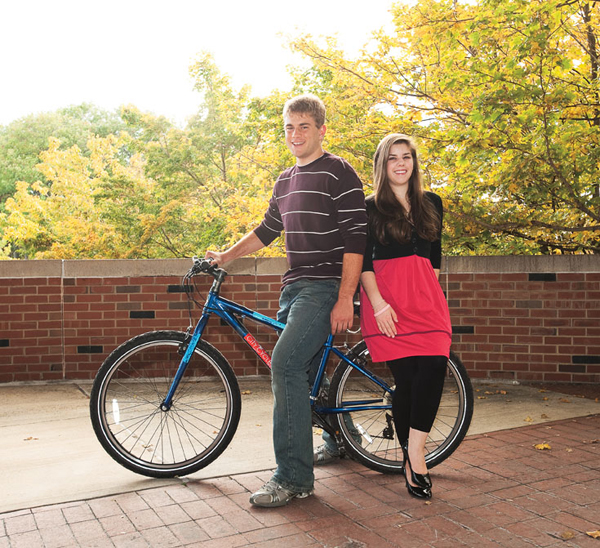 Nicholas Lewandowski
Orchard Park, N.Y.: Gilbert Hall
Nicholas Lewandowski likes to think about sustainability from a scientific perspective.
"I like ecology and biology," he says. "I'm interested in the scientific repercussions of our actions."
"My family was always pretty ecologically responsible. And I felt through EcoReps, I could not just participate, but be a leader," says Lewandowski, who is also a member of the Freshman Class Council.
It's a good idea, he says, that the program focuses on first-year students. "We're freshmen—and you might as well make changes when you're forming new habits anyway."
Developing new habits isn't necessarily easy, even in a brand-new setting, but Lewandowski says the students on his floor are willing to try.
"There's varying receptivity. On the whole, though, everyone's willing to recycle, and to try to remember to turn lights off."
As for how to influence his classmates, he says: "You just have to put yourself out there. It's a lifestyle change that people can undergo.
"People have come to campus with different levels of ecological and environmental awareness. We're trying to get everyone on the same page."
The approach is subtle, he says, but the stakes are not. Always a committed recycler and water- and energy-conserver, Lewandowski says what he's learned about sustainability as an EcoRep has expanded his awareness.
"It's made me realize how urgent an issue sustainability is."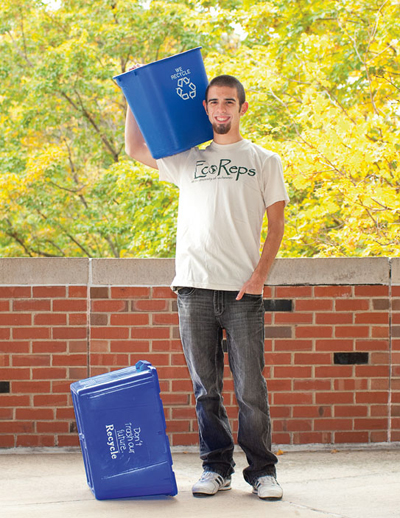 Joey Griggs
Brick Town, N.J.: Tiernan Hall
"Our way of life isn't sustainable, and there are so many little things people can change that will make a big difference in the long run," says Joey Griggs, referring to efforts like switching off lights and turning off the faucet while brushing your teeth.
"I try to talk about it a lot—informatively, rather than critically," he says.
Griggs first became interested in sustainability as a student at the Marine Academy of Technology and Environmental Science, a magnet high school in Manahawkin, N.J. There, he took part in activities like beach clean-ups and introducing environmental issues to elementary school students.
"I want to make making changes in their lives easier," he says of his fellow students.
On Freshman Move-In Day in August, EcoReps went from room to room, encouraging students to break down their mountains of cardboard boxes and helping them to haul the cardboard away for recycling. It was a first step in fostering a recycling culture in the halls.
Griggs says students on his floors are receptive to his work, even if it comes with some good-natured kidding.
"Today I forgot my reusable water-bottle, so I had to buy this," he says, holding a bottle of water marketed to be used once and thrown away. "When I walk into the hall carrying it, they'll give me a hard time."
"But," he adds, smiling, "that just shows they've paid attention to what I'm saying."
For more about the program, visit the EcoReps Web site.