Letters to the Editor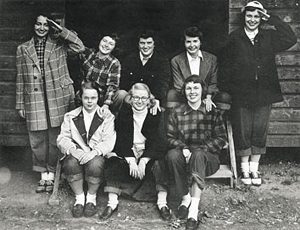 Photographic Memories
In the historical photo on page 43 of the September-October issue I was surprised to see a picture of me—I'm on the right and on the left is Eiluned (Cookie) Jones Green '50 (opening photo, Class Notes). The bedspreads and drapes were green—an important fact!
The photo was taken in the fall of 1946. We were on the top floor of Munro Hall, formerly a storage floor, hence the window with the decorative grate.
I was a history of art major and took photography courses at RIT. I took many of the "casual" pictures on the Women's Campus—"behind the scenes of Kaleidoscope," etc.—so it was fun for me to be in a picture.
I am sending another photo for your archives.
Janet (JP) Price Randall '50
Flushing, Mich.
'Grease Monkey' Turned Teacher
Your article, "Documenting a Turbulent Time," (In Review, September-October) vividly brought back a significant period for me and my late wife, Harriette Dvorin '72W (Mas). At the time of the riots, we were living in Brighton, far from the center of the action. Harriette was teaching at School No. 16 in Rochester. I was happily engaged in doing advanced design and development in "skunk works" projects at Bausch & Lomb while attending the Institute of Optics, working toward a degree.
Harriette always actively worked for the betterment of her students and took risks, including once going on strike and losing tenure protection as a penalty. She worked with the Rev. Franklin Florence and Saul Alinsky in the [Rochester civil rights group] FIGHT.
In the summer of 1966, I was approached by Monroe Community College and asked to take over their two-year optical technology program. At the time, I was the technical director of a large multidisciplinary R&D project and could not leave it. So in the fall of 1966, in an abandoned high school building on Alexander Street, I started teaching nights as an adjunct. When my B&L project was complete, I took a hiatus from industry and went full time in September 1968.
My rationale: If students could successfully complete this admittedly most difficult of the technology programs, companies, given the extreme shortage that existed of these skilled personnel, would be forced to hire them.
Harriette, for her part, helped turn this "grease monkey" into a teacher and tutored some students in basic skills. We worked with Upward Bound and the Urban League.
Harriette retired in 1978 and I did as well in 1980. An unsolicited job offer took us to Sonoma County, Calif. My former student, Robert Novak, succeed me wonderfully at MCC.
I am still in touch with many of my students. They are successful and continue to carry on these efforts. I could ask no more for them.
Martin Dvorin '66 (MS)
Novato, Calif.
Honoring Walter Cooper '57 (PhD)
Thanks for highlighting the work of Walter Cooper '57 (PhD) as a leader in the community ("Documenting a Turbulent Time," In Review, September-October) and as a recipient of the University's Frederick Douglass Medal ("University Honors Alumni Leaders," Alumni Gazette, November-December 2008).
The Rochester Oratorio Society was delighted to recognize Cooper as our Guest of Honor during our "Partners in Freedom: Lincoln & Douglass Concert," which took place in March at the Hochstein School in Rochester (located in a former church, the school's building was once a stop on the Underground Railroad).
It has been my humble honor to help recognize Cooper's legacy in our Rochester community.
Barbara Young Bissell-Erway '90N, '92N (MS)
West Henrietta, N.Y.
Editor's note: Bissell-Erway is a member of the Rochester Oratorio Society, and she cochaired the society's Partners in Freedom concert. Also this spring, the Rochester City School District officially opened the Dr. Walter Cooper Academy School No. 10, named in honor of Cooper, the first African American to earn a doctorate in physical chemistry from the University and a longtime research scientist at Eastman Kodak.
Review welcomes letters and will print them as space permits. Letters may be edited for brevity and clarity. Unsigned letters cannot be used. Send letters to Rochester Review, 22 Wallis Hall, P.O. Box 270044, University of Rochester, Rochester, NY 14627-0044; rochrev@rochester.edu.