Features
Kudos
Alumni Honors
The University and its academic units recognized several alumni this fall for their commitment and service. Here are some of the 2009 award recipients.
Arts, Sciences, and Engineering
James S. Armstrong '54 Alumni Service Award: Richard Leibner '59
A cofounder and president of the talent agency N.S. Beinstock, Leibner and his company represent about 600 broadcast journalists, including many of the industry's most notable personalities.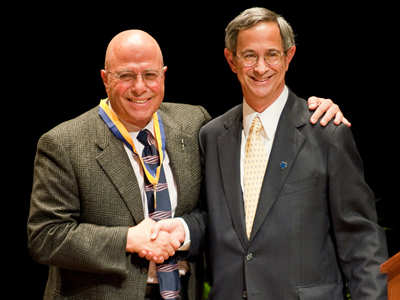 Distinguished Alumnus Award: Donald Winter '69
Winter, who served as secretary of the Navy from 2006 to 2009, is a widely respected executive in the aeronautics industry.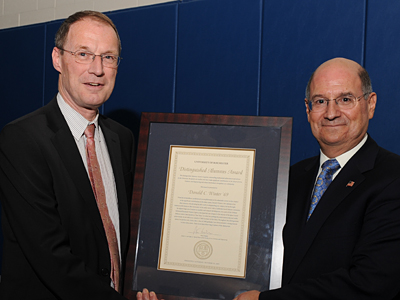 John N. Wilder Award: Mark Zaid '89
A prominent Washington, D.C., attorney, Zaid specializes in litigation involving national security, foreign and diplomatic immunity, international crimes, constitutional law, and the Freedom of Information Act.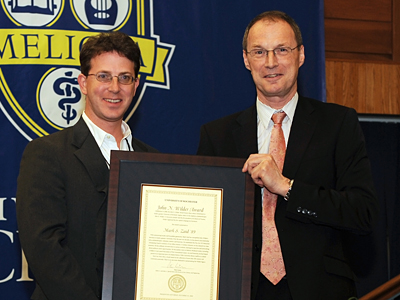 School of Nursing
Dean's Medal: Loretta Ford '00 (Honorary)
A dean and professor emerita in the School of Nursing, Ford is widely recognized for helping found the nurse practitioner model and for implementing the unification model of nursing education at Rochester.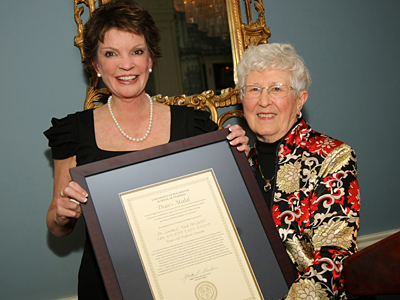 Simon Graduate School of Business
Distinguished Alumnus Award: J. L. (Jack) Davies '72, '73S (MBA)
A highly respected executive in the banking and the popular recording industry, Davies is a founder and former president of AOL International.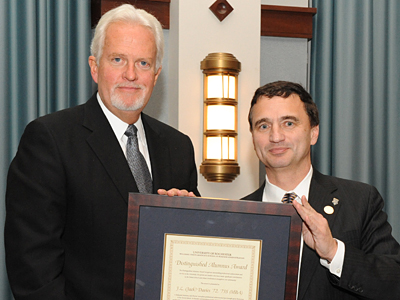 Alumni Service Award: David Khani '93S (MBA)
Khani is a senior managing director and director of research at FBR Capital Markets.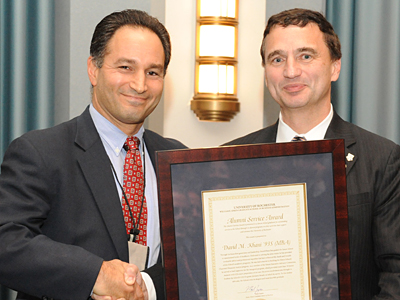 Dean's Medal: Ralph Whitney '57, '73S (MBA)
Whitney is chairman emeritus of Hammond, Kennedy, Whitney & Co., one of the nation's oldest and most successful private equity firms.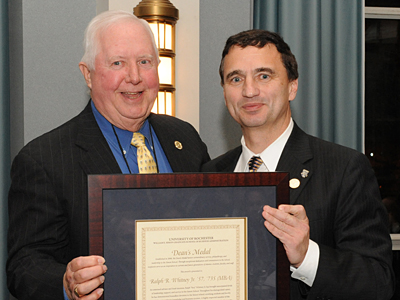 School of Medicine and Dentistry
Humanitarian Award: Eugene Gangarosa '50, '54M (MD), '55M (MS)
Gangarosa is a former dean of the School of Public Health at the American University of Beirut and a professor of medicine and public health at Emory University. He directed a public health program at Emory that became the university's School of Public Health.
Alumni Service Award: David Kluge '54M (MD)
A private practitioner and surgeon for 35 years in Rochester and a clinical assistant professor of surgery at the University, Kluge created a regional organization called STEP, Society for Total Emergency Programs, and developed a regional multicounty Emergency Medical Services (EMS) Directory, which is published annually.
Dean's Medal: Stephen Rosenfeld '59, '63M (MD)
A professor emeritus in the Department of Medicine, Rosenfeld joined the faculty in 1972, serving as director of the Allergy, Immunology and Rheumatology Clinical Group at Strong Memorial Hospital, as director of the Allergy and Immunology Training Program, and as director and of the Allergy and Immunology Clinic over the course of his career.
John N. Wilder Award: Robert Smith '89M (MD)
Smith is the chief of radiation oncology at Ellis Hospital in Schenectady, N.Y., and is a managing partner of Schenectady Radiation Oncology Associates.
Distinguished Alumnus Award: Maj. Gen. Philip King Russell (Ret.) '58M (MD)
A professor emeritus at Johns Hopkins School of Hygiene and Public Health and a former director of the the Walter Reed Army Institute of Research, Russell is a noted vaccine scientist, contributing to the development of vaccines against adenovirus, meningitis, hepatitis A and B, and other infections.