In Review
DIVERSITY
Building an Inclusive Community
Rochester leaders commit to creating an inclusive campus during the first University-wide conference on diversity.
By Kathleen McGarvey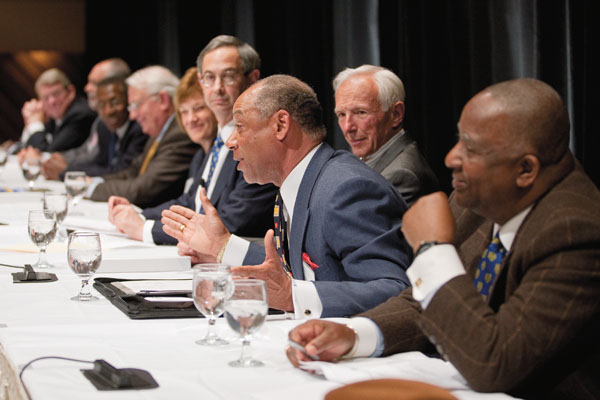 How does an organization as big as the University—with roughly 20,000 employees—focus on an institutional goal like diversity? The first step is to begin a conversation—and make a commitment to continuing the conversation over time.
That was the goal of the first University-wide conference on diversity, held this spring in what organizers expect will be an annual gathering to talk about issues surrounding inclusiveness.
"You can't get anywhere unless everyone's rowing in the same direction," noted Cathy Jones Minehan '68, a University trustee, a former president of the Federal Reserve Bank of Boston, and a panelist for the day-long Diversity Conference: Building a Stronger Community.
Minehan joined an eight-person panel of trustees, top administrators, and guests from Xerox, Bausch & Lomb, Kodak, and the City of Rochester who discussed the importance of diversity as an institutional goal during an afternoon session. The gathering, held on the River Campus, also included three concurrent morning sessions centered on faculty recruitment and retention, community outreach, and organizational change.
Sponsored by the Office of Faculty Development and Diversity, the conference was designed as a learning opportunity and as "a step on a road forward, not an end in itself," President Joel Seligman said.
He said diversity is a core University value that's essential to attracting the finest faculty, students, and staff. "Our ultimate goal is to create as welcoming, diverse, and inclusive an environment on this campus as we can."
Panelists noted that the University faces challenges in focusing its talents when it comes to initiatives such as diversity.
Thomas Richards, also a trustee and the corporate counsel for the City of Rochester, cautioned that, by their nature, universities are designed to achieve only a certain level of coordination.
Provost Ralph Kuncl acknowledged the University's tradition of decentralization, noting that it can result in "fragmented anecdotes rather than a coherent story."
The conference, he said, was created to foster such communication.