Alumni Gazette
Drawing Readers In
Longtime editorial illustrator Jane Marinsky '73 finds success in children's literature, in collaboration with her daughter, Leah Sharpe.
By Karen McCally '02 (PhD)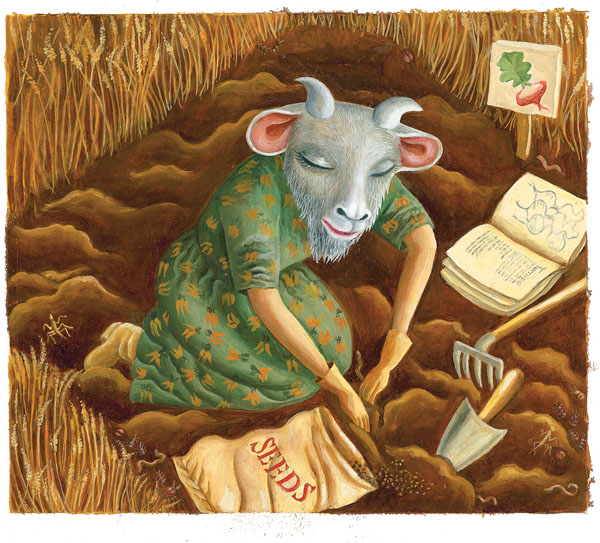 Imagine the lively peasant village scenes of Renaissance master Pieter Brueghel, the whimsical folk scenes of modernist Marc Chagall, and the lush jungles of post-Impressionist Henri Rousseau.
How might an image look that borrowed from all three of these artists? Perhaps like the boldly colorful oil paintings by Jane Marinsky '73 that decorate the pages of The Goat-Faced Girl, a retelling of a classic Italian fairy tale by Marinsky's daughter, Leah Sharpe, and published by the Boston master printer, David Godine.
A prominent editorial illustrator—for years, her pencil drawings graced the editorial pages of the Washington Post, Detroit News, the Chicago Tribune, as well as other newspapers and magazines—Marinsky is a relative newcomer to children's literature. While teaching art at Daemen College, near Buffalo, she decided to take a course herself, in children's book illustration, and asked Leah if she had a story for her to illustrate.
"She had loved fairy tales from the time she was little," says Marinsky. "When she babysat as a teenager, she would retell the stories, because she didn't like the way they ended."
Sharpe, who was busy pursuing a doctorate in conservation biology, had just the right story in mind: The Goat-Faced Girl, in which a fairy disguised as a lizard takes a peasant daughter off the hands of her parents and raises her in riches.
"I was rooting for my mom to do a fairy tale," says Sharpe, who transformed the classic to give it a distinctly modern twist, and finds her mother's "fantastical" style to be well-suited to the fairy tale genre.
"With illustration, you have the responsibility to enhance the word," says Marinsky. "There is a sort of conscious, deliberate way of drawing, like making the arms smaller than they would be and the hands tiny," she says. And she strives for "a roundness" to her figures. "It brings a certain emotion to it that I'm trying to get, a sort of an intimacy, a way of bringing readers in."
Marinsky says her passion for drawing dates back to her adolescence, when she found inspiration in the pencil drawings of Italian Renaissance masters Michelangelo and Leonardo da Vinci. A Buffalo native, she followed the path of her older sister, Elyse Marinsky Friedman '67, enrolling at Rochester, where she could major in art while getting a broader education. She married Dan Sharpe '70 and established herself first as a graphic designer, then later, as an illustrator.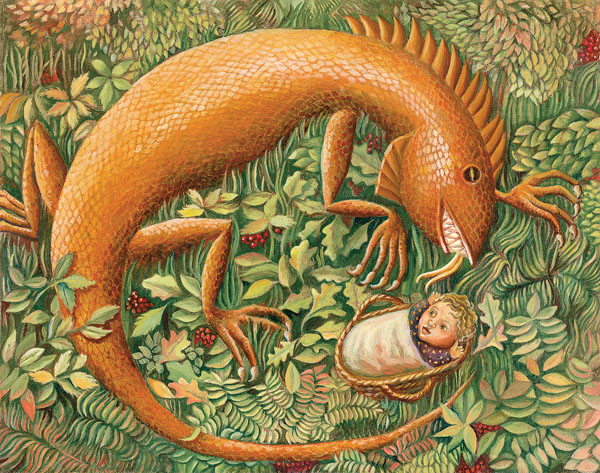 Illustration is a fast-changing field, in which the ability to use a variety of computer software programs at times can seem to overtake "old-fashioned" tactile skill with a pencil or brush. But Marinsky finds a place for both.
"If I want to do a quick color sketch, I scan in my hand drawing and use Photoshop to try to get an idea of what colors I want to use and where."
She teaches her students marketable skills, such as how to create animatic storyboards.
But in the end, she says, "I love having the tactile ability to draw these little patterns. And I think people still respond to hand drawn things."