In Review
MUSIC PERFORMANCE
Down on 'Jazz Street'
Eastman students play to international audiences in Rochester's ninth annual jazz festival.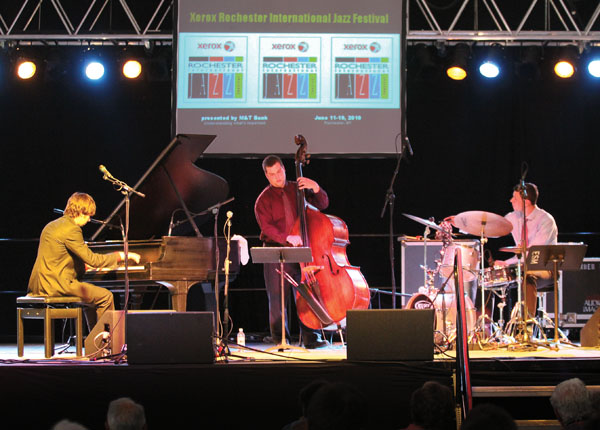 The 162,000 jazz aficionados who filled "Jazz Street"—as the area near the Eastman School was known during this year's Xerox Rochester International Jazz Festival—could pick from a cast of big names, including Jeff Beck, Herbie Hancock, and Gladys Knight. But fans could also hear many Eastman students among the 1,000 or so artists.
The lineup featured guitarists and Downbeat award winners Graham Keir '10E and Gabe Condon '13E. Accompanying Keir was Trio Slaye—pianist Chris Ziemba '08E, bassist Dave Baron '10E, and drummer Kevin McDonald '10E. Joining Condon were drummer Jeff Krol '13E, bassist Matt Krol '13E, doctoral pianist Nick Weiser, saxophonist Ted Taforo '12E, and doctoral trumpeter Mike Van Bebber.
Also playing well-received sets were members of The Po' Boys Brass Band—trombonists Erik Jacobs '11E, Chris Van Hof '08E (MM), Nick Finzer '09E, Evan Dobbins '94E (MM), and T. J. Ricer '10E (DMA), drummer Chris Teal '09E (MM), and guitarist Mike Frederick '09E (MM). And Saxophonist Will Cleary '10E (MM) took the stage with Van Bebber, Weiser, McDonald, and bassist Kyle Vock '10E (MM).
At a concert featuring saxophonist Dave Glasser '84E, '86E (MM) with the Eastman Jazz Ensemble under the direction of Eastman professor Bill Dobbins, the jazz festival and the Eastman School presented this year's jazz scholarships to saxophonist Erik Stabnau of Brighton, N.Y., and guitarist Alex Patrick of Penfield, N.Y.
In addition to their own performances, Eastman faculty led high schoolers in a jam session that featured guitarist Bob Sneider, pianist Paul Hofmann, bassist Jeff Campbell, and drummer Rich Thompson.r
---
For more about the festival, visit www.rochesterjazz.com.