Alumni Gazette
KUDOS
University Honors Alumni at Commencement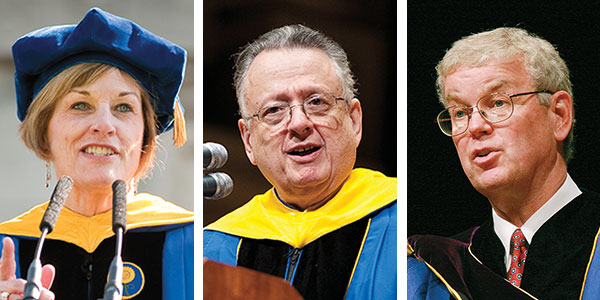 Alumni from Arts, Sciences and Engineering, the School of Medicine and Dentistry, the Eastman School, and the Simon Graduate School of Business were recognized by the University for their professional accomplishments during this spring's commencement ceremonies.
Vincent Lenti '60E, '63E (MA), Cathy Jones Minehan '68, and Arthur Moss '62M (Res) were awarded the Charles Force Hutchison and Marjorie Smith Hutchison Medal, the University's highest alumni honor.
A member of the Eastman School's piano faculty since 1963, Lenti served for 26 years as director of the Eastman Community Music School. The author of articles on church music and liturgy, he also is the Eastman School's historian.
After almost 40 years in the Federal Reserve System, Minehan retired in 2007 from the Federal Reserve Bank of Boston, where she had served as president and chief executive of the Boston Bank and was a member of the Federal Open Market Committee. She chairs the executive committee of Rochester's Board of Trustees.
Moss is a professor of medicine and founder and former director of the Heart Research Follow-up Program at the Medical Center. He's widely recognized for his contributions to the study of coronary disease and heart-rhythm disorders.
Linda Birnbaum '67 and Richard Thaler '74 (PhD) were each awarded an honorary doctor of science degree, and Robert Keegan '72S (MBA) received an honorary doctor of laws degree.
Birnbaum directs the National Institute of Environmental Health Sciences and the National Toxicology Program. An authority on environmental chemicals, Birnbaum oversees a multidisciplinary research program designed to understand the environmental contributors to disease.
Thaler, the Ralph and Dorothy Keller Distinguished Service Professor of Economics and Behavioral Science at the University of Chicago's Booth School of Business, is a pioneering theorist in behavioral economics. A codirector of the National Bureau of Economic Research's behavioral economics project, he directs the Center for Decision Research at Chicago.
The chair of the board of directors of the Goodyear Tire & Rubber Co., Keegan served as CEO and president of the company for the past seven years. He's credited with helping transform Goodyear's operations and products and successfully integrating its tire brands in Europe.
Young-Kee Kim '90 (PhD), a professor of physics at the University of Chicago, received the Rochester Distinguished Scholar Medal. Since 2006, she has served as deputy director of the Fermi National Accelerator Laboratory.