Master Class
He's Got Drive
Consumer Reports test engineer Tom Mutchler '93 lends his automotive insight.
Interview by Karen McCally '02 (PhD)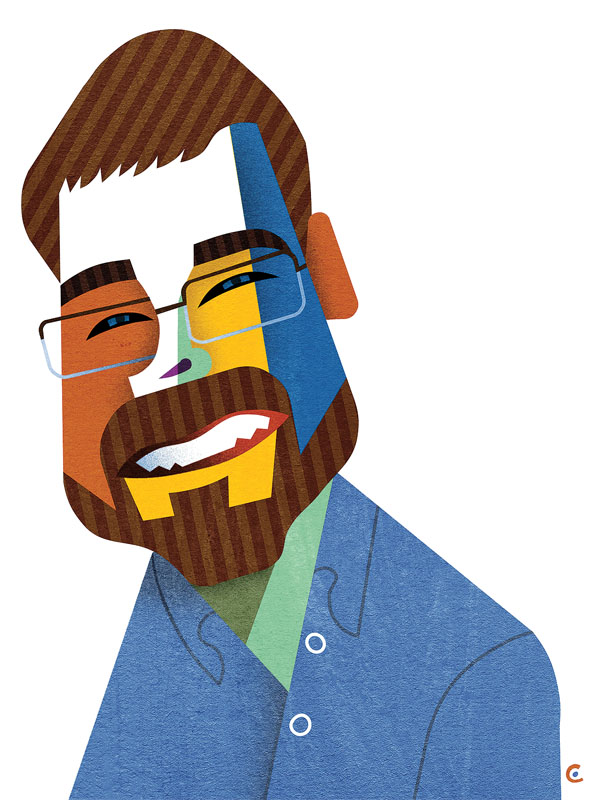 I'm an engineer at 'the track.' We have 327 acres in Connecticut, where Consumer Reports owns its own test track.
We have over 50 different tests that we do on cars, ranging from acceleration and braking and emergency handling to going out for a daylong drive with five or six cars all in a convoy, after which we come back and record our results.
I drive a different car to and from work every day. At the end of the day, I walk up to a wall with a board of keys on it. And there are usually 40 or 50 different cars that are available for me to drive. I'll drive a car home and back the next day, paying attention to how it handles, how easy its controls are to use, and its fuel economy. Each car has a logbook where we record our notes.
Tom Mutchler '93
Cromwell, Conn.
Automotive Test Engineer, Consumer Reports
Major: Mechanical Engineering
Car driven at Rochester: 1981 Buick Electra. "My grandfather was nice enough to loan it to me. It wasn't the best car in the snow. I remember it in the Hill Court parking lot just spinning its back tires."
My wife and I own one car, a 2010 Honda Odyssey. We don't have kids. But we have this minivan because we kayak, we mountain bike, we do all these outdoor activities. It's so nice to have the space. The way we wound up with it is we took the car on vacation. And then we started borrowing it on weekends.
If you're going to buy a car, be really honest with yourself. How much car do you need? There's been this tendency toward buying large SUVs or four-wheel drive. But if you live in a place where it only snows once a year, you probably don't need four-wheel drive. You might watch ads where you see an SUV going off-roading, yet you're probably never going to do that. If you're able to separate your wants from your needs, you'll probably buy a vehicle that will cost you less money and get better fuel economy.
There are two companies that clearly stand out. One of them is Hyundai. Hyundai used to be a laughingstock. Even today, people will say, 'Hyundai? Are you crazy?' But they're incredibly determined, and it's showing up in their products. Virtually every car they come out with ends up scoring very well and winds up being very reliable.
The other stand-out company is Ford. They've been very focused. That's a horrible pun. But they've taken cars that were OK cars, like the Mustang and the Fusion, and they've extensively reworked them. The Focus and the Fusion are more reliable than the Japanese competition, which to many people would have been unimaginable just a few years back.
One of the things I've learned is that it's very difficult anymore to say that an entire brand is good. Ford has a few products that aren't that great. Toyota has some terrific products, and they also have some lousy products. There are some recent Hondas we don't recommend.
It's fascinating to be in the business at this point because it's anybody's game. You can't say anymore, 'Oh well, that car's made by so-and-so, it's not going to be good.' You can now be surprised all the time. And we are.