Alumni Gazette
MELIORA MOMENTS
Kate Gruschow '11S (MS)
Staff member, Simon School Advancement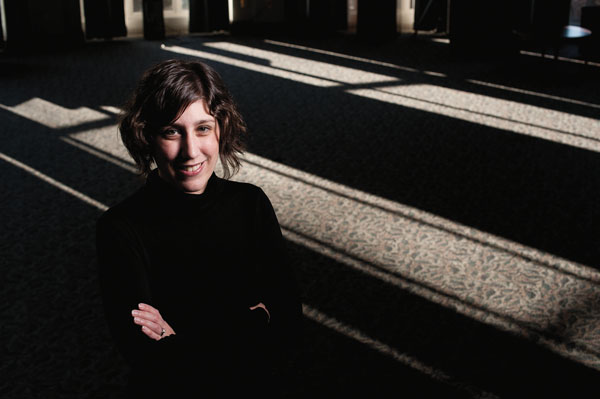 How many of us have thought twice about getting a paper cut? Simply slap a Band-Aid on it, maybe some Neosporin, and off you go. If it were not for the care I received in the Kessler Burn & Trauma Center at Strong Memorial Hospital, a paper cut would have killed me. A paper cut.
While working for the Simon School of Business and staffing an alumni event in Charlotte, N.C., in late January 2011, I received a paper cut while setting out our nametags. A week later, it became infected. A week or so after that, I was in the Kessler Burn & Trauma Center fighting for my life.
I had developed toxic epidermal necrolysis (TENS, also known as Stevens Johnson Syndrome), an incredibly rare and potentially fatal allergic reaction to the antibiotic I was prescribed. I was given a 50 percent chance of survival, and my epidermis "burned" off over 95 percent of my body.
My Meliora Moment is threefold.
First, the care I received from Dr. Derek Bell and the staff at the Kessler Burn & Trauma Center literally saved my life. They healed this then 29-year-old mother of two and returned me to my family. It is truly medicine of the highest order.
Second, I am incredibly grateful to Dennis and Larry Kessler for their support of the unit at the Medical Center. I had visited another local hospital (closer to my home) three times before going to Strong with no diagnosis. At Strong, they knew immediately what it was and how to treat it.
Lastly, the outpouring of concern from the staff at the Simon School and University Advancement was overwhelming. A constant stream of cards was delivered to me at Strong (many eager visitors were declined due to my condition). Meals were arranged for my family upon my discharge. Everyone's concern and thoughtfulness motivates me to be an "ever better" colleague.
At the time of my hospital stay, I was also a part-time student at Simon, and the faculty worked with me to get caught up. I am happy to report that a mere three months after discharge I walked across the stage at Eastman Theatre and received my master of science degree in business administration.
I am now a grateful patient, staff member, and alumna.
---
For more Meliora Moments, and to submit your own, visit http://meliora.rochester.edu.