Class Notes
Across Seas, Across Generations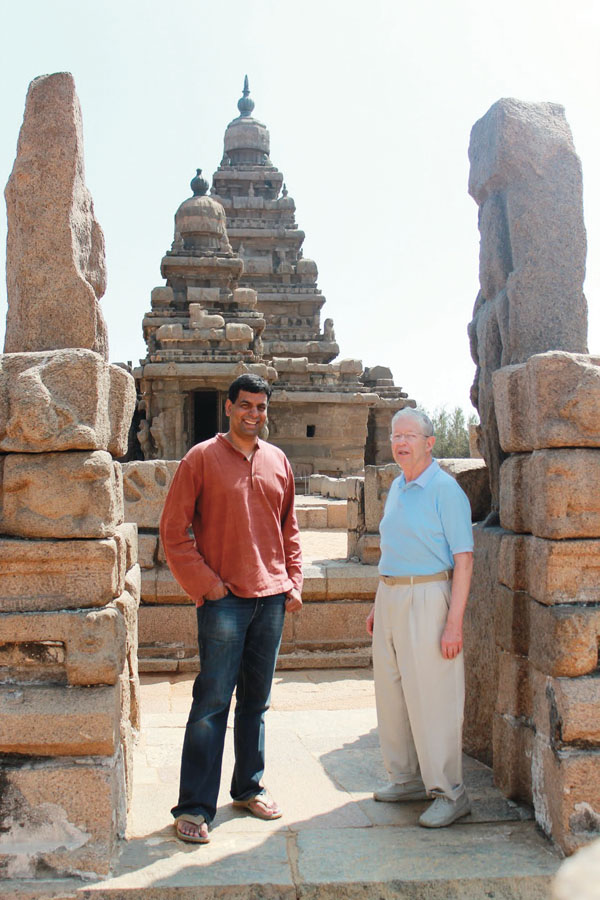 In January, Marty Messinger '49 traveled to the southern Indian province of Tamil Nadu. His host on the journey was Navin Ram '95.
Marty, a life trustee of the University, is managing director of the investment firm Neuberger Berman. Navin is the CEO of OriginWave, an information technology company based in Chennai that serves financial services clients in the U.S., Europe, and Asia.
The two met when Navin was a student. "One day I got this call in my office," says Marty. It was Navin. "He said, 'I'm on the debate team and I noticed you endowed the team,'" Marty recalls. "He'd worked his way to Rochester from India, and he asked if I'd mentor him."
Marty did, the two kept in touch, and this past Meliora Weekend, Marty agreed to visit Navin in India.
Navin's daily Blackberry messages to Marty's family—Marty and his late wife, Joan, had four daughters and 10 grandchildren together—served as a journal of the trip, recording Marty's arrival in the port city of Chennai in "flip-flops, sunglasses, sun cream, and hat;" barefoot walks through the temples of Kanchipuram; samplings of southern Indian cuisine (as well as a visit to KFC to fulfill a craving); visits to rural farming communities; a tour of a Brahmin village and house; and visits to several thriving arts communities.
Of their tour of Old Chennai, Navin wrote: "We started off at a beautiful Armenian church downtown. They were the first to come to Chennai along with the British, Portuguese, and Dutch. Marty walked through the streets, checking out vegetable vendors, asking lots of questions, dodging the cows, and breathing in the spices. He then got on a rickshaw and became the maharaja of the group as we toured the streets."
"Chennai is undergoing incredible transformation and it's a great cultural center," says Marty. "It was a wonderful time."
—Karen McCally