The University's Strategic Plan 2013–2018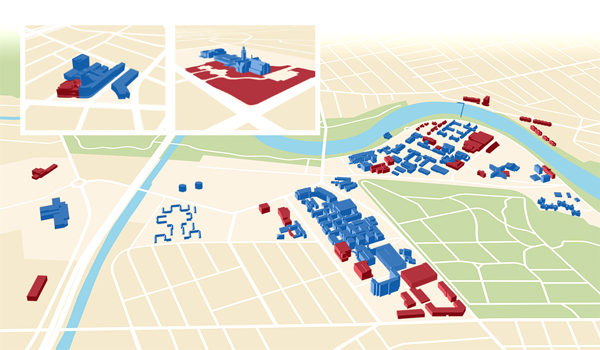 By 2018, we envision that the University will fortify its position as one of this nation's leading research universities consistent with our core values of academic excellence, academic freedom, diversity, and community. Fundamental to our progress will be continued strengthening of our faculty, students, and staff. Five years from now we intend to be a university ever better in the quality of our teaching, research, clinical care, and creative arts.
During the next five years we will make major commitments to data science; health care; faculty growth in Arts, Sciences & Engineering; new or expanded programs to support learning and research; improved infrastructure; and classroom and library renovation.
We will successfully complete our first comprehensive capital campaign since 1924.
Our campus in 2018 will include College Town, an expanded Brooks Landing, a new Golisano Children's Hospital, a new imaging sciences/pediatric ambulatory building, a new data science facility, and a science and engineering quadrangle, including the new data science building and Goergen, Wilmot, Gavett, Hutchison, and Hopeman halls, the Computer Science Building, and Carlson Library.
The University, the Medical Center, and each school will have a sustainable financial model.
Within our community we will build on our role as the region's largest employer and engine of economic development to help catalyze the revitalization of Rochester.