Class Notes
CHANCE ENCOUNTERS
Musical Meet-Up
Boston-area alumni find each other while working (and playing) together in the Cambridge Symphony Orchestra.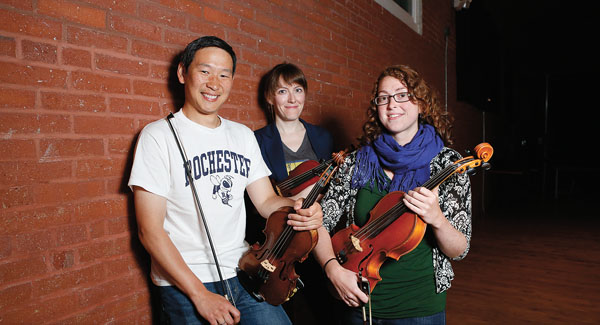 If you've moved away from Rochester and live in a sizeable metro area, maybe you've met and even befriended a fellow Rochester alumnus or two. Someone you never knew as a student. Someone who may have attended many years before or after you did.
That's the kind of chance encounter that happened to Lydia Beall '02, Abe Dewing '93, and Kim Etingoff '10. Living in the Boston area, they met as members of the all-volunteer Cambridge Symphony Orchestra.
Abe, who oversees digital advertising for the Boston Herald, joined the orchestra in 1994. A violinist, he'd been in the University symphony and chamber orchestras at Rochester. "I was able to enjoy music at my own pace. It wasn't, 'Be an Eastman student or nothing,' " he says. "I learned, 'Hey, you know what? Maybe a community orchestra would be an option for me.' "
He not only joined the Cambridge Symphony, but became a board member and took charge of the group's marketing. He started an arts blog at the Boston Herald, for which he writes a weekly installment about the symphony.
Lydia, also a violinist, runs an education program at the Boston Museum of Science. A chemical engineering major, she didn't join any music groups while at Rochester. "I thought about it," she says. "But I thought it might be too much while I was in college."
As a working professional, she decided she had the time and will to pursue her music again. She'd been a friend of the orchestra on Facebook and decided to join. She met Abe when she approached him about arranging for the orchestra to perform at the museum as part of a program on the science of sound.
"It's a pretty rigorous orchestra environment, but casual enough that people who have full time jobs can do it simply because they love it," she says. She adds that the group is performing a lot of 20th-century music, "which is unusual."
Kim, a violist who's working toward a master's degree in urban and environmental policy and planning at Tufts, says, "I was a part of both the chamber orchestra and the symphony orchestras at Rochester, so I wanted to keep that tradition going in my life." The Cambridge Symphony Orchestra, she says, "was nearby, community based, and had a great repertoire, so that's the orchestra I gravitated toward." She met Abe shortly after she joined, who in turn introduced her to Lydia.
It's a community-within-a-community that could expand. "I actually know of two more Rochester alums who just moved to Boston and are interested in joining the CSO as well," Kim says. "So our numbers might keep growing!"
—Karen McCally
---
Have you experienced a chance encounter you'd like to share? Write to us at rochrev@rochester.edu.