Class Notes
REMEMBRANCE
From Keyboard to Farm, and Back Again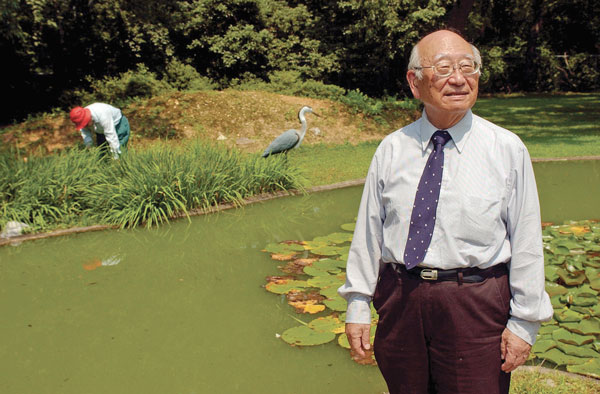 John Fuyuume '48E, '50E (MM) arrived at the Eastman School of Music in 1944 by way of the Gila River Relocation Center in Arizona, an internment camp for Japanese-Americans.
Fuyuume, who died in September at age 91, was allowed to leave the camp for Rochester under the sponsorship of the Presbyterian Church. His family had been relocated from Los Angeles in 1942, and he had played the organ in the camp's church but hadn't had lessons in more than two years when he arrived at Eastman. He earned two degrees and planned to pursue a doctorate. But then Charles Seabrook, founder of Seabrook Farms, one of the world's largest frozen food companies, urged him to begin a career at Seabrook in southern New Jersey instead.
Fuyuume's parents were among the nearly 500 Japanese- American families who accepted Seabrook's offer of work and a place to live after being released from the camps in 1944. They were joined by thousands of refugees from other countries, all of whom worked on the 20,000-acre complex before the company's demise in the 1970s.
"We were a multicultural community long before those words were used," said Fuyuume in an interview with Rochester Review in 2004.
He rose through the executive ranks and traveled the world. After retiring, he and his wife, Setsuko Hada, established the Seabrook Educational and Cultural Center in Upper Deerfield Township, New Jersey. In 2011, the Japanese government recognized him with the Order of the Rising Sun, Gold and Silver Rays, for his efforts to preserve the history and culture of the Japanese-American community at Seabrook.
Fuyuume and his family never moved back to California, where his parents had been forced to give up their small grocery store. And the $20,000 in reparations Congress authorized to internees in 1988 was not enough, he once noted, even to buy back the Steinway piano that as a boy he had to leave behind.
He eventually returned to his own musical roots, serving on the Eastman School's board of managers. And to help others pianists achieve their own aspirations, he and his wife created the Setsuko and John Fuyuume Piano Endowment Fund at Eastman.
In his final years, he lived at a retirement home in Valley Forge, Pennsylvania, where—with fellow alumni Horace (Hap) Apgar '49E and Alice Pillischer Kujala '48E, and after many years away from the keyboard—he began to play and perform once again.