Master Class
Getting to Broadway
Jane Dubin '78, '79 (MS)
How does a play or musical go from a concept to a major production? There's no one formula, says Broadway producer Jane Dubin '78, '79 (MS).
Interview by Karen McCally '02 (PhD)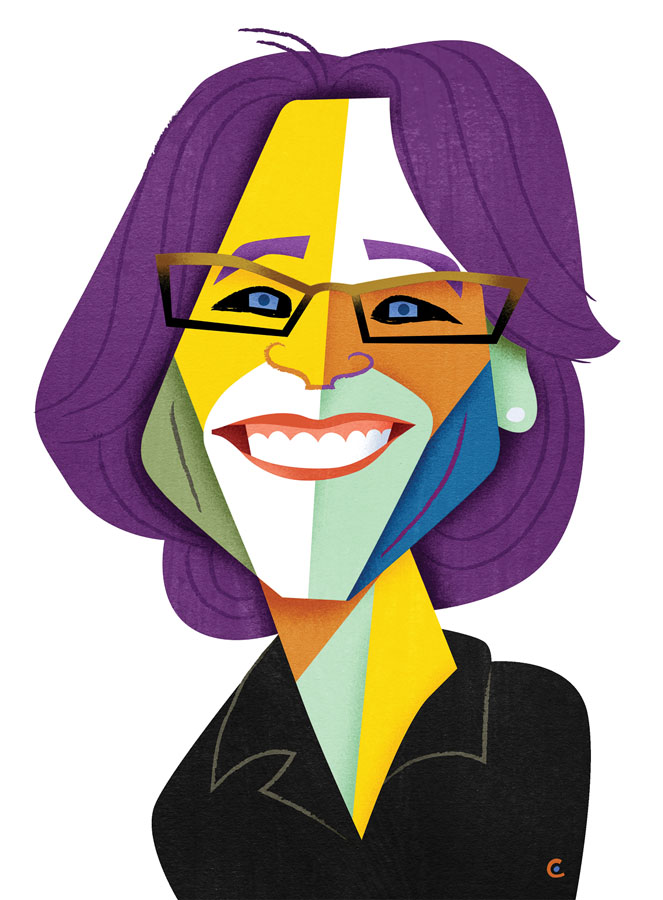 Jane Dubin '78, '79 (MS)
President, Double Play Connections
Tony Award–winning productions: Bandstand (2017); An American in Paris (2015); Peter and the Starcatcher (2012), The Norman Conquests (2009)
Major at Rochester: mathematics; master's degree, political science
On becoming a producer: "This is actually my third career. I was an actuary, and then I went into the investment management business. These things were, in an unexpected way, great preparation for the business side of theater."
On acting: "My only experience on stage was when I was 12 years old, at camp. I played one of the mission dolls in Guys and Dolls. I thought, 'I've done that. I'm good. Thank you.' But theater has been a part of my entire life. I've been an audience member my whole life."
Theater production is not my first career. I got started when I had the opportunity to help an artist who had written a play and was trying to mount it. We had such a great time doing it and through that production, were introduced to other people. The door opened, and I entered full force with great enthusiasm.
Each production that I've been involved with has come to me in a different way. I know a number of people involved in various projects, and we talk about what we're doing. Within the industry, there are also a lot of script-in-hand presentations that lead producers or playwrights put on and invite people to—coproducers, investors, and so forth—to see if they might be interested in the work. These come in a raw form. They're not completed projects, but just, "this is what we've done so far, we'd like you to see it and sign on." There are also productions all over the country that might be in a tiny little theater somewhere. Somebody might see it and say, "Wow, that's really great. I want to be part of it."
There are a number of things that I look for in a project. The storytelling, to me, is crucial. The story has to personally resonate with me. And it's hard to say in advance what that's going to be. That's the art—the part that has you saying, "Wow, I am just a little bit different than I was two hours ago because of what I just saw." The other part is the brain saying, "OK, do I think other people will find this interesting as well? Do I like the team that's running this project?" You go into some of the same things that you might do when you're evaluating a company of any kind.
I've become involved in productions at various stages. Bandstand, my current project, was one I learned about very early. The gentleman who originated it told me about it years ago, and I met the creative team. I attended a simple reading with music. People had scripts in their hands. And then there was what we call a lab, where you have several weeks of rehearsals. There are minimal sets or costumes, but people don't use scripts, and there's some choreography. And after a production at Papermill Playhouse in New Jersey, we're swingin' on Broadway, so to speak.
With my own production company, Double Play Connections, we create work from scratch. So I have a lot of opportunity to take part in the development of the idea. I also work with a non- profit theater company, Houses on the Moon. They create their own work. In some ways, those productions are even more exciting than Broadway because you're in small theaters, right in there with the actors. The experience can be much more visceral.
Sometimes Broadway isn't the right place for a particular project. You have to find the best place where the show can live successfully. Off Broadway, for example, is great. Off Broadway has an unfortunate name, as in "it's not quite Broadway." But it's just as valid, and sometimes a little edgier, because they don't have to get 1,000 people to a show a night, but maybe just a couple hundred.
In any production, each one of us on the team has opportunities to bring in our own connections. I'm part of the alumni group UR NY Metro Women, and we held a preshow event for Bandstand. The writer and composer joined us, and people got a chance to meet the creative team. That's part of my role as a producer: bringing people to see the show and helping spread the word. It's something I really enjoy, and it's a win-win for everybody. Some of my classmates were there, which was kind of fun, too.