Features
Central Park Hero
When he's not working full time for the state's largest health network, Timmy Li '11, '17M (PhD) can be found volunteering as an EMT in New York City's Central Park.
By Karen McCally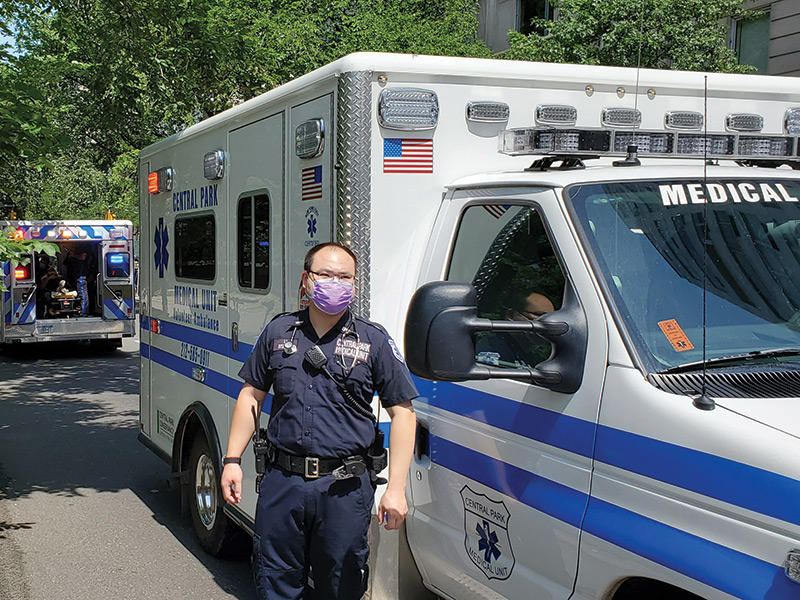 In addition to his role overseeing clinical research for emergency medicine for New York state's largest health network, Timmy Li has long been part of a team of volunteer EMTs, the Central Park Medical Unit, that responds to medical emergencies in the 800-plus-acre Manhattan park.
As the pandemic reached a crisis level in the city early last spring, Li, along with other volunteers in the group, pivoted to COVID-19 response throughout the city, fulfilling a critical need, as many EMTs in the area had already fallen ill.
In April, the New York Post named Li "Hero of the Day" for his role with the group.
Li did not take a leave from his full-time job. In fact, he says, "My workload increased tremendously during this time due to COVID-related research studies. During the weekdays, I worked on my Northwell duties from 8 a.m. to 4 p.m., and then worked on the ambulance from 4 p.m. to midnight." He worked most weekends on the ambulance as well.
Li continues to volunteer with the unit. "We continue to remain vigilant and are ready to supplement the New York City 911 ambulance system again, should the need arise," he said in late October.