Features
Meeting a Rising Need
Foodlink's Mitch Gruber '17 (PhD) oversees "regular, consistent, and touchless distribution of food" throughout the pandemic.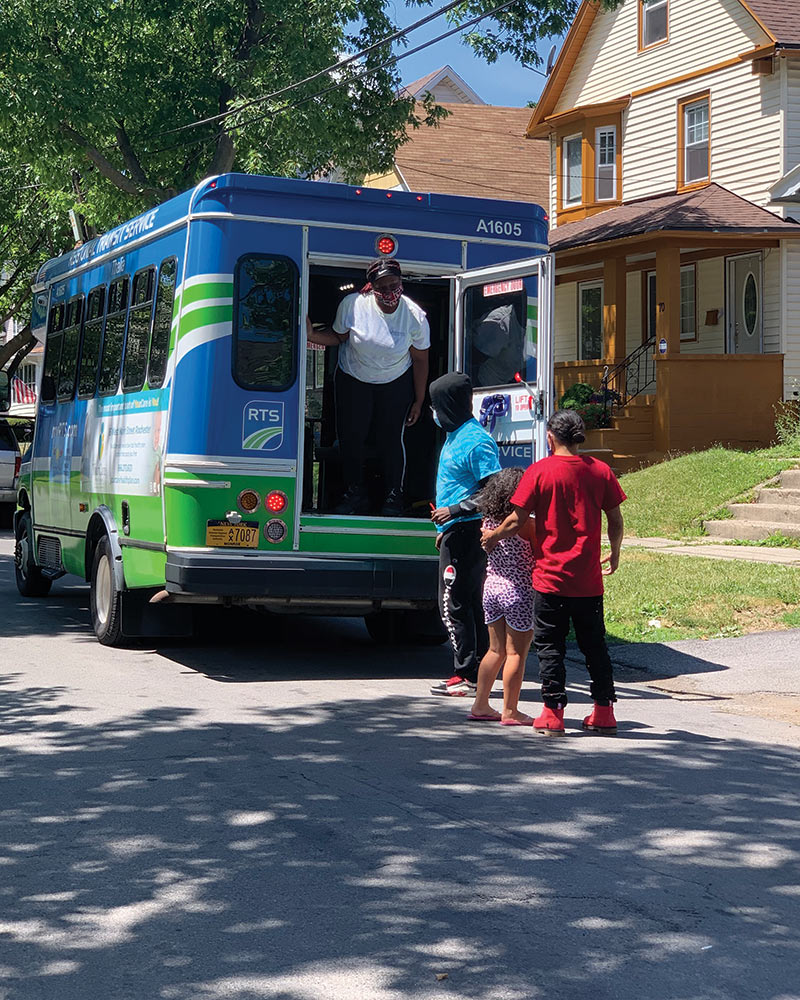 When schools and day cares closed in New York state last March, it meant that thousands of children in the Rochester region—including in the city, where the child poverty rate is above 50 percent—lost access to federally subsidized breakfast and lunch. Foodlink, the regional food bank serving a 10-county region that includes Rochester, dedicated itself to stepping in and ensuring that all children in need were fed.
As chief partnerships officer, Mitch Gruber says his job has been to oversee "regular, consistent, and touchless distribution of food" during the pandemic. He worked with school districts, recreation centers, YMCAs—"any organization that serves kids in our community," he says—to meet that challenge. From March through June, those collaborations enabled Foodlink to distribute more than 260,000 grab-and-go meals to Rochester children.
Over the summer, Gruber worked with the City of Rochester and the Regional Transit Service to deliver roughly 44,000 meals "ice cream truck style" in neighborhoods throughout the city.
Elected to the Rochester City Council in 2017, Gruber says that role has taught him the inner workings of local government, something that has served him well in his role at Foodlink. Tremendous challenges lie ahead, however, and
Gruber, who was named this year to Rochester Business Journal's Forty under 40, isn't sanguine. Job losses and the lack of federal assistance since the summer have taken a toll.
Without renewed federal stimulus, he says, "we're going to struggle to meet the rising need."