Features
Students Stay to Help
For twin sisters Destinee Bell '21 and Deziree Bell '21, part-time jobs at Wilson Commons Student Activities grew in meaning, urgency, and scope.
By Jim Mandelaro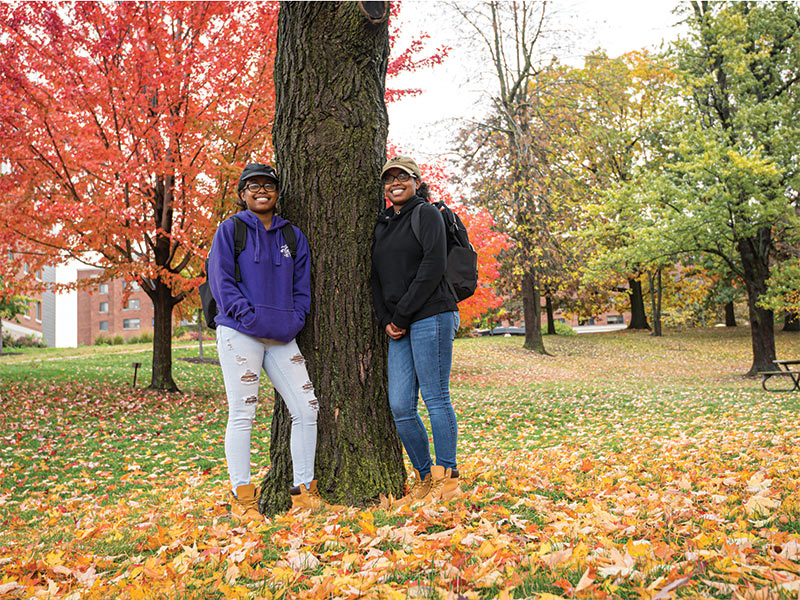 When students headed home in March, twin sisters Destinee and Deziree Bell did, too—only they kept coming back. Destinee, a biochemistry major, and Deziree, a neuroscience major, are from just outside Rochester. Throughout the spring and summer, they were among about 30 students who stayed on as staff of Wilson Commons Student Activities.
Among that laudatory group, the Bell sisters stood out by cross-training for every position that needed to be filled. They staffed the food pantry, packing and delivering food bags to students at the River Campus and the Medical Center; passed out masks on the River Campus and at the Eastman School of Music; and Deziree ran online trivia and movie nights throughout the summer, connecting students with one other.
"They were willing to do work that some students at the time did not feel comfortable doing and never hesitated in saying 'yes' to anything that we asked them to do," says Laura Ballou '97, assistant dean and Campus Center director.
Ballou, as well as Madeleine Aborn, assistant director of student activities, played outsized roles themselves. But as Aborn says, "I don't think we would have made it here as smoothly as we've managed without [the Bell sisters]. They're truly superstars."
Says Deziree: "We decided to help out because there was really no one on campus who was able to do these things. If we didn't, a lot of people's needs wouldn't have been met."