Olivia Hooker '62 (PhD)
Pioneering Coast Guard Alumna Honored
Cleveland facility recognizes the life and legacy of a survivor of the 1921 Tulsa Race Massacre.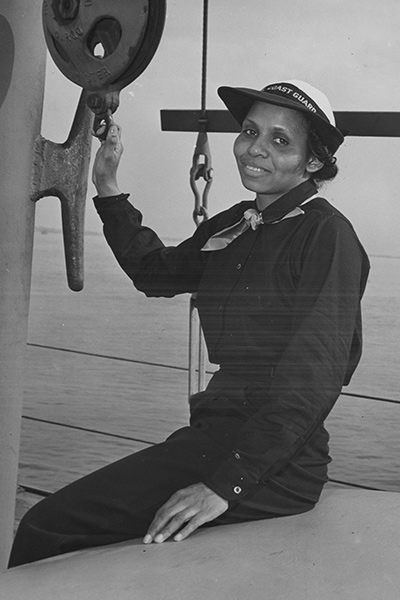 The first African American woman to serve in the US Coast Guard was honored this summer with a building dedication in Ohio, where her family moved after surviving the 1921 Tulsa Race Massacre.
The Dr. Olivia Hooker Building, part of the Coast Guard's Cleveland Marine Safety Unit, was officially renamed for Olivia Hooker '62 (PhD) during a ceremony in August. The facility is the third in the service to bear Hooker's name, joining a dining hall at the Coast Guard's station on Staten Island and a training facility in guard's headquarters in Washington, DC.
Hooker grew up in Tulsa, Oklahoma, where her father owned a clothing store in a prosperous African American neighborhood that was sometimes called "Black Wall Street."
In 1921, when Hooker was six years old, an accusation that a Black man had assaulted a white woman led to an attack by a mob of white men on the neighborhood. The 24-hour assault led to the deaths of an estimated 300, mostly Black, Tulsans and leveled more than 1,000 homes and Black businesses—including the Hookers' store.
Following the massacre, Hooker's family moved to Columbus, Ohio. As a college student at Ohio State University, Hooker became an activist in a campaign to secure for Black women the same opportunities in the military that World War II was opening up for white women.
She wanted to join the Navy, but her application was denied multiple times. A friendly Coast Guard recruiter convinced her to join that branch under its women's reserve program, SPAR ("Semper Paratus, Always Ready").
At Rochester, she was one of the first Black women to receive a PhD, earning the degree in psychology and embarking on a career as a psychologist and educator.
In the late 1990s, she helped form the Tulsa Race Riot Commission, which made a case for reparations. While that goal has eluded the group, Hooker achieved one of her lifelong goals posthumously: a week after her death in 2018, the group, gearing up for the centennial anniversary of the tragedy, renamed itself the Tulsa Race Massacre Commission.