Overview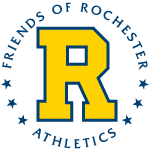 Friends of Rochester Athletics help to make the University of Rochester's athletics department and programs ever better. All parents of our athletes and Yellowjacket supporters are automatically members of the Friends of Rochester Athletics. To learn more about becoming a Yellowjacket supporting see our giving page.
Active involvement serves as an important statement about the significant role of athletics in the education of our students. The Friends share the University of Rochester's commitment to excellence in education, and we welcome and appreciate your participation.
We look forward to hearing from you and seeing you at games and events here in Rochester and around the country.
Learn more about our board and hall of fame. Meliora!