Giving
Rochester Athletics Locker Naming Campaign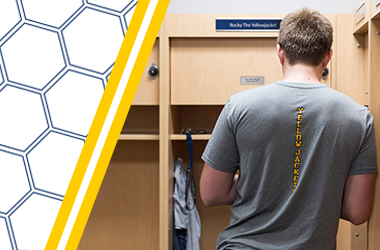 University of Rochester Athletics is offering you the opportunity to leave your legacy now, so future generations of student athletes will know the impact of those who went before them.
With a gift of $1,500, you can sponsor one of the brand new lockers inside the new Boehning Varsity House, which makes up two floors dedicated to outdoors sports and is located within the new Genesee Hall residential building. The Boehning Varsity House is the latest addition to the Brian F. Prince Athletic Complex established in 2014.
In recognition of your gift, we will inscribe your name, or name of your choice, on a plaque that will be placed within a locker for the team of your choice.
Locker Room Sponsorship
You have the opportunity to sponsor a locker in one of the following locker rooms:
Football
Men's Cross Country/Track and Field
Men's Soccer
Baseball
Field Hockey
Women's Soccer
Women's Cross Country/Track and Field
Women's Lacrosse
Softball
You have the option of engraving two lines. Each line will have a 40 character limit. 
Choose from one of the following formatting examples:
Sue Jones '90 and Steve Jones '90
Edward Emerson '00
UR Football 1997-2000
In memory of Sue Jones '90
Seth Jones '08
Locker Room Sponsorship Form