NOTICE: Towels are now available, but it is recommended that you bring your own throughout construction season.
2018 Summer Hours are now in effect. Click here for hours for fitness center and aquatic center.
Athletic Hall of Fame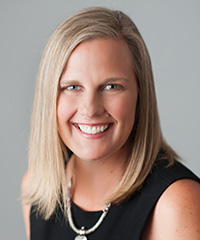 Rebekah Penfold Meeker
'96
At Rochester:
Team made the regional finals in the NCAA Division III playoffs
First in the inaugural UCAA Championships, and placed second in both the UAA and NYSWCAA Championships
Co-captain of the 1995 team
Second Team All-American by the American Volleyball Coaches Association in 1995
All-UCAA First Team in 1995
In 1995, she was All-UAA Second Team
Ranked in 1995 for service aces during the season by the NCAA
Her senior year, Meeker was awarded the Merle Spurrier Award at Rochester
Post Graduate:
Began her career in Texas as a mechanical engineer at Motorola
Led teams of design engineers throughout the United States, the United Kingdom, and China
Received her MBA, in Finance and Strategy, from Southern Methodist University's Cox School of Business in 2004
In 2013, Meeker co-founded Adornment Avenue, a handcrafted jewelry business In British Columbia benefiting marginalized women in the Middle East.
Meeker resides outside of Vancouver, British Columbia with Kyle and their two children, Kaden (12) and Karis (6).