Athletic Hall of Fame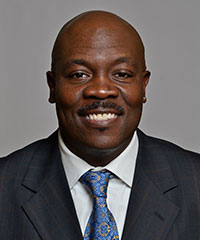 Adrian Smalls
'88
At Rochester:
Four-year letter winner for men's basketball
Co-captain of the 1987-88 Chase Scholarship Tournament championship team
Named the tourney's MVP and set the tournament's field goal percentage record
Earned All-Association honors from the UAA in 1987-88
At the time of his graduation, he was ranked in numerous statistical categories at Rochester: third in career assists (445), 15th in career points scored (938), fourth in assists in a season (138), third in career games played (100), first in consecutive games played (95), most steals in a game (seven). He also held two three-point shooting records.
Post Graduate:
Earned a Masters of Science in Public Administration from the College at Brockport
Served as an adjunct professor at Roberts Wesleyan College
Joined the Rochester Police Department after graduation and retired from RPD in 2008
Became a full-time faculty member of the Monroe Community College Department of Law and Criminal Justice
Has volunteered as the Assistant Men's Varsity Coach for the University of Rochester since 1991
Member of the board of directors for the Boys and Girls Club of Rochester
He and his wife, Morgan, have two daughters, Avah and Adriene, and a son, Kerel.