Notice: Towel service is interrupted until October 18th due to replacing of the washers/dryers.  No towels will be available until that time, we apologize for the inconvenience.
Athletic Training Staff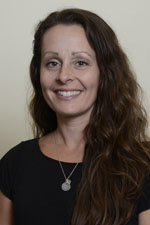 Shauny Caruso
Assistant Athletic Trainer
Phone: (585) 275-7973
Email: scaruso@sports.rochester.edu
Shauny, a native of Richmond, Michigan, joined the University of Rochester's Athletic Department in 2005. Caruso spent the previous two years as a graduate student at Temple University, where her education concentrated on a specialization in athletic training. During her time at Temple, Caruso worked as a Graduate Extern Athletic Trainer for the department of athletics, where she was primarily responsible for the women's lacrosse and the men's and women's gymnastics programs.
Caruso received her Bachelor's Degree from Michigan State University in 2003, where she worked as an athletic training student intern for three years. Her experiences included working with football, field hockey, cross country, and men's tennis.
Caruso resides in Rochester, NY with her husband Dominick and their children