National Order of Omega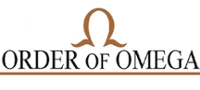 The Order of Omega is an honor society that recognizes outstanding fraternity and sorority leaders. Members are selected based on their high academic achievement, involvement in the campus community, and work to improve fraternity and life both in their own chapters and across campus. Members oversee an annual application and selection process to initiate three percent of the fraternity and sorority community annually.
The purpose of Order of Omega is to:
Recognize fraternity men and women who have attained a high standard of leadership in inter-fraternity activities
Encourage them to continue with the strong bonds and values they've created
Inspire others to strive for similar conspicuous attainment
Bring together outstanding fraternity men and women to help guide local and intercollegiate fraternity affairs
Bring together the faculty, alumni, and student members of the institution's fraternities and sororities on a basis of mutual interest, understanding, and helpfulness
Help create an atmosphere where ideas and issues can be discussed openly across Greek lines and to help work out solutions
For more information about the Order of Omega, please contact the Fraternity and Sorority Affairs (FSA) graduate assistant at FSAga@ur.rochester.edu or see the Order of Omega CCC page.
Initiation and Requirements for Membership
Candidates are evaluated on their commitment to scholarship, service, and leadership and need to meet the following requirements:
Must be a member of a recognized fraternity or sorority at the University of Rochester for at least one full semester
Must have a cumulative GPA of 3.2 or higher
Should both achieve academically and participate in co-curricular activities, both Greek and non-Greek
Should be an exemplary fraternity or sorority member, demonstrating the values of the University, as well as the fraternity and sorority community
Applications are reviewed by the current members of the Order of Omega.
How to Apply
The membership application is emailed to all fraternity and sorority juniors and seniors in the fall.