---
Follow us!
Follow Fraternity and Sorority Affairs on Facebook!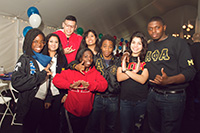 ---
25
percent
Twenty five percent of Rochester undergraduates join fraternities and sororities.
34
fraternities and sororities
The University of Rochester has thirty four recognized organizations on campus.
90
percent
Ninety percent of fraternity and sorority members are also in other student organizations.
---
---
Want more information about Fraternity and Sorority Affairs? Contact us.
---