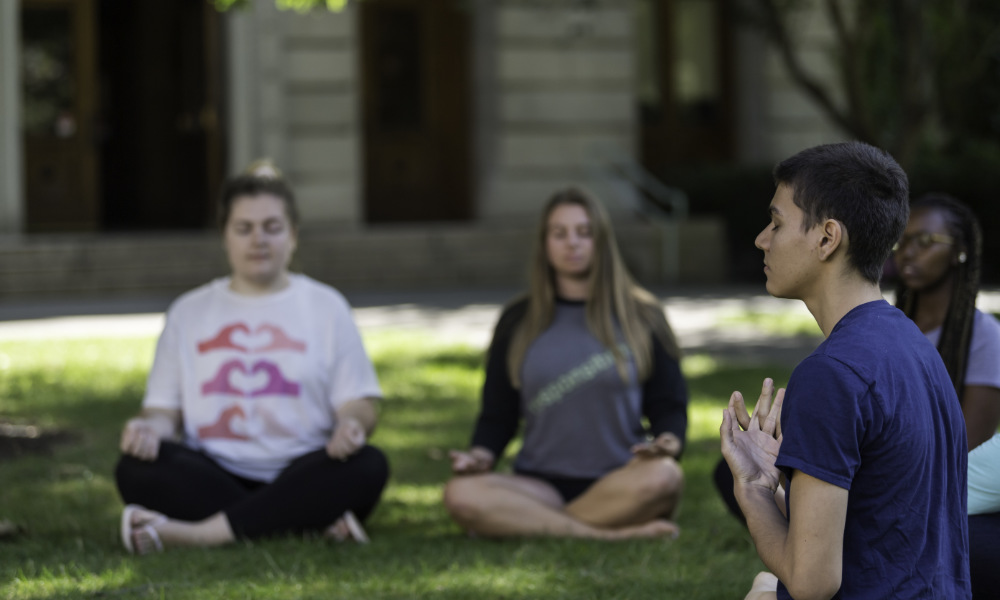 Peer counseling, mindful practice, therapy dogs, 24/7 care—supporting the well-being and mental health of college students at Rochester takes many forms.
Content warning: This article about the mental health of college students discusses suicide. If you need help for yourself or someone else, please contact the National Suicide Prevention Lifeline or call 1-800-273-TALK (8255).
Everything hit Karenrose Kamala '24 at once last fall. The stress. The anxiety. The feeling that she didn't belong in college.
"I was taking classes online back home in Tanzania due to COVID-19, and it was incredibly difficult," she says. "My sleep schedule was off the rails, and I found it hard to connect to whatever was going on around campus. One economics class was really challenging, and I worried that economics wasn't for me. I felt very discouraged."
A classmate mentioned UR Connected, a peer-to-peer network run by University Health Service. It pairs University of Rochester students who are feeling distressed with an undergraduate or graduate student who has received specialized training in how to support students who may be struggling. The students meet to discuss the issues, and the coach then directs the student to one of the University's appropriate mental health resources.
"My peer coach made me feel validated when it came to my academic capabilities," says Kamala, an economics and data science double major. "The resources I learned about were incredibly valuable, and the program helped me feel more comfortable about speaking out when I'm struggling. That's a big deal, because coming from an African background, speaking out when struggling is seen as taboo."
UR Connected was so impactful that Kamala is now a peer coach in the program, helping others overcome the kinds of stress and anxiety the sophomore felt a year ago.
"Mental health is often ignored, even though it literally affects every aspect of someone's life," Kamala says. "If we are truly about being ever better, we have to do what we can in supporting students when it comes to mental health."
Coping in the time of COVID-19
The University of Rochester has longstanding programs to help students who are facing stress, anxiety, or other mental health concerns. These include the CARE Network, a referral program that connects Rochester students with available support and resources, as well as the University Counseling Center (UCC).
But the onset of the COVID-19 pandemic created new stressors that affected the mental health of college students: closed campuses, mask mandates, physical distancing, and in many cases, a shift to online learning—not to mention concerns about the health and safety of family and loved ones. Amid these disruptions, the University's administration has prioritized new programming and outreach to help address the mental health and wellbeing of its nearly 12,000 undergraduate and graduate students.
"Mental health has always been an important area of concern, but now more than ever our students need support," says Amy McDonald '99, '07N (MS), associate director of the UHS Health Promotion Office. "It's vital that we recognize how the various traumas our students have experienced over the last 18 months are impacting them. Their feelings—whether it's being overwhelmed, angry, distracted, or less motivated—are all valid and OK to feel. Our efforts moving forward will focus on rebuilding connections, generating self-compassion, and providing opportunities for creativity and self-care."
Mental health of college students a national issue
The number of college students seeking help for mental health issues has steadily climbed across the nation—including at the University of Rochester—in recent years, according to Susan McDaniel, a clinical and family psychologist and the Dr. Laurie Sands Distinguished Professor of Families and Health in the University's Departments of Psychiatry and Family Medicine.
"It's due to many factors—political and social unrest, a greater awareness and willingness to report student mental health issues, and the role of social media in creating unrealistic social comparisons and amplifying problems," McDaniel says. "With the pandemic came rapid change, remote learning, health anxiety, and social isolation for many. It has definitely been a stressful situation."
The pandemic heightened the anxieties of college students across the nation, as institutions abruptly switched to remote learning, pivoted to hybrid instruction, then returned to in-person teaching—amid ever-changing COVID regulations.
A 2020 study in the Journal of Medical Internet Research looked at the effects of the COVID-19 outbreak on the mental health of college students. A majority of the surveyed students—71 percent—reported increased stress, anxiety, and depressive thoughts. Many reported experiencing stressors such as difficulty concentrating, disrupted sleep, decreased social interactions, or increased concerns about academic performance.
Similarly, a 2020 National College Health Assessment of University of Rochester undergraduates conducted by UHS found that 47 percent of students reported moderate levels of stress and 26 percent reported high stress levels. And 42 percent said their academic performance was impacted by their stress. Those numbers were slightly below national averages, but still significant.
Undergraduate and graduate students face different challenges. At Rochester, for example, a typical undergraduate comes to campus as a teenager, living independently for the first time. Choosing a major, being away from home, adjusting to rigorous and demanding academics, and fitting in socially can weigh heavily on them.
The challenges can be much different for graduate students. "Graduate students can feel very isolated," says Melissa Sturge-Apple, vice provost and University dean of graduate education. "They're often living in an apartment off campus, or spending most of their time in a lab. It's a very intensive, focused path. They come to a place like Rochester and don't necessarily have roots here. They can feel alone." Other graduate students are pursuing their degrees while juggling a career, family commitments, and finances.
Meanwhile, in addition to coursework, Eastman School of Music students—undergraduate and graduate—are often balancing music lessons, practice sessions, and performances. And dual degree undergraduate students take classes at both Eastman and the River Campus.
"Performing artists are under a microscope for much of their day-to-day learning while in music school," says Gaelen McCormick '92E, program manager for Eastman Performing Arts Medicine, an adjunct professor at Eastman's Arts Leadership Program, and the liaison between UHS and Eastman. "Between lessons, rehearsals, and daily practice, they're in a state of self-examination that is quite intense. Despite the appearance that music always happens in a group setting, our musicians spend a lot of time alone in solitary work. It is important to maintain relationships and to allow time for fun, relaxation, self-care, and, of course, sleep."
University's student counseling expands hours, staff
The University Counseling Center has been at Rochester in some form since the 1960s. Today, UCC provides comprehensive initial assessments and individualized treatment plans—such as group therapy (including themed drop-in sessions for students of color or international students, for example), short-term therapy, medication management, case management, and support for off-campus referrals—for full-time students. Therapists are licensed professionals from a variety of mental health disciplines, and there are also about 25 graduate students, interns, and post-doctoral fellows in training from psychology, social work, and psychiatry.
Anxiety has been the main mental health issue facing college students for years—and the pandemic exacerbated those feelings. In response, UCC launched its Counselor in Residence program in September. Trained and supervised by UCC-licensed staff, the counselors-in-residence provide mental health support during evenings and weekends when UCC is closed, accompanied by Department of Public Safety officers.
While the University's CARE Network takes referrals from University community members who are concerned about one another, UCC requires students to make their own appointments.
"Students are open to seeking services," says UCC director Brigid Cahill, "and, in fact, often have been in therapy before coming to Rochester, or have friends and family in therapy. Therapy is viewed as an accepted way to deal with problems."
In fact, Cahill estimates that UCC sees 15 to 20 percent of Rochester students each year. One such student was Caitlyn Ascencio '20, '23W, who is pursuing a master's in school counseling at the Warner School of Education.
Five years ago, she was "an overwhelmed, culture-shocked" first-year student who had just spilled water on the brand-new Apple laptop her parents had saved up to buy her. The New York City native says the incident spurred feelings of fear, anxiety, and worry. "My error consumed me and led me into a downward spiral I had never experienced before," says Ascencio, a first-generation student who majored in cultural anthropology and religion. "I felt so incredibly helpless as I broke down in my room alone. I sobbed uncontrollably as I spoke to my mom on the phone, apologizing profusely."
She took the laptop to a local Apple store, paying for the repairs herself. But for three weeks, she had to use a University computer lab, which added to her stress.
Ascencio's roommate grew concerned and recommended she visit UCC, beginning a therapeutic journey that lasted through her undergraduate career. "My therapist took on a cognitive-behavioral approach, which caused me to come face-to-face with many childhood traumas, life-altering events, and toxic thought patterns meant to be replaced with wholesome thought patterns and behaviors," she says. "It furthered my understanding of myself and how my past experiences shape the way I respond in the present."
Ascencio also took part in group therapy sessions and says "the UCC provided me with a support system I had never gained exposure to before, and sparked a passion in me to provide that same support to other unhealed, systemically underserved individuals like myself."
Active Minds encourages student advocacy and awareness
College students play a key role in helping to change the conversations about mental health concerns and issues.
Rachel Chen '23, a neuroscience major from Seattle, Washington, is the president of the Rochester chapter of Active Minds, a national student organization geared toward increasing awareness of the mental health of college students.
"I joined my first year because I cared about destigmatizing mental health but wasn't sure what I could do about it on campus," Chen says. "Being part of Active Minds and getting to work closely with UCC and the administration has taught me what advocacy can look like. It's also made me think more critically about my own mental health, and how I can support friends and family."
Chen chose her major because she believes "understanding the brain is essential to helping individuals with mental health disorders." She's particularly interested in how people process difficult events and respond to challenging circumstances.
The chapter's Active Minds membership—about 25 College undergraduates—meets weekly. "We want to create a community where help-seeking is encouraged, and students feel comfortable speaking about mental health concerns," Chen says.
Nationally, Active Minds comprises nearly 600 college and high school chapters. It was founded in 2003 by University of Pennsylvania junior Alison Malmon following the suicide of her brother, Brian, a popular student who struggled with depression and psychosis while a first-year student at Columbia University.
Brian wasn't alone. Suicide is a major public health concern, and it was the second most common cause of death among young adults ages 15 to 24 in 2019, based on Centers for Disease Control and Prevention data documented by the National Institute of Mental Health. In recognition of this stark reality, the Rochester Active Minds chapter plants a Garden of Hope each September during National Suicide Prevention Month. The 1,100 pinwheels dotting the Wilson Quadrangle represent the estimated number of US college students lost to suicide annually. It's a visible reminder to the Rochester community about the mental health struggles faced by so many young people.
Faith-based emotional and mental health support for all college students
Not all mental health resources come from University Health Service. The University's Interfaith Chapel is staffed with chaplains ready to meet the needs of students—even those who are not religious or don't belong to faith groups affiliated with the chapel. Students who are stressed, upset, or in a crisis can stop in without an appointment.
"We offer a place of compassionate listening to anyone who walks through the door," says Denise Yarbrough, director of religious and spiritual life at the Interfaith Chapel. "I've counseled students dealing with the emotional trauma of a romantic breakup, students who have just learned of the death of someone close to them, and students wrestling with the aftereffects of sexual encounters. Given the intense stress that many students experience, the chapel offers a place to relax and be nurtured."
The chaplains offer meditation walks on the labyrinth several times a month, and this year a fully certified chapel therapy dog named Sasha is in the building twice a week for students to visit, pet, and cuddle. "A view of the river when you walk the labyrinth is a calming and restorative practice," Yarbrough says. "And the therapy dog usually has a stream of students who visit her and will remark, 'This was the best part of my day!' I love listening to the laughter that being with Sasha evokes in even the most stressed out of students." Other therapy dogs regularly visit the University's campuses as part of Paws for Stress Relief, a service coordinated by the Health Promotion Office.
Faith-based options are also available through the Interfaith Chapel. When he needed a support system, Michael Chavrimootoo '20, '21 (MS), a doctoral student in computer science from Mauritius, an Indian Ocean island nation, turned to the Catholic Newman Community. "Being an international student in a new country, with a new social environment and academic setting, I was quickly overwhelmed," he says. "I joined Newman my first year—2016—and it really helped."
Now, he's helping others who seek help or guidance through Newman. "We're not therapists, and we make that clear to students," he says. "But we're trained in recognizing when a student might benefit from professional help, and then we refer them to relevant resources."
Joy Getnick '06, executive director of Hillel at the University of Rochester (Jewish life on campus), says she is far more likely to hear from female students needing support. According to her, male students are more likely to worry about the stigma associated with experiencing a mental health issue.
But a robust support network—alongside changing cultural norms about men and mental health—can make a positive difference. Getnick recently heard from the parent of a first-year male student who was having trouble adjusting to his roommate and finding a social group. The student had always been outgoing but became depressed and withdrawn after arriving on campus.
"If we are truly about being ever better, we have to do what we can in supporting students when it comes to mental health."
"We did some additional outreach to the student, helped make some social connections, and provided support and encouragement," Getnick says. "Within a few weeks, he'd gotten into his groove and is now doing really well. We would not have heard from that student on his own."
McDaniel says this reaction among men is not uncommon.
"Traditional male socialization—the view that men need to be tough, independent, and unemotional—is indeed a barrier to men seeking services for mental health issues," she says. "Men are less likely than women to seek help, even though they experience problems as much or more than women. Fortunately, this stereotype has become less common, so that many men do seek help now, and talk about it on social media platforms and with their friends."
McDaniel says she has "far more" male clients in psychotherapy now than in the early years of her career. "These men realize that becoming more self-aware and knowledgeable about emotions is a sign of strength rather than weakness," she says.
Toward a more mindful campus culture
How to practice mindfulness while walking to class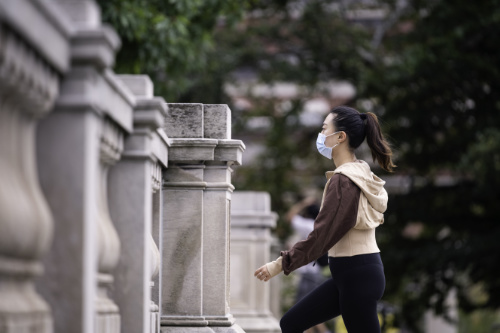 You can practice mindfulness as part of your everyday activities, including during the time it takes to walk to class, work, or other activity. Mindful walking is an effective and easy way to bring awareness to your body and mind and to curtail being on autopilot mode. This practice can help you relax, reduce stress, enhance your mood, and increase your cognitive function—a perfect mindset reset ahead of a class or an exam.
Rebecca Block '18, health educator at the University of Rochester's Health Promotion Office and director of the Mindful University Project, offers this six-step plan:
Take three deep centering breaths before you start walking to bring awareness to the present moment. Try inhaling through your nose for three seconds, and then exhaling through your mouth for five seconds.
Walk at a slower pace than normal. This may initially feel awkward or bring up feelings of discomfort or difficulty, especially since we're often in a rush.
Become aware of your posture and the weight of your body as you move. Notice the feelings in your feet and leg muscles as you lift and place each foot down. You may choose to link your breath up to your movement.
Slowly begin to expand your awareness to the environment around you—colors, objects, people, scents, noises—while concentrating on your movement and each breath.
Continue walking slowly and mindfully for several minutes. If your mind begins to wonder, gently return your attention to your bodily sensations and movements, and repeat "left, right" as you walk. You can even try counting steps to give your mind something to focus on.
When you arrive at your destination, stand or sit still for a moment. Take several deep breaths to fully center yourself and be receptive to learning.
The Mindful University Project was created in 2018 with the financial support of two Rochester alumni. The project works to foster safe and inclusive spaces for members of the University community through mindful practice—introductory and advanced meditation classes, relax and renew retreats, yoga, and educational workshops.
Students can attend live or recorded meditations on the project's Instagram and YouTube channel, as well as participate in popup events around campus. Koru Mindfulness, a four-week program specifically designed for college students, teaches participants mindfulness through breathing exercises, guided imagery, and body scan meditations to manage stress and anxiety. The University currently has seven certified Koru teachers on staff and is training 10 students to be mindfulness facilitators.
"We recognize the stress that our students are facing—the pressure to do more, to excel academically, and to be ever better," says Rebecca Block '18, a health educator at UHS who oversees the Mindful University Project. "Research has consistently reported many benefits of meditation and mindfulness practice, including reductions in stress levels and worrying, enhanced self-compassion, as well as improvements in working memory and cognitive function. These benefits can lead to improvements in students' academic performance."
A large part of that academic performance hinges on the relation between student and teacher. The pandemic has tested that connection. So, this past summer, the Mindful University Project launched a series of workshops for faculty and staff geared toward improving and supporting the mental health of college students. Although voluntary, 166 people took part in the workshops, which are being offered throughout the year.
Katherine Schaefer, an associate professor in the Writing, Speaking, and Argument Program, says it was helpful to share experiences with other faculty members facing new challenges in the COVID-19 era.
"I absolutely found that the pandemic forced me to be a more accessible teacher," says Schaefer, who has been at the University since 2005. "Nobody who is stressed learns as effectively as they could. The reality of dealing with online teaching, sudden illness, and internet outages caused me to build in a lot of alternate ways for students to participate and catch up. Many students adapted quite well to the Zoom situation, but others really struggled. I knew I had to be flexible."
Robert Loughridge, an instructor in the Program of Dance and Movement, also took part in the workshops. "Students seem more anxious these days," he says. "The pandemic brought restrictions and cancellations of basic life structure, like attending class in person and graduation ceremonies. The losses resulted in a lot of grief."
Loughridge says the workshops provided a review of the research literature and posed case studies for breakout room discussion as a way to refine strategies for mindful communication, including self-reflection, emphatic listening and allowing for supportive space and dialogue.
"The pandemic has presented many challenges," he says, "but the Program of Dance and Movement has always provided students with support throughout curriculum, which focuses on active engagement and personal development through artistic expression, mind-body contemplative practices, and wellness exercises."
'Be the best we can be'
In May, the University Coalition for Student Mental Health was formed at the recommendation of University President Sarah Mangelsdorf and Sturge-Apple to assess the current state of mental health among Rochester students and make recommendations for improvement. A preliminary report is due to Mangelsdorf by December.
The coalition's members, including two students, represent key administrative and academic units with the goal of enhancing both the mental health resources available on campus and students' knowledge of them. That awareness is crucial.
"We have a lot of good things going here, and people don't always know about them," says McDaniel, who serves as coalition chair. "We want to make sure people can access us and know what their possibilities are."
According to McDaniel, Rochester is ahead of the curve compared to other institutions in terms of addressing the mental health of college students.
"Some schools have limited mental health services and very little in the way of wellness services," she says. "Rochester is much more well-developed, though we need to do a better job at informing students of what is available."
Mangelsdorf's mission for the coalition is clear, McDaniel says. "We need to do our very best to understand students' needs in our current challenging environment—what services are meeting students' needs, where are the gaps, and where can we do better."
With virtually all University students vaccinated against COVID-19, McDaniel hopes the stress and anxiety posed by the pandemic will ease. "Kindness and connection with each other, and a significant dose of self-care, can result in resilience as we move through this challenging period and learn all we can from it," she says. "We want to be the best we can be."
---
Student mental health resources
If you're experiencing a mental health crisis or need to speak to someone immediately, call the University Counseling Center at (585) 275-3113. A UCC professional is on call 24/7.
If you're concerned about the mental health of someone on campus, you can submit a referral to the CARE Network.
Feeling stressed or homesick? UR Connected coaches can help. The team of undergraduate and graduate coaches have received specialized training in active listening. Visit the UR Connected website to review coach profiles and schedule a meeting with them online.
To learn how to meditate, register for Koru Mindfulness classes.
If you need someone to talk to, chaplains are available in the Interfaith Chapel for all students—regardless of faith or affiliation—on weekdays, evenings, and Sundays. Call (585) 275-4321 during business hours, or stop by the chapel anytime. You may also contact any of the individual chaplains.
---
Read more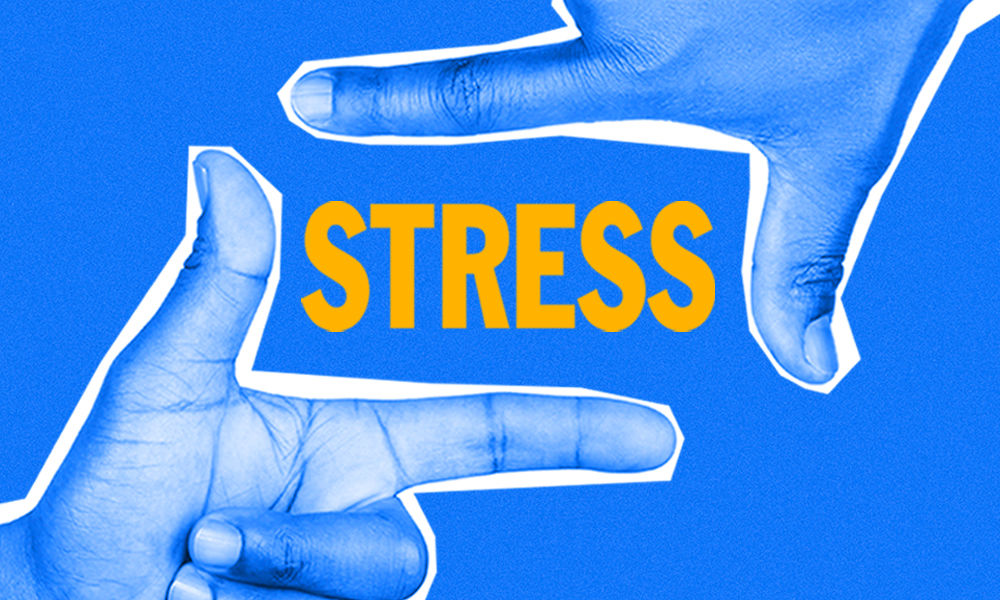 Stress isn't always bad. Here's how to harness it.
Rochester psychologists say college students who reinterpret their stress response as performance-enhancing are less anxious and generally healthier.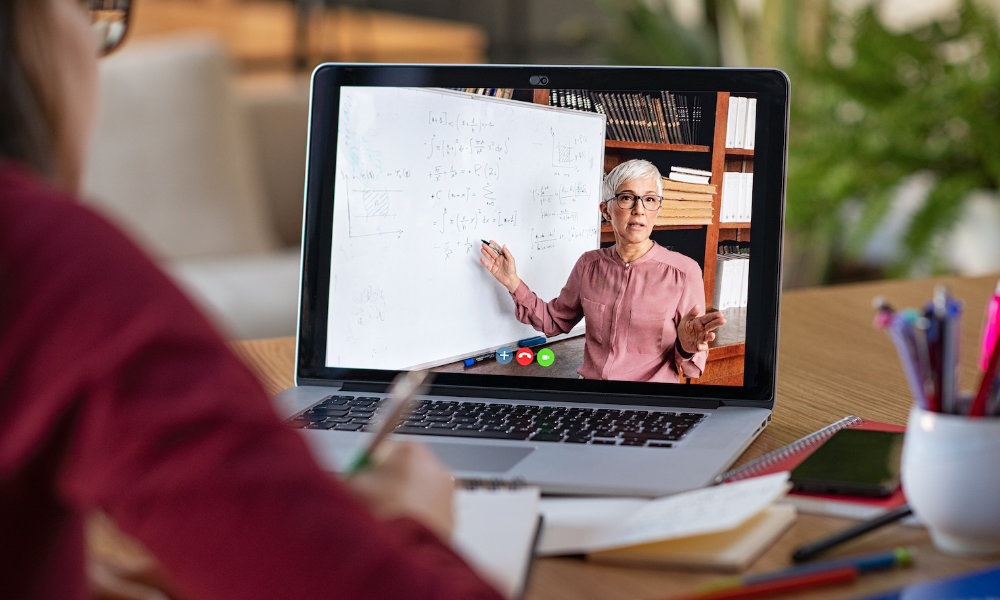 Patience, kindness benefit faculty and students during online education
Successful faculty balanced a commitment to teaching online with a spirit of understanding for themselves and others during COVID-19, writes Doug Guiffrida of the Warner School.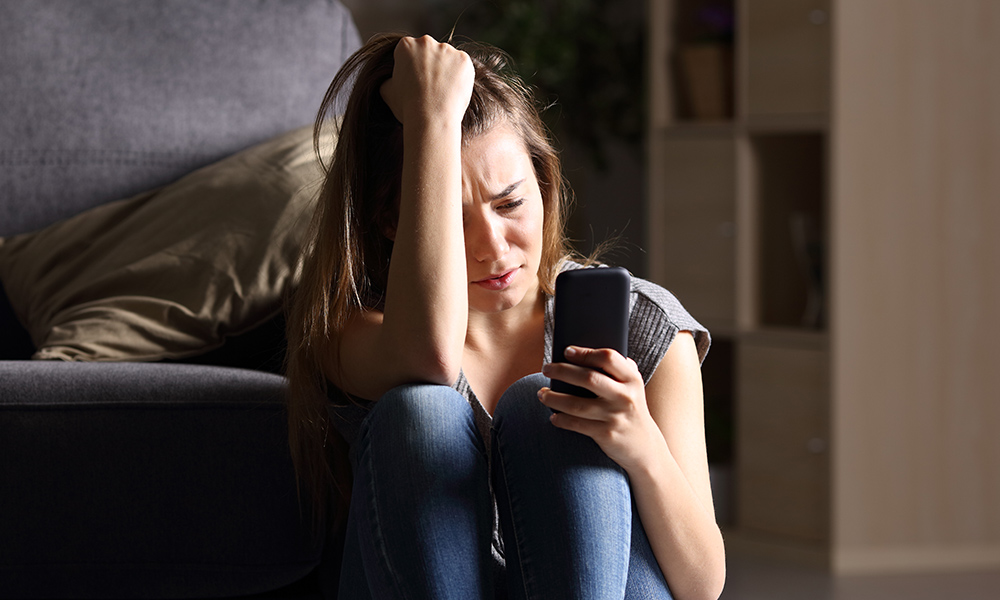 Getting fewer 'likes' on social media can make teens anxious and depressed
Lack of positive feedback on social media can decrease adolescents' feelings of self-worth, according to the findings from a multi-institutional team of psychologists.
Category: Campus Life