SPORTS ALUMNI COACH CAREER SUCCESS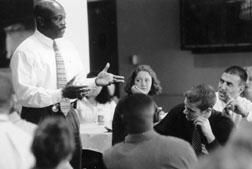 Adrian Smalls '88, a member of the Rochester Police Department who played varsity basketball at the University and is now an assistant basketball coach for the men's team, talks with students.

A team of former Yellowjacket athletes is coaching a new generation of students on the details of success off the playing field.
Nearly 20 alumni--including former football, basketball, soccer, lacrosse, and field hockey players, as well as track and cross-country runners--met with current student-athletes and prospective recruits during a day-long session this spring.
The gathering was the first-ever "Athletic Career Day," sponsored by the Career Center.
The graduates talked about their academic and athletic careers at Rochester and how their experiences in college kicked off their success after graduation.
As part of the day's activities, the group of lawyers, economists, business consultants, newspaper reporters, guidance counselors, police officers, and representatives from other fields toured the work being done to renovate the Robert B. Goergen Athletic Center.
The $15 million project is scheduled to be completed this fall with grand opening ceremonies set to take place during Sesquicentennial Weekend, October 12-15.
Maintained by University Public Relations
Please send your comments and suggestions to:
Rochester Review.