HAJIM GYM OPENS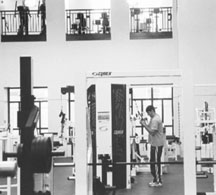 The first students through the doors found a dramatically upgraded fitness center when the spanking-new Hajim Gymnasium informally opened on March 13.
Named in honor of Trustee Edmund Hajim '58, the new gym is the principal component in the renovation and expansion of the River Campus athletic complex. Still ongoing is additional work on the basketball court and the pool. Formal dedication of the 200,000-square-foot Robert B. Goergen Athletic Center is scheduled for Sesquicentennial Weekend on campus, October 12-15. Goergen '60, a major benefactor of the College, is chairman of the University Board of Trustees.
Maintained by University Public Relations
Please send your comments and suggestions to:
Rochester Review.