Echoes From Ancient Egypt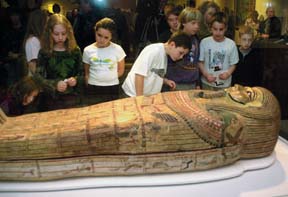 Unveiled at the memorial Art Gallery last spring, the 2,400-year-old coffins of Egyptian official Pa-debehu-Aset are slated to become a focal point of the museum's Egyptian collection.
A pair of 2,400-year-old Egyptian coffins is providing visitors to the Memorial Art Gallery a rare glimpse of life on the Nile more than two millennia ago.
The coffins-an inner and outer set-of Pa-debehu-Aset, an Egyptian official who lived during the Ptolemaic era of Egypt in the 4th century B.C.E., went on display last spring. Only two other comparable sets from the same period are known to exist.
These are "two of the most significant acquisitions in the gallery's long history," says Grant Holcomb, gallery director.
Planned as a focal point of the gallery's Egyptian collection, the set includes an anthropoid inner coffin decorated with eyes of shell and stone, eyelines and chinlines of inlaid glass, and a face of gold leaf.
While the remains of Pa-debehu-Aset disappeared long ago, the detailed work on the coffins indicate that he was a person of substance who could afford an elaborate burial.
"Overall, this is a unique coffin ensemble which has vignettes of masterful work," notes consulting curator Joyce Haynes of the Museum of Fine Arts in Boston.

Maintained by University Public Relations
Please send your comments and suggestions to:
Rochester Review.